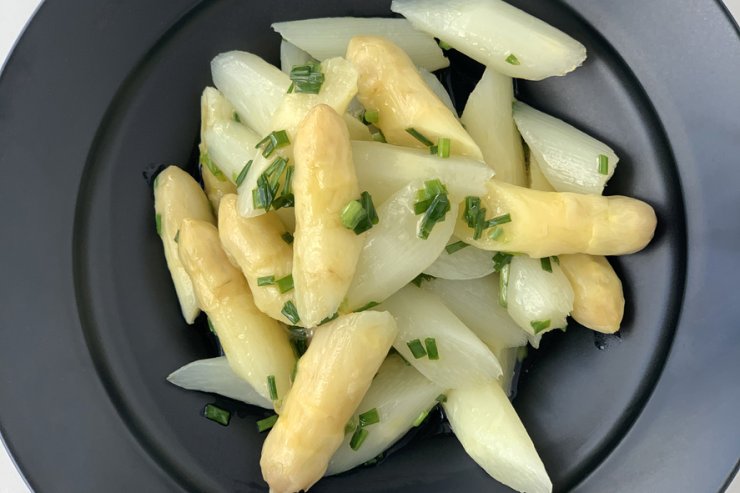 I don't know what it is about cream-yellow veggies, but they're just so tasty. Take yellow wax beans for example—they're the delicacy of beans and you only need butter and salt for them to taste absolutely divine. The same goes for white asparagus. White asparagus is not seen much in the U.S., but it is far more common than green asparagus in Europe. There, they revere this pale variety and honor its mild yet delicious flavor by adding little in the way of accoutrements. This recipe takes its cue from the Europeans, producing a simple, elegant dish where the asparagus is the star!
One type of white asparagus I love is Precoce D'Argenteuil Asparagus. This heirloom variety dates back to the 19th century and is prized in Europe for its delicious stems and bright, rosy buds that can be blanched white. 'Precoce' means 'early' in French (Argenteuil is the name of the town in France where it gained popularity), and this plant is early in a couple of ways. First, it is usually ready for harvest in two years rather than the typical three. Second, it's one of the first asparagus varieties to emerge in the spring. Not only does this asparagus variety look pretty on a plate, but the sweet, mild, slightly nutty flavor is exquisite!
In this White Asparagus with Butter and Chives recipe, we'll first peel the asparagus to remove all the stringy parts, then boil in salted water. Once the spears are tender, we'll toss in a pan with melted butter and chives. That's all there is to it!
Print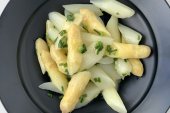 White Asparagus with Butter and Chives
This White Asparagus with Butter and Chives recipe takes its cue from the Europeans, producing a simple, elegant dish where the asparagus is the star!
Author:
Prep Time:

10 minutes

Cook Time:

20 minutes

Total Time:

30 minutes

Yield:

Serves 4

Category:

Sides & Sauces
Ingredients
12 ounces

white asparagus

2 tablespoons

butter

2 tablespoons

fresh snipped chives (garlic, regular, or a mix)
Pepper
Instructions
Trim the woody ends of the asparagus. Laying each spear flat on a cutting board, use a vegetable peeler to peel from just below the tip to the bottom of the stalk, removing all the stringy parts (about 1/16 of an inch).
Bring a large pasta pot filled three-fourths with water, salted, to a boil. Add asparagus and boil gently for 10 to 15 minutes. Test doneness by removing a spear with tongs and inserting a knife. If the knife goes in easily, the spears are done. Use the tongs to move the asparagus to a plate.
Pour out the water and add the butter to the pan, melting over low or no heat (the pan should still be hot). Gently add the asparagus and chives and turn the asparagus to coat.
Remove to a small platter, sprinkle with pepper, and serve.
Want a home garden crop that will produce delicious, nutritious, stately vegetables for decades? Then plant asparagus. You'll need a little patience at first, but once established, asparagus will reward you for years to come. With our Asparagus—King of the Garden Gardening Guide, you'll have everything you need to know about growing and enjoying this versatile food. Check it out!
Have you tried this White Asparagus with Butter and Chives recipe? It's such an easy gourmet treat—please tell us how it turned out for you.