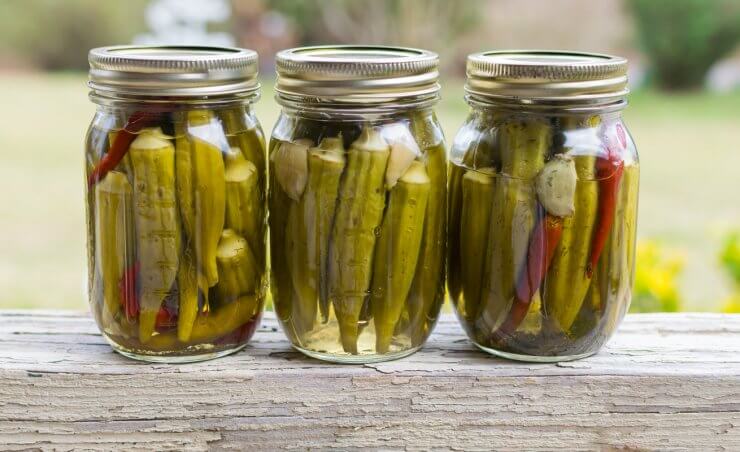 Believe it or not, pickles have been around since as far back as 2030 BC! More than just a tangy treat, pickles were actually one of the first mobile foods. They were often taken aboard ships, so sailors and travelers could eat food that doesn't easily spoil. During the cold winter months, many families also relied on pickles to get them through the seasons when there were limited crops.
We all know that pickles are usually made from cucumbers immersed in brine, but you can also pickle many other fresh fruits and vegetables. If you're looking for a twist to the typical pickle recipe, then why not try pickling okra?
Okra's tender yet firm texture when cooked, coupled with its earthy and somewhat grassy taste, makes this veggie a great candidate for pickling. However, what makes these okra pickles with a twist really appetizing are the whole habanero peppers that give it that extra zing! Not only do you get to enjoy the natural tangy goodness of pickled preserves, but you also get a burst of hot habaneros that will set your taste buds on fire. Because habaneros pack a heated punch with every bite, having just one in every one-pint jar will do the trick. Aside from their inherent spiciness, habanero peppers also have a sweet, fruity, and subtly smoky flavor that mixes well with okra's earthiness.
Okra pickles with a twist can be savored on their own, or you can always pair them with a freshly toasted sandwich — or a cheese plate if you're feeling a little fancier. However you might want to eat them, okra pickles with a twist are best served at least a week after being refrigerated. Believe me, it's worth the wait!
Print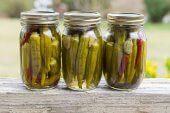 Okra Pickles with a Twist
Tickle your fancy with these Okra Pickles with a Twist of habanero spices!
Author:
Prep Time:

40 minutes

Cook Time:

40 minutes

Total Time:

1 hour 20 minutes

Yield: Serves

12

to

24

which is 6 1-pint jars

1

x
Category:

Sides & Sauces
Ingredients
2

pounds okra, whole

6

whole habanero peppers

3 cups

distilled white vinegar or cider vinegar

3 cups

water

2 1/2 tablespoons

sea salt

2 tablespoons

sugar
Ice
Instructions
Put a large bowl of ice water next to the stove.
Bring a large pot of water to boil.
Add half the okra, cover, return to a boil, and cook for 2 minutes.
Remove the okra from the water and put it in the ice bath.
Cook the rest of the okra the same way.
Drain the okra and distribute it among your jars.
Add one jalapeno pepper to each jar.
Combine the vinegar, 3 cups of water, salt, and sugar in a large saucepan.
Bring the mixture to a boil, stirring until the sugar and salt dissolved. Continue to boil for another 2 minutes, then remove the saucepan from the heat.
Fill the jars with the brine to within 1/2 inch of the rim, being careful to completely cover the contents.
Put the lids on tightly.
Refrigerate for at least a week before serving.
Okra is highly versatile and can grow almost anywhere that has lots of sun. From containers on balconies to open fields of freestanding plants, there's an okra that you can grow. It's delicious raw or cooked—and if you're not big on that slime factor, no worries—there are plenty of ways to prepare okra that are totally slime-free! Check out The Guide to Growing Okra. You get everything from the history of okra to planting to picking and storing and, of course, eating. Get it all in The Guide to Growing Okra Collection right now!
Have you made this spicy pickled okra? It makes a great side with a sandwich, or alongside a cheese plate—please tell us how it turned out for you.