Roasting really brings out the flavor of vegetables, and bell peppers are no exception. They just taste so much better when they've been roasted than they do if I grab the emergency bag of frozen peppers. Admittedly, frozen peppers work in a pinch but seem a little lifeless in comparison. This Roasted Bell Pepper Salad recipe really sings.
Fresh bell peppers can take the heat, and they come out tasting delicious. This is one of those dishes that can go in many directions—side dish, sandwich topper, or even part of a pasta or rice dish. In fact, you might want to make extra to freeze and save for those days when you'd love to cook everything from scratch, but you know that's just not happening.
Looking for an easy way to showcase your colorful bell pepper harvest? Make this roasted pepper salad and serve it with freshly baked French bread and some creamy goat cheese. Simple ingredients, and oh, so delicious! Feel like making pepper steak? This recipe will give your steak tips extra zing.
If you can get to your grill, you could also grill your peppers instead of roasting them. Just give them about five minutes or so on each side to work up that tasty char. You can skip the olive oil if you're using the grill and use about half as much when you toss all the ingredients together.
The last time we made this Roasted Bell Pepper Salad, we skipped the balsamic vinegar and used the mix as a colorful topper to our Squash Blossom Soup. Next time, I think I'll make a colorful frittata with the peppers as a featured ingredient. So many options with this simple, delicious dish!
Print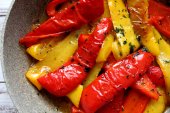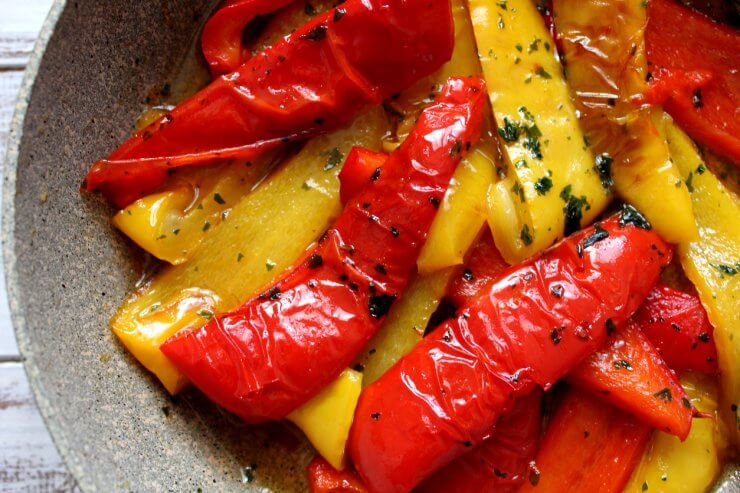 Roasted Bell Pepper Salad
Roasted Bell Pepper Salad makes a great side dish, or a tasty topper for chicken, steak, burgers, and more. Get a full mix of colors to maximize the visual impact of this tasty side dish!
Author:
Prep Time:

10 minutes

Additional Time:

30 minutes

Cook Time:

20 minutes

Total Time:

1 hour

Yield:

Serves 6

Category:

Sides & Sauces
Ingredients
6

fresh bell peppers, multiple colors

1/2 cup

oil-cured black olives, halved and pitted

1/4 cup

sun-dried tomatoes, chopped

3 tablespoons

olive oil

1 tablespoon

balsamic vinegar
Salt and pepper to taste
Instructions
Preheat oven to 400 degrees F.
Line a baking sheet with parchment paper.
Cut peppers in half lengthwise; remove seeds, pith, and stem.
Place pepper halves face-down on the baking sheet. Brush liberally with olive oil.
Roast for 20 minutes, checking after 10 minutes. If skin is roasting nicely, you can flip the peppers over, brush them with oil, and continue baking. Otherwise, leave them skin-up for about another 10 minutes.
When peppers are done, leave them out to cool.
When they're cool enough to handle, chop them.
Combine peppers, olives, tomatoes, any remaining olive oil, and salt in a large bowl.
Would you like to grow bell peppers? Bell peppers are one of the most popular home gardening crops. And no wonder: with so many varieties to choose, you can grow a whole rainbow in your garden! With the Beautiful Bell Peppers Gardening Guide, you'll have everything you need to know about growing and enjoying this delicious fruit.
Have you tried this recipe? It has lots of potential. Please tell us how you used it.