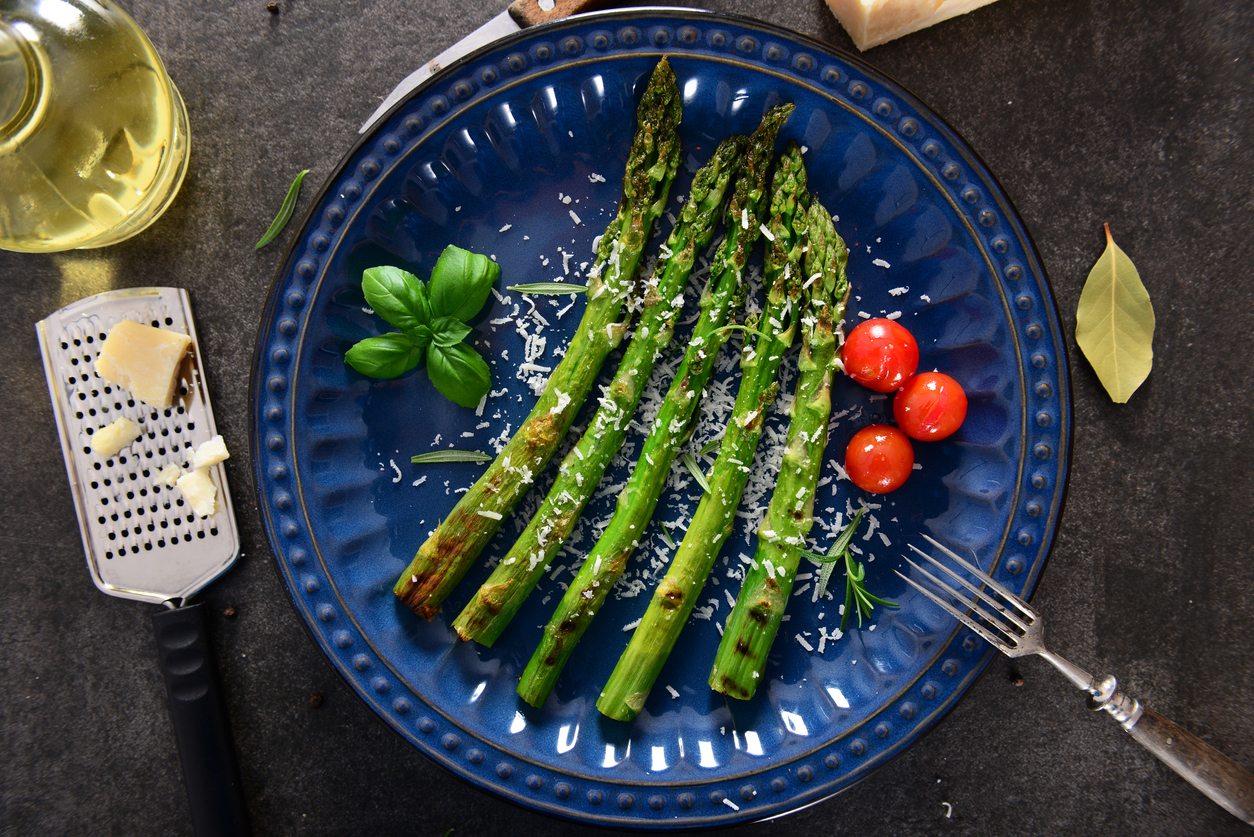 Who doesn't love grilling? It's hard to find an answer to that question, but it's definitely not going to be me. Barbecues and cookouts are a staple of the family bonding experience. I love grilling as much as the next person, but my usual fare is a bit different from what you'd expect. Juicy burgers? Cobs of corn? Stacked kebabs and skewers? A whole rack of ribs? Yes, but also, my go-to grilled dish is Grilled Asparagus with Parmesan.
I know there's a whole generation of people out there that grew up on mushy canned asparagus and never opened their eyes to how delicious asparagus can actually be. This is why I'm an enthusiastic advocate of growing your own asparagus and trying out new recipes!
This Grilled Asparagus with Parmesan recipe takes just 10 minutes on the grill and is easy enough for even a beginner cook. The tender-crisp bite of perfectly-cooked asparagus is to die for and the tried-and-tested combo of salt, pepper, and olive oil highlights and enhances its natural vegetal taste. The hit of freshly-grated parmesan at the end elevates the flavor of the dish with its iconic sharp and salty taste. It's also a very compelling reason for cheese lovers to try it out! Don't go overboard with the parmesan though — too much of a good thing can be bad for you and your sodium intake.
You can serve this as a classy side dish or just eat it as a tasty snack — the short prep time affords you a lot of flexibility. Surprise your friends and family the next time you fire up the grill!
Print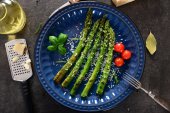 Grilled Asparagus with Parmesan
After ten minutes on the grill, this Grilled Asparagus with Parmesan is ready to go with its grassy, slightly sweet, and enjoyably cheesy flavor profile.
Author:
Prep Time:

5 minutes

Cook Time:

10 minutes

Total Time:

15 minutes

Yield:

Serves 4

Category:

Sides & Sauces
Ingredients
1

pound fresh asparagus

1 tablespoon

of extra-virgin olive oil, or more to coat the spears
Salt and pepper to taste

1/2 cup

freshly grated parmesan cheese (or more or less, to taste)
Instructions
Preheat grill to medium-high heat.
Place grill pan for vegetables on top of grill to heat it while you prep the asparagus. You can also cook the asparagus directly on the grill, but choose asparagus on the thick side and place the spears perpendicular to the grates.
Trim the woody ends of the asparagus. Place the spears in a bowl or plastic zipper bag and toss with the oil and salt and pepper to coat.
Lay the asparagus on the grill pan or directly on the grill and cook, turning every 2 minutes, until the spears are browned to your liking, about 10 minutes.
Remove the asparagus from the grill to a serving plate and sprinkle with cheese. Serve hot.
Notes
Be sure to use freshly grated parmesan cheese for the best flavor and appearance, and thick fresh asparagus for grilling.
Want a home garden crop that will produce delicious, nutritious, stately vegetables for decades? Then plant asparagus. You'll need a little patience at first, but once established, asparagus will reward you for years to come. With our Asparagus—King of the Garden Gardening Guide, you'll have everything you need to know about growing and enjoying this versatile food. Check it out!
Have you tried this recipe? It's a light and delicious side dish for a spring or summer meal. Please tell us how it turned out for you.