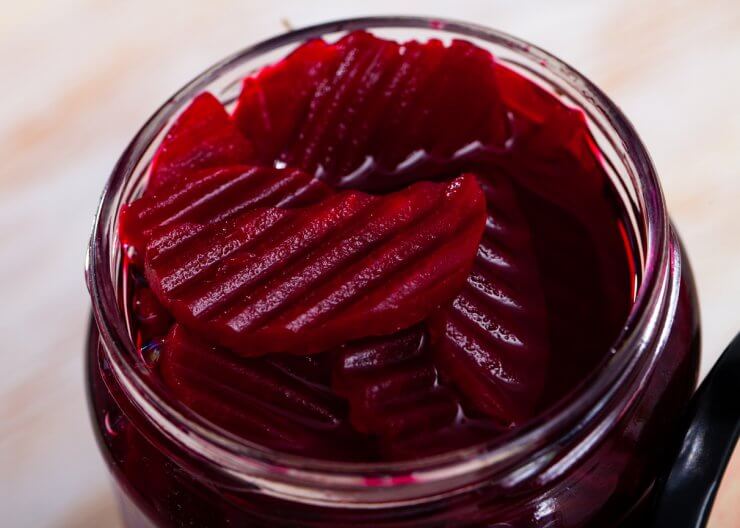 For people who like to can, pickling beets is a no-brainer. For people who have never canned vegetables before, this recipe is a good one for beginners. Pickling vegetables is an American tradition, a way of preserving the harvest for the winter ahead. Although pickled beets are readily available at the grocery store these days, there's nothing like the flavor of your own fresh-grown vegetables. So it's worth learning how to can.
The flavorings you put in the brine are all a matter of taste. This recipe calls for cloves, but if you don't like cloves, add cinnamon instead. Many people enjoy adding other vegetables to their pickled beets, such as carrots and sliced onions—go ahead, the main consideration is to include sugar, water, vinegar, and pickling salt. The other important factor is using clean canning jars and lids and boiling the jars in order to seal the lids properly. If you follow the directions, you'll be just fine. On the off chance your jar has not properly sealed, just refrigerate it and eat the beets within a week. Otherwise, properly sealed pickled beets will last 12 to 18 months on the shelf.
Once you have your preserved beets, there are many ways to enjoy them. You can serve pickled beets as a side dish sprinkled with some goat cheese such as feta, add pickled beets to your salads, or slice pickled beets and layer them with hard boiled eggs to make a pickled beet sandwich. Serve pickled beets as a side vegetable with roast chicken, or just eat them straight from the jar as a snack.
Print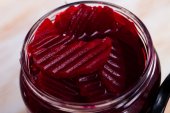 Pickled Beets
What do you do with a big beet harvest? Make pickled beets! Canning beets is easy to do. And the rewards are many: you'll have beets to enjoy for months, plus you can gift your beet harvest to friends and family. Add them to salads, serve them as side dishes, or just eat them right from the jar.
Author:
Prep Time:

30 minutes

Cook Time:

20 minutes

Total Time:

50 minutes

Yield: Serves

6

0

1

x
Category:

Sides & Sauces
Ingredients
10

pounds fresh small beets, stems removed

2 cups

white sugar

1 tablespoon

pickling salt

1 quart

white vinegar

1/4 cup

whole cloves
Instructions
Place beets in a large stockpot with water to cover. Bring to a boil, and cook until tender, about 15 minutes depending on the size of the beets. If beets are large, cut them into quarters. Drain, reserving 2 cups of the beet water, cool and peel.
Sterilize jars and lids by immersing in boiling water for at least 10 minutes. Fill each jar with beets and add several whole cloves to each jar.
In a large saucepan, combine the sugar, beet water, vinegar, and pickling salt. Bring to a rapid boil. Pour the hot brine over the beets in the jars, and seal lids.
Place a rack in the bottom of a large stockpot and fill halfway with water. Bring to a boil over high heat, then carefully lower the jars into the pot using a holder. Leave a 2-inch space between the jars. Pour in more boiling water, if necessary, until the water level is at least 1 inch above the tops of the jars. Bring the water to a full boil, cover the pot, and process for 10 minutes.
Have you tried this recipe? It's one of our favorites. Please tell us how it turned out for you.