When we hear the word pickle, what usually comes to mind are cucumbers submerged in a jar filled with vinegar. Of course, not everyone can appreciate pickles. Some folks just don't appreciate a good cucumber!
If you're someone who wants to try out pickled goods but aren't a big fan of cucumbers, take heart because I've got something you might just enjoy: Pickled Ginger Carrots!
Pickled Ginger Carrots are easy to prepare; it will only take you half an hour. The mild sweetness of carrots comes out when you submerge them in rice wine vinegar mixed with sugar, kosher salt, and star anise. Adding in fresh ginger will definitely give it a spicy zing. If you're hankering for a bit more spice, some crushed red pepper flakes should do the trick.
What I love about Pickled Ginger Carrots is their versatility: you can serve them as a side dish or enjoy them on their own as a snack. Whenever I feel like munching on something, all I need to do is get my jar of Pickled Ginger Carrots and I'm home free!
One thing to remember is to cut the carrot sticks a little bit on the thick side if you prefer a crunchier texture. Also, boiling the carrots should only take around two minutes so they don't get soggy. Keep in mind that you're still going to submerge them in the brine, which will make them a bit more tender.
Once you've finished cooking the carrots and preparing the brine, seal the carrot sticks in a jar filled with brine for 24 hours. That's when the flavors come out best. When refrigerated, you can enjoy your Pickled Ginger Carrots for two to three weeks—but I'm pretty sure they'll be gone much sooner! If you're looking for a tutorial on pickling, watch our video on How to Pickle: 3 Ways.
Print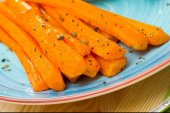 Pickled Ginger Carrots
If you wind up with a bumper crop of carrots—or if you're just looking for a fresh way to whip up a tasty snack—pickled ginger carrots will hit the spot with a little zing!
Author:
Prep Time:

20 minutes

Cook Time:

10 minutes

Total Time:

30 minutes

Yield:

Serves 4

Category:

Sides & Sauces
Ingredients
2

pounds fresh peeled carrots

2 cups

unseasoned rice wine vinegar

1 1/2 cups

water

3 tablespoons

minced ginger

3

whole star anise

3/4 cup

sugar (raw or granulated)

1 tablespoon

crushed red pepper flakes (optional)

1

clove garlic, peeled and minced

1 teaspoon

kosher salt
Instructions
Cut carrots into sticks, about 3 to 4 inches long. You'll be putting the carrots into a mason jar, so adjust your length accordingly.
Combine all ingredients except the carrots in a medium-size saucepan.
Bring liquid to a boil, stirring until the sugar is dissolved.
Add the carrot sticks to the pot.
Bring the liquid back to a boil for about 2 minutes, then turn off the heat.
Use tongs to put carrot sticks and star anise into sterilized mason jars, leaving 1/2 inch of headspace.
Pour the hot brine over the carrot sticks. Be sure to cover them.
Seal the jars and shake.
Refrigerate for at least an hour. Best flavor comes after 24 hours. Pickled ginger carrots will keep in the refrigerator for 2 to 3 weeks.
Ginger is easier to grow than you may think! With our Zesty Ginger Gardening Guide, you'll have everything you need to know about growing and enjoying this versatile plant—including specific advice about soil requirements and fertilizer, watering techniques to details about avoiding bacterial wilt, and even easy-to-make and delicious recipes that will allow you to enjoy the fruits of your ginger gardening labor!
Have you made Pickled Ginger Carrots? They go great with sandwiches, or as a quick tasty snack! Please tell us how your Pickled Ginger Carrots turned out.