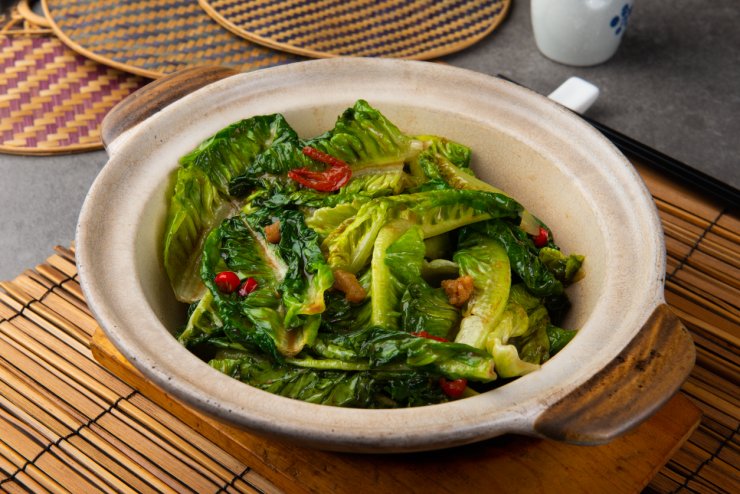 Let me tell you about how I came up with Garlic Garden Lettuce Stir Fry. When I got my first apartment, one of my first big purchases was a wok. I appreciated the simplicity and efficiency of cooking an entire meal in one piece of cookware. It was easy to put dinner together, and cleanup afterward was far easier than if I'd used pots, pans, and a casserole to cook.
I learned a lot using my wok. I was also determined to master the use of chopsticks, so I decided I would eat with chopsticks, or I wouldn't eat.
Needless to say, I learned fast.
While I was enjoying my newfound cooking and eating skills, I also decided it was time to start growing lettuce indoors. I had a sunny window by the kitchen counter, so I planted leaf lettuce. I was thrilled when it started growing, and I could have fresh salad with my increasingly inventive stir-fry dishes.
Now, I have always had an open culinary mind, but I have to admit that I never imagined putting lettuce of any kind into my wok. In retrospect, I don't know why I didn't. We stir-fry other leafy greens, don't we? Cabbage. Spinach. Mustard greens. Bok choy. So why not lettuce?
Some lettuce, like my first kitchen leaf lettuce, wouldn't do too well in a wok. But lettuce with more of a spine—say, Romaine—can certainly take the heat. And while we may usually think of lettuce as a cold-dish vegetable, it really can take on some amazing flavor when you give it a toss in a hot wok.
So give it a try. Start with this Garlic Garden Lettuce Stir Fry recipe, then craft some variations of your own. Try making it with fresh ginger (which you can also grow yourself, even in a container). You may surprise yourself at the flavors you can develop!
Print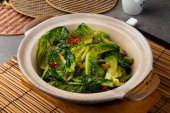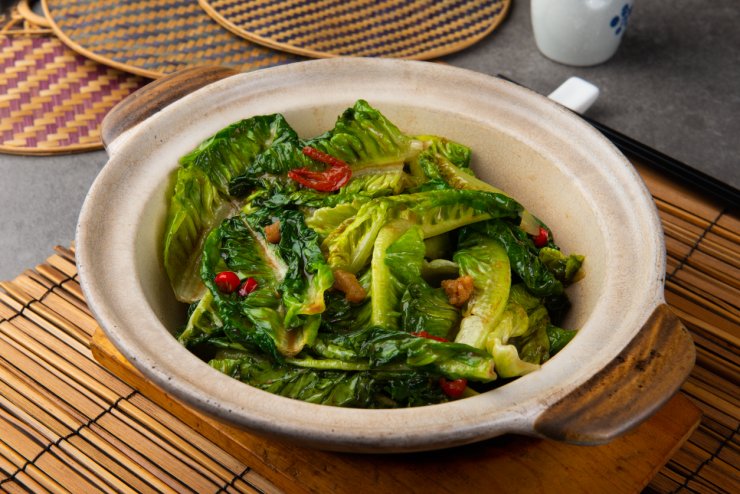 Garlic Garden Lettuce Stir Fry
Stir-fried lettuce? Really? Really. You may not think of lettuce as a food to serve hot. But you'll change your mind when you try this Garlic Garden Lettuce Stir Fry.
Author:
Prep Time:

10 minutes

Cook Time:

5 minutes

Total Time:

15 minutes

Yield:

Serves 4

Category:

Sides & Sauces
Ingredients
1 tablespoon

rice wine or dry sherry

1 tablespoon

soy sauce

1 teaspoon

sugar

1/2 teaspoon

salt

2 tablespoons

vegetable oil

5

medium garlic cloves, thinly sliced

1

pound of hearts of romaine lettuce, with leaves cut in half along the rib

1 teaspoon

roasted or toasted sesame oil (optional)
Instructions
Combine the rice wine or sherry with the soy sauce, sugar, and salt in a small bowl.
Heat your wok on medium high heat.
Add vegetable oil and garlic. Stir-fry for 5 to 10 seconds.
Add lettuce and stir-fry for 30 seconds to a minute, until the lettuce still has bright color and is just tender.
Remove wok from heat.
Drizzle roasted/toasted sesame oil over the lettuce (if desired).
Serve.
Notes
This is a dish best made with Romaine hearts or another sturdy lettuce such as butterhead or even iceberg. Looseleaf lettuce may wilt too much under the heat.
Growing lettuce is as easy as BLT. A cool-season annual, this leafy crop grows readily from seed, and you can sow seeds every few weeks to have a season full of salad! With hundreds of varieties, there's a lettuce for you. Grow it indoors or out, in your garden or on your balcony. With our Leafy Lettuce Collection, you get all the details that go into growing and harvesting delicious, leafy lettuce. Get recipes that go beyond the salad bowl and see what's possible when you grow your own lettuce. Get it all in our Leafy Lettuce Collection right now!
Have you tried this Garlic Garden Lettuce Stir Fry recipe? It's a great side dish with plenty of flavor—please tell us how it turned out for you.