I've been planting bell peppers for several years now, and I appreciate the variety of colors I can bring to the table—if only I can wait long enough for the green peppers to turn to their brighter final color. I do pick a round of green bell peppers when they hit their first ripeness date—partly because I'm impatient and partly because I just love peppers. And I have a wok waiting for me in the kitchen to make up some fresh pepper steak! And I'm actually doing my pepper plants a favor; picking some of the green peppers encourages new flowering and new pepper growth. It's a win-win!
The reward for waiting to pick the peppers until they've reached their final color, of course, goes beyond that additional pop of color. These mature bell peppers taste sweeter than their green counterparts, and they make a vibrant display when you lay out a snack for the kids or appetizers for guests.
Hummus is just so natural to serve with bell peppers. I like this twist on the old standard hummus and veggies platter. Using the colorful peppers as the "bowl" for the hummus makes for a lovely plate—and less to clean up after. Plus, you get to eat it at the end!
I like to have plenty of other veggies on hand for dipping, along with tortilla strips instead of chips; they're easier to scoop into the colorful pepper bowls.
If I'm serving this recipe to a group of kids, I might dress up the hummus "bowl" and make it look like a little boat: a carrot stick for the mast and a regular triangular tortilla chip for the sail.
Let your imagination drive your serving style.
Print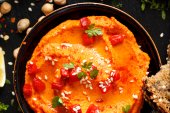 Rainbow Bell Pepper Hummus Boats
Make snack time fun time with these Rainbow Bell Pepper Hummus Boats. This recipe will appeal to kids and adults alike, with a sweet bell pepper reward at the end. 
Author:
Prep Time:

30 minutes

Total Time:

30 minutes

Yield: Serves

6

-

1

2

1

x
Category:

Sides & Sauces
Ingredients
6

medium-large bell peppers of many colors

2

15-ounce cans of chickpeas, liquid reserved

2/3 cup

tahini

1/3 cup

freshly squeezed lemon juice

4 tablespoons

minced garlic

1/2 teaspoon

salt

2

+ cups of sliced veggies for dipping: snow peas, carrots, celery, zucchini, etc.

1

bag of tortilla chips, strip style if available
Instructions
Drain and rinse the chickpeas, reserving the liquid from the can.
Place the chickpeas, tahini, lemon juice, garlic, and salt in a food processor and process until smooth and creamy. You may need to add more chickpea liquid, a tablespoon at a time, to achieve the desired consistency. Put hummus in the fridge to allow the flavors to meld.
Slice the peppers lengthwise and remove their stems, seeds, and pith. Set aside.
Slice other veggies for dipping. Arrange on a platter.
Fill each pepper half with a generous dollop of hummus.
Arrange a serving platter to show off the colorful peppers and vegetables or give each guest a plate with a hummus-filled pepper half with chips on the side.
Pass the veggie plate.
Store any leftover hummus in an airtight container in the fridge.
This recipe gives you plenty of options! Serve this jewel-colored hummus at your next gathering and get ready for raves! Not only do the bell peppers give this treat its gorgeous color, but bell peppers also add a wallop of nutrition. Serve with fresh crudités, pita triangles, or crusty bread.
Would you like to grow bell peppers? Bell peppers are one of the most popular home gardening crops. And no wonder: with so many varieties to choose, you can grow a whole rainbow in your garden! With the Beautiful Bell Peppers Gardening Guide, you'll have everything you need to know about growing and enjoying this delicious fruit.
Have you tried Rainbow Bell Pepper Hummus Boats? What did you and your friends or family think? Let us know what you thought about this recipe.