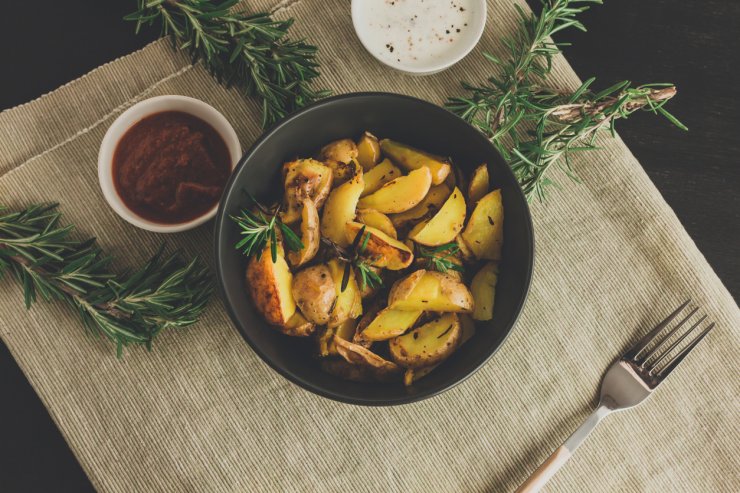 Potatoes are king when it comes to quick, delectable dishes! These versatile tubers are practically fuss-free since they don't require a lot of preparation or attention. Some even prefer their potatoes unpeeled as it reduces the already fast prep times and minimizes waste. Unpeeled potatoes are even said to be more nutritious because the skins contain many vitamins and minerals. Potato skins can also add more earthy undertones to your dish, though you may want to make sure they're of the thin-skinned variety.
Personally, I like both peeled and unpeeled potatoes. More often than not, the choice boils down to a matter of aesthetics. If I want my dish to have that golden-brown tinge, unpeeled potatoes would work better. But if I want a smoother, bright gold dish, I would definitely go for peeled potatoes.
When making your rosemary roasted potatoes, you can choose to either leave the skins or have them peeled. What's important for this recipe is that you pick yellow potatoes or other waxy, all-purpose potato types. Moist and velvety, yellow potatoes have a subtle sweetness and a rich buttery taste that perfectly complements rosemary's woody, evergreen aroma.
Because potatoes are naturally starchy, some oil and salt can blend better with spices like rosemary. Of course, roasting your potatoes gives it that slightly smoky flavor and savory texture.
For a quick and easy side dish, rosemary roasted potatoes can be your go-to recipe. It won't even take you an hour to complete! Simple but sumptuous, these rosemary roasted potatoes can pair well with steaks or meat dishes. Otherwise, you can have these potatoes as a fancy snack you can enjoy with your very own dip!
Print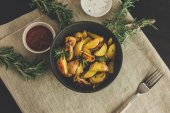 Rosemary Roasted Potatoes
Rosemary roasted potatoes make for a delicious, savory side dish—and they don't require a lot of preparation or attention. Add more of your favorite spices to make this dish your own.
Author:
Prep Time:

20 minutes

Cook Time:

30 minutes

Total Time:

50 minutes

Yield: Serves

4

to 6

1

x
Category:

Sides & Sauces
Ingredients
1

pound potatoes for roasting, such as Yellow potatoes or other waxy all-purpose type of potatoes (3 medium or

3 cups

cubed)

2 teaspoons

olive oil

1/2 teaspoon

rosemary

1/2 teaspoon

salt
Cooking spray
Instructions
Preheat the oven to 450 degrees.
Coat a baking sheet with cooking spray. For even easier cleanup, line the baking sheet with parchment paper.
Wash the potatoes. Peeling is optional (it adds time, and some say it reduces flavor).
Cut the potatoes into evenly sized 1-inch pieces, and put them in a large bowl.
Mix oil, rosemary, and salt in a small bowl.
Pour the oil mix over the potatoes. Stir to coat the potatoes evenly.
Spread the potatoes evenly on the baking sheet.
Bake for 25 to 30 minutes, or until lightly browned.
Potatoes and sweet potatoes have been around for thousands of years, and they're a main staple in many cultures. Both of these root vegetables are easy to grow at home. With our How to Grow Potatoes Gardening Guide, you'll learn all you need to know about growing and enjoying these fabulous root vegetables.
Have you tried this recipe? It's so easy, delicious, and versatile—please tell us how it turned out for you.