Print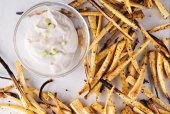 Baked Parsnip Fries
Parsnips are a root vegetable, similar to carrots. When I first brought them home, my husband thought I had made some sort of mistake when I was at the farmer's market. The high level of potassium makes them a heart-healthy option and certainly a better alternative to a greasier potato version.
Author:
Prep Time:

10 minutes

Cook Time:

35 minutes

Total Time:

45 minutes

Yield:

Serves 4

Category:

Sides & Sauces
Ingredients
Parsnip Fries

2

pounds parsnips, peeled and trimmed into fries about 5 inches long

2 tablespoons

cornstarch

4 tablespoons

olive oil
Salt and pepper to taste

Creamy Balsamic Reduction Dip

1/2 cup

balsamic vinegar

3 tablespoons

packed light brown sugar

3/4 cup

sour cream
Scallions, sliced, for garnish
Instructions
For the parsnip fries: Preheat the oven to 425 degrees F. Line two baking sheets with parchment paper and set aside.
Place the parsnips in a large mixing bowl and sprinkle with the cornstarch. Toss to coat completely. Spread the parsnips onto the baking sheets.
Drizzle about 1 tablespoon of the olive oil over each tray and toss the parsnips with your hands to coat. Sprinkle with salt and pepper.
Bake on the first side for 20 minutes. Remove the baking sheets from the oven, flip the parsnips over with tongs, drizzle another tablespoon of oil over each tray, and bake for an additional 15 minutes, or until the parsnips are browned and Remove from the oven and serve immediately.
For the creamy balsamic reduction dip: While the parsnips are baking, combine the balsamic vinegar and brown sugar in a small saucepan and heat over medium to medium-high heat, stirring constantly until the sugar dissolves. Allow the mixture to come to a boil for 3 minutes, stirring intermittently while it boils.
Immediately transfer the reduction to a heat-safe container or bowl and do not let it cool.
Combine about 2 tablespoons of the balsamic reduction with the sour cream, to taste, playing with the ratios as desired.
Serve the parsnip fries with the sauce and garnish with scallions.
Notes
Baking times will vary greatly due to the size the parsnips were trimmed to, the moisture content in them, how thickly the cornstarch was applied, how much oil is used, and personal taste preferences. They will be prone to burning in the final minutes of cooking, so keep a watchful eye as this is a very hot oven.