Do you know what's great? Baked potatoes with all the fixins. You know what I'm talking about: sour cream, bacon, cheddar cheese—the works! Well, why not apply that principle to the humble cauliflower? Loaded Cauliflower is a great way to take this low-carb veggie and turn it into a complete meal.
Potatoes are a high-carbohydrate vegetable. They contain about 27 grams of carbohydrates per cup, most of which is starch. Cauliflower, on the other hand, is a low-carbohydrate vegetable. It contains only 5 grams of carbohydrates per cup, most of which is fiber. So, if you're looking to cut back on your starch intake, cauliflower is a better choice than potatoes.
Start by steaming your cauliflower, then finish it by roasting a head of cauliflower in the oven, topping it with your favorite baked potato toppings! Sour cream, bacon bits, shredded cheese—anything goes. You can even add some diced tomatoes and green onions for extra color and crunch. Loaded Cauliflower is perfect for dinner or as a side dish to accompany your main meal.
If you want to skip the steaming portion, start by cutting the cauliflower into florets and roasting them with a little oil, salt, and pepper. For extra flavor, try adding some garlic or other herbs and spices of your choice. After about 20 minutes in the oven, you'll have golden-brown roasted cauliflower that's ready to be topped with all the fixins.
Make Loaded Cauliflower the next time you're looking for a delicious, low-carb dish that will satisfy everyone at the table! Enjoy!
Print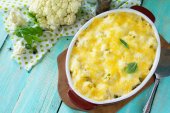 Loaded Cauliflower
This is a great way to add some zip to your cauliflower. This Loaded Cauliflower recipe is low-carb and resembles a loaded potato. Very unique and downright tasty!
Author:
Prep Time:

20 minutes

Cook Time:

1 hour

Total Time:

1 hour 20 minutes

Yield:

Serves 6

Category:

Sides & Sauces
Ingredients
1

head cauliflower

1/2 cup

sour cream

1/2 cup

shredded Cheddar cheese

1 teaspoon

dry ranch salad dressing mix (such as Hidden Valley Ranch®)

1/2 teaspoon

onion powder

1/2 teaspoon

garlic powder

1 tablespoon

butter, cut into small pieces, or more to taste
Instructions
Preheat oven to 350 degrees F.
Place a steamer insert into a saucepan and fill with water to just below the bottom of the steamer. Bring water to a boil. Add cauliflower, cover, and steam until very tender, 15 to 20 minutes. Transfer cauliflower to a bowl, mash, and strain excess water.
Mix cauliflower, sour cream, Cheddar cheese, ranch dressing mix, onion powder, and garlic powder together in a 9-inch baking dish; top with butter.
Bake in the preheated oven until bubbling, 30 to 45 minutes.
Cauliflower love is on the rise in restaurants and homes everywhere, from cauliflower rice to pizza crust, and it's easy to see why—it's a health power food and it tastes delicious as well. While cauliflower is known to be tricky to grow, our Marvelous Cauliflower Gardening Guide will get you fully prepared to take on the challenge.
Have you tried this recipe? It's such a fun way to eat cauliflower. Please tell us how it turned out for you.