"When life gives you lemons, make lemonade." Fair enough. But when life gives you rhubarb… and more rhubarb… and still more rhubarb… then what?
One year I was seeing rhubarb in my dreams. The garden had been particularly prolific that year, and the rhubarb was going, as they say, gangbusters. I could barely keep up with all the fresh red stalks.
I learned several things that year. You can only make so much rhubarb pie. Your freezer does not have infinite capacity. Sometimes you actually run out of Mason jars.
I was in a real jam.
Now, home food gardening is all about enjoying the fruits of your gardening labor, sharing it with friends and family, and being a responsible steward of whatever small plot of land you're working on. And while gardening is certainly fun, it's also work. And no one likes to see their work wasted.
But I'd baked pies, made jam, and set aside a hefty number of freezer bags full of rhubarb ready for the next recipe. And still I had more stalks than I knew what to do with.
Then I got invited to a friend's surprise birthday party. It was going to be at their brother's house, so people had plenty of time to sneak over, set up, and hide the cars. There were going to be a lot of people there, and chips and salsa was always big with this crowd.
I had found the perfect solution to my rhubarb dilemma, and I had a chance to try out a new recipe. But I wasn't going to tell anyone what the secret ingredient was in my salsa—at least, not until I got some positive feedback. If people hated it, I'd just consider it a failed experiment and quietly remove my salsa bowls and replace them with something… plainer.
Well, I needn't have worried. People scooped up that salsa with great satisfaction, and kept coming back for more. At the end of the party, there was none left.
But no worries. I still have some rhubarb…
Print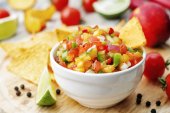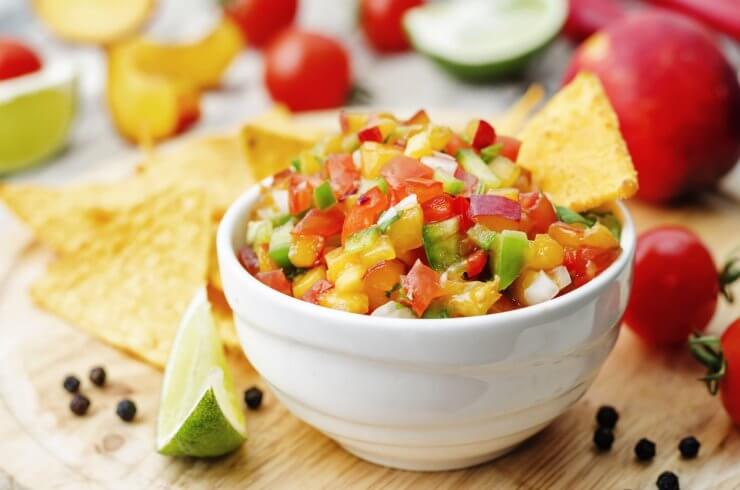 Rustic Rhubarb Salsa
We tend to treat rhubarb like a fruit; sometimes we forget that it's actually a vegetable. And since it can be a little on the tart side (to say the least!), rhubarb can be the perfect surprise ingredient in your next salsa. Spice things up a bit with this new twist on salsa.
Author:
Prep Time:

30 minutes

Additional Time:

3 hours

Cook Time:

5 minutes

Total Time:

3 hours 35 minutes

Yield: Serves

1

2

1

x
Category:

Sides & Sauces
Ingredients
1 cup

rhubarb, diced

1 cup

sweet pepper, diced (yellow, red, or green)

1 cup

cucumber, seeds removed and diced
1

jalapeno, seeds removed and diced

1/2 cup

chopped cilantro

3

plum tomatoes, diced

1

clove of garlic, minced

2 teaspoons

brown sugar

5 tablespoons

Key lime juice (regular lime juice will do in a pinch)
Salt and pepper to taste
Instructions
Bring a pot of water to a boil. Stir in the rhubarb and cook for just 10 seconds.
Quickly drain the rhubarb and transfer to a bowl of ice water. Drain rhubarb and transfer it to a large mixing bowl.
Add peppers, cucumber, jalapeño, tomatoes, garlic, and cilantro to the bowl with the rhubarb.
Dissolve the brown sugar in a small bowl with the Key lime juice and pour it over the vegetables. Stir gently to thoroughly coat everything.
Sprinkle lightly with salt and pepper and stir again.
Cover and refrigerate for at least 3 hours to allow the flavors to meld.
Serve with chips or on lightly toasted baguette slices.
Have you tried this recipe? It's a tasty twist on a standard snack. Please tell us how it turned out for you.