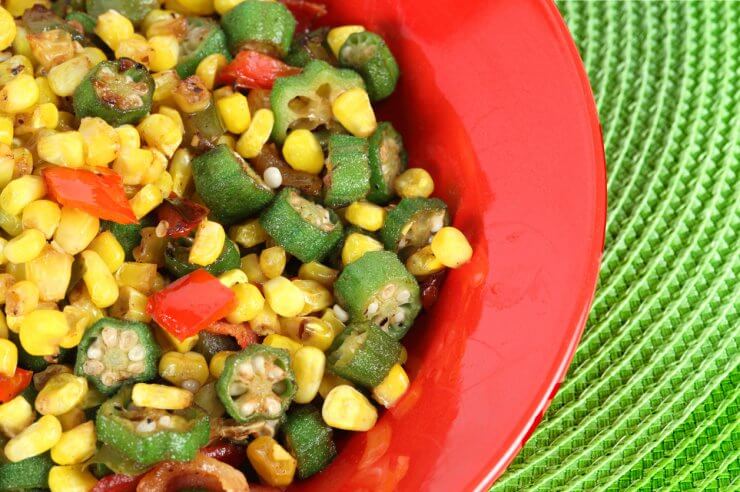 It's really no wonder that Louisiana is so popular for its food. Between Creole (with tomatoes) and Cajun (without tomatoes) styles of cooking, you can't go wrong!
It's precisely why I love this Creole-style okra; it's fresh, rich, and absolutely savory! In fact, it's one of my go-to dishes when we're having a get-together with the family in the summer. It's so versatile that it can be used as a side dish or served on top of rice or noodles.
What really carries this dish is Creole seasoning. It can be spicy but Creole seasoning typically uses paprika in moderation. This means you'll get to enjoy a spark of heat rather than a full blaze, so you don't have to worry about younger eaters. Besides, you can always add a little more spice for the batch that would be enjoyed by adults. What's more, the mild spicy flavor stirs the appetite, so you'll be digging for seconds!
The crumbly bacon bits are also a treat as they lend a crispy texture to this otherwise savory dish. If you have some fresh corn kernels, don't hesitate to put them in! Not only do they give off that extra crunch, but the mild sweetness of fresh corn kernels combine really well with the dish's overall spiciness.
Because this is Creole style okra, its inherent mucilage is what gives each bowl their rich, savory goodness. Once all the veggies are tender, you can top off your Creole style okra with the crumbled bacon. You can have it as a side, which we like to do, or use it as a topper.
Creole style okra works perfectly for any meal, even breakfast with eggs!
Print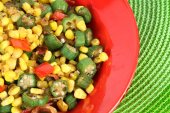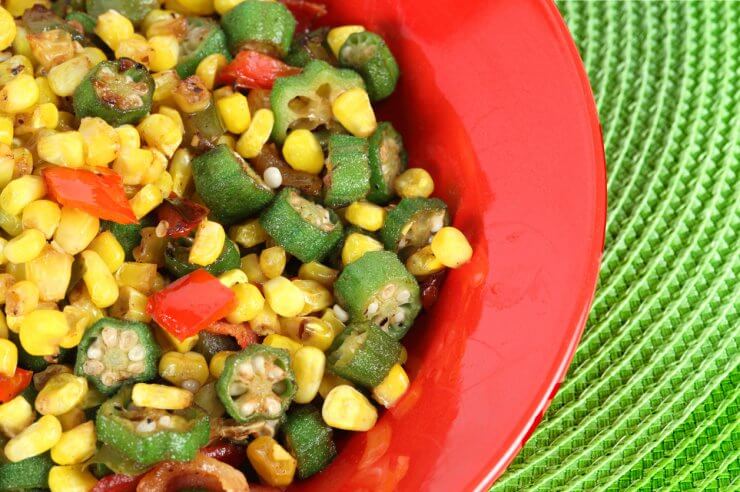 Creole Style Okra
Enjoy this Creole Style Okra as a rib-sticking side dish, or use it as a savory, rich sauce to serve over rice or egg noodles.
Author:
Prep Time:

15 minutes

Cook Time:

25 minutes

Total Time:

40 minutes

Yield:

Serves 4

Category:

Sides & Sauces
Ingredients
3

to

4

bacon slices

2 cups

fresh okra, sliced

2 cups

tomatoes, chopped

1 cup

onion, chopped

1 cup

corn kernels (fresh if you have them)

1/2 cup

water

1 teaspoon

Creole seasoning

1/4 teaspoon

pepper
Instructions
In a Dutch oven or deep saucepan, fry the bacon until it's crisp.
Drain bacon on paper towel and crumble when cool.
Into the reserved drippings, combine the remaining ingredients over medium-high heat, stirring occasionally.
Reduce the heat to low, cover, and simmer for 15 minutes, until the vegetables are tender.
Top with crumbled bacon.
Serve as is, or over rice or egg noodles.
Okra is highly versatile and can grow almost anywhere that has lots of sun. From containers on balconies to open fields of freestanding plants, there's an okra that you can grow. It's delicious raw or cooked—and if you're not big on that slime factor, no worries—there are plenty of ways to prepare okra that are totally slime-free! Check out The Guide to Growing Okra. You get everything from the history of okra to planting to picking and storing and, of course, eating. Get it all in The Guide to Growing Okra Collection right now!
Have you tried this recipe? How did you serve it? Please tell us how it turned out for you.