In our house we can—and do—eat broccoli raw, steamed, and stir-fried on the regular. But roasting with garlic and olive oil, then tossing the broccoli with lemon and parmesan? Chef's kiss! As it does with most vegetables, roasting caramelizes broccoli, intensifying and sweetening the flavor while retaining a bit of crunch. This cooking method has the opposite effect on garlic, toning down its sharpness and allowing the fragrance to permeate the broccoli. Once the broccoli comes out of the oven, simply toss with cheese and lemon juice and zest—flavors that complement the veg perfectly—and you have achieved broccoli perfection.
Don't be taken aback at the amount of broccoli called for in the Best-Ever Roasted Broccoli recipe. First, broccoli shrinks a bit during the roasting process, so you'll end up with less volume than you started with. Second, you probably won't have leftovers. If anything, you'll wish you had cooked more. (If you do have leftovers, store them in an airtight container and eat them as a side with lunch the following day or chop up and toss on top of a baked potato or into an omelet.)
Sprouting or heading broccoli types both work well for this recipe. If using sprouting broccoli, leave the stalks long and serve like asparagus. For heading broccoli, it's helpful to cut the broccoli into florets of approximately the same size so it cooks evenly. Don't worry if you end up with a few smaller pieces, though, as some people like their roasted broccoli more well done than others. Also, don't throw away those stems! They taste just as good and are just as nutritious as the florets. Either peel the outer layer and cut into chunks about the same size as the florets or reserve for another use, such as stir-fry or soup.
Print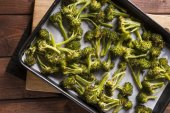 Best-Ever Roasted Broccoli
Once you prepare broccoli this way, you many never cook it any other way again. This recipe brings broccoli together with all its best friends: garlic, lemon, cheese, and olive oil. Roasting adds smoky sweetness. We doubt you'll have leftovers.
Author:
Prep Time:

10 minutes

Cook Time:

25 minutes

Total Time:

35 minutes

Yield:

Serves 4

Category:

Sides & Sauces
Ingredients
2

medium to large heads of broccoli, about

2

pounds

2

garlic cloves, finely sliced or minced

2 1/2 tablespoon

extra virgin olive oil

1/2 teaspoon

salt (adjust to your taste)
Black pepper
Zest of

half a

lemon

1 tablespoon

lemon juice

2 tablespoons

freshly grated parmesan cheese, plus more for garnish
Instructions
Preheat oven to 425 degrees F.
Cut the broccoli into florets. Peel and chop stems to similar size.
Place the broccoli in a large bowl. Drizzle all over with extra virgin olive oil, scatter with garlic, salt, and pepper. Toss with fingers or tongs, then spread out over a sheet pan in a single layer.
Roast for 20 to 25 minutes until the tips of the florets are slightly browned and crispy. The broccoli should be "tender crisp," meaning just cooked through, not soft and floppy.
Remove from the oven and immediately drizzle over the lemon juice, zest, and parmesan. Toss quickly, transfer to a serving plate and garnish with a bit more parmesan. Serve warm.
Have you tried this recipe? How did it work out for you? Please tell us what you think.