If you're looking for a flavorful, unique dish that can grace any dinner table from a casual weeknight meal to an elegant holiday feast, Grilled Rosemary Asparagus with Candied Garlic Kumquats is the perfect option.
Kumquats are such a unique ingredient to use in a recipe, and most have probably never considered pairing them with asparagus, but today we are doing just that! If you've been growing asparagus this year, this recipe will be a particularly lovely delight with fresh-picked asparagus!
This recipe combines fresh asparagus spears and tart kumquats with fragrant rosemary and sweet garlic to create an unforgettable combination of flavors. Grilling the asparagus gives it a smoky, charred flavor that helps bring out the sweetness of the kumquats, while also adding a bit of crunch.
The candied garlic kumquats add just the right amount of sweetness to balance out the savory taste of rosemary and the slight bitterness of the asparagus. This delicious dish looks impressive on a plate, making it perfect for special occasions or to impress your guests. Plus, it's easy to prepare so you can enjoy spending time with your loved ones instead of slaving away in the kitchen. As a bonus, you'll have candied kumquats leftover for other recipes!
With just a few simple ingredients and a little preparation, you can whip up this tasty dish in no time. So, don't wait any longer–give Grilled Rosemary Asparagus with Candied Garlic Kumquats a try today!
Oh, and if you don't have kumquats, don't worry, the grilled rosemary asparagus will taste perfectly delicious without them!
Print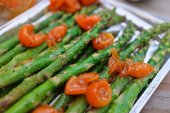 Grilled Rosemary Asparagus with Candied Garlic Kumquats
Sweet candied garlic kumquats dress this savory grilled asparagus finished in a rosemary butter.
Author:
Prep Time:

5 minutes

Cook Time:

30 minutes

Total Time:

35 minutes

Yield:

4

servings

1

x
Category:

Sides & Sauces
Ingredients
10

kumquats, sliced and de-seeded

1/2 cup

honey

1 cup

water

1

bundle of asparagus, snap or trim off tough woody ends

1 tablespoon

olive oil or walnut oil

4

cloves garlic, grated

3

bunches of rosemary

4 tablespoons

butter
Instructions
Slice kumquats into 1/4-inch slices; discard any seeds. In a saucepan, bring water and honey to a simmer, then add in your kumquats. Bring to a boil, then simmer for 25 minutes, and skim off any foam that occurs. As it gets thicker, stir more often. In the last 5 minutes, add 1 clove of the grated garlic and stir. When done, transfer to a sterile jar for storing in the fridge for later. (They'll last a week in the refrigerator, probably longer.) You can also do this the night before.
Preheat grill to 400 degrees F.
Toss trimmed asparagus with olive oil or walnut oil and remaining grated garlic. Season generously with salt and pepper.
Grease a cast-iron pan (or grill-friendly pan). Put the pan on the grill totally empty to heat while the asparagus cooks. Place the asparagus directly on the grates and cook until they can be easily pierced with a fork, turning every 3 minutes.
Once ready, add your rosemary and butter to the skillet for 30 seconds, then toss your asparagus in the fresh rosemary butter. If you're cooking steak, it's also highly advised to do the same with your steak!
Remove asparagus to a dish, sprinkle with your desired amount of garlicky candied kumquats, and toss. Enjoy!
Want to learn more about growing and cooking with kumquats? In our Crazy for Kumquats! Gardening Guide, you'll learn the history and background of the "golden orange" plus specific advice about soil requirements and fertilizer, watering techniques, details about avoiding root rot, easy-to-make and delicious recipes that will allow you to enjoy the fruits of your gardening labor, and the nutritional benefits of kumquats.
More in the mood for asparagus? With the Asparagus—King of the Garden Gardening Guide, you'll have everything you need to know about growing and enjoying this versatile food. Or if you're really eager to grow rosemary, check out our Rosemary, the All-Purpose Herb Gardening Guide, starting with the history and background of the ancient rosemary plant to hands-on advice on growing it … from propagation techniques to watering (or not) … from easy-to-make, delicious recipes to the nutritional benefits of rosemary and its popular essential oil.
If you make this Grilled Rosemary Asparagus with Candied Garlic Kumquats recipe, let me know what you think!