Print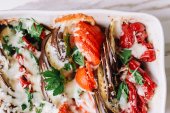 Sliced Tomato & Eggplant Parmesan Casserole
Everything is basically sliced in this casserole (hence the name) and the result is both pretty and delicious! This version of a well-known dish skips breading for a healthier result, but the Parmesan and mozzarella cheese (slices!) really pack a ton of flavor.
Author:
Prep Time:

20 minutes

Cook Time:

50 minutes

Total Time:

1 hour 10 minutes

Yield:

6

1

x
Category:

Sides & Sauces
Ingredients
2

eggplants, each about

8

inches long

2 teaspoons

kosher salt

1/2 cup

olive oil

2

large onions, thinly sliced

2

garlic cloves, thinly sliced

4

large ripe tomatoes, sliced 1/4 inch thick

8 ounces

mozzarella cheese, sliced

2

large bell peppers, red or green or both, sliced 1/4 inch thick
Freshly ground black pepper

1 cup

tomato sauce

1/2 cup

grated Parmesan cheese

1/4 cup

thinly sliced fresh basil

1/4 cup

chopped parsley
Instructions
Preheat the oven to 375 degrees F and lightly coat an 8 x 8-inch baking dish with cooking spray.
Slice the eggplants 1/4 inch thick. Arrange them in a large colander set over a large bowl and sprinkle liberally with the salt; let stand for 15 to 20 minutes.
In a large, heavy skillet, heat the olive oil over medium-high heat. Add the onions and garlic and sauté until softened but not browned, about 10 minutes.
Lay the eggplant slices on a paper towel–lined baking sheet and pat dry. Brush both sides of each slice with some of the flavored oil in the skillet.
Starting at one end of the casserole dish, begin layering the eggplant, tomatoes, mozzarella, and bell pepper, alternating each item until you reach the other end of the casserole.
Grind some black pepper over the dish, then scatter the onions and garlic over the top. Add the tomato sauce and Parmesan, and cover the dish with foil.
Bake for 40 minutes, until the eggplant is soft and the casserole is bubbling. Add the parsley and basil on top and serve.
Notes
Salting the eggplant brings moisture to its surface and removes any slightly bitter flavor.