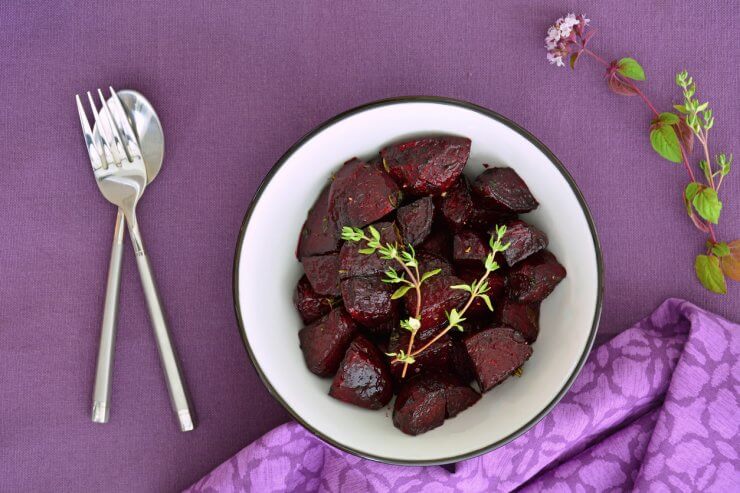 There are many ways to enjoy beets—boiled, raw, pickled, and so on. But the easiest, and many say best, way to celebrate this jewel-like root vegetable is roasting. Not only are roasted beets delicious, but they are the easiest way to prepare them. By roasting, you do not need to peel the beets with a knife or peeler. Simply trim them, and after roasting, the peel will slide right off. Then it's simply a matter of adding flavorings such as olive oil, citrus, herbs, and salt.
Here are some tips for perfectly roasted beets.
Rinse any dirt or debris from the beets. If they are very dirty, you may want to scrub them with a vegetable brush. Pat dry.
You may roast the beets whole, however if they are very large—more than 3 inches wide—slice them in half so they cook faster.
You may roast the beets whole, however if they are very large—more than 3 inches wide—slice them in half so they cook faster.
Optimally, roast the beets at 400 degrees F. However, if you're cooking something else and want to roast beets at the same time, you can set the oven anywhere between 325 and 425 degrees F, and your beets will come out fine. They just might take longer to cook at lower temperatures.
Prepare a pan by lining it with aluminum foil. Alternatively, you can wrap each beet in foil and place it on a baking pan.
Many cooks like to add a drizzle of olive oil onto the beets before roasting. This will help the beets from drying out in the hot oven. Feel free to save the beet-infused oil and use it in salad dressing.
Sprinkling the beets with a bit of salt will boost the final flavor of the roasted beets.
Most recipes tell you to roast the beets until tender. This will be achieved at different times depending on the size of the beets, the number of beets, whether other things are in the oven, and how fresh the beets are (fresher beets cook faster).
Be sure to let the beets cool before attempting to slide off the skins. To keep your fingers from turning red, wear gloves.
Beets play well with other fruits and vegetables, including root vegetables and fruits such as oranges, peaches, and tomatoes. Experiment with your roasted beets to find companion flavors you like best.
Print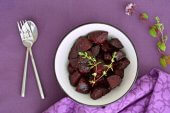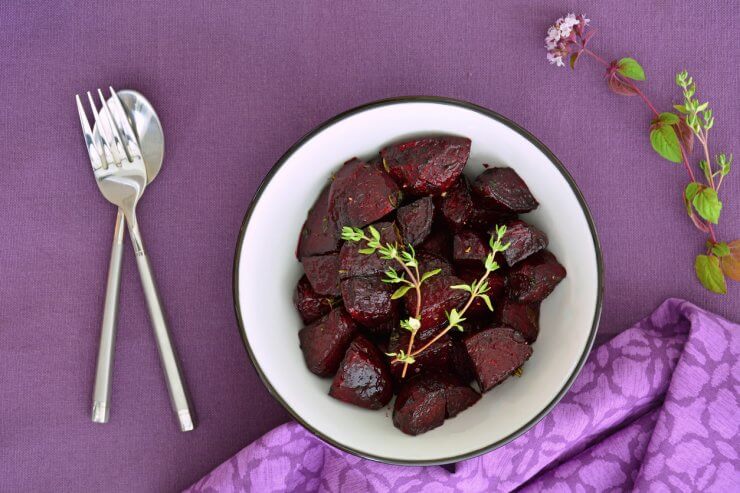 Simple Roasted Beets
Roasting beets could not be simpler to do, and you can use the results in multiple ways. In fact, you can even freeze roasted beets for later use in soups, baked goods, and more. Just add some simple flavorings to bring out the best in roasted beets. They'll quickly become a staple at your table.
Author:
Prep Time:

10 minutes

Cook Time:

1 hour

Total Time:

1 hour 10 minutes

Yield:

Serves 6

Category:

Sides & Sauces
Ingredients
6

fresh beets, or as many as desired

1 tablespoon

olive oil for every 4 to 6 beets
Salt and pepper to taste
Instructions
Preheat oven to 375 degrees F.
Wash beets under cold water and cut off the top and bottom. Cut beets in half and toss with olive oil, salt, and pepper.
Lay out a large piece of tinfoil, top with a piece of parchment paper. Wrap and seal beets. (Or place beets in a greased baking dish and cover).
Roast the foil package for 1 hour or until beets are tender when poked with a fork.
Using rubber gloves or paper towels, rub the beets and the skins will just slide right off.
Serve warm with butter or chilled in salads.
Have you tried this recipe? It's full of wholesome goodness. Please tell us how it turned out for you.