Will there ever be a combination as perfect as potatoes and cheese? I'd say this combination of potatoes, cheese, and fennel is definitely a runner-up! If you're searching for a luxurious side dish to wow all your guests at a dinner party, look no further than this Potato-Fennel Gratin. It's sure to delight guests of all ages, regardless of whether they're picky children or refined adults. (If they're refined children or picky adults — well, I'm sure they'll enjoy it too.)
Each bite of this Potato-Fennel Gratin feels like heaven. The heavy cream provides a smooth backdrop to the rich, salty, and mildly earthy Gruyère cheese; the thin potato slices are soft and filling, and the sautéed fennel and onions add a surprisingly sweet spot.
Even with how elegant it looks, it's still easy to make — you're essentially just mixing ingredients together and laying them in a baking dish. It does take a total of one hour and 40 minutes to prepare, but I guarantee your kitchen will smell glorious while it's baking in the oven — all the better to rev up your appetite! It's great as a side dish for chicken or pork, but you might just find yourself sneaking in more bites of this than the main course!
To get the best results for your potato slices, try using a mandoline slicer for consistent thinness. Just be careful when using one, because those blades are wicked sharp! If you cut yourself while slicing, it's likely to be deep. To protect yourself, consider getting some cut-resistant gloves or a mandoline with a "safe" design.
Print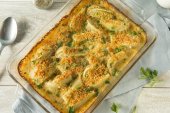 Potato-Fennel Gratin
Delight your taste buds with this Potato-Fennel Gratin — a creamy, cheesy, and buttery combination of silky-smooth potatoes and fennel!
Author:
Prep Time:

25 minutes

Cook Time:

1 hour 15 minutes

Total Time:

1 hour 40 minutes

Yield: Serves

1

0

1

x
Category:

Sides & Sauces
Ingredients
2

fennel bulbs, fronds (the leafy top) removed, and cut into slices

1

yellow onion, peeled, halved, and thinly sliced crosswise

2 tablespoons

extra-virgin olive oil

1 tablespoon

unsalted butter

2

pounds Russet potatoes, peeled and thinly sliced (try using a mandoline slicer for the most consistent thinness)

2 cups

, plus 2 tablespoons, heavy whipping cream, divided

2 1/2 cups

grated Gruyère cheese, divided

1 teaspoon

Kosher salt

1 teaspoon

freshly ground black pepper
Instructions
Preheat oven to 350 degrees F.
Butter a 10 x 15 x 2 inch glass baking dish.
Heat olive oil and butter in a medium-size sauté pan, sautéing the fennel and onions together over medium-low heat for 10 minutes, until tender.
Place potato slices in a large mixing bowl with 2 cups of cream, 2 cups of Gruyère cheese, salt, and pepper.
Add cooked fennel and onions to the potato mixture and mix well.
Pour entire mixture into buttered baking dish, and press down lightly to even out.
Combine remaining 2 tablespoons of cream and 1/2 cup Gruyère cheese, then sprinkle evenly on top.
Bake for 1 hour, 15 minutes in the pre-heated oven, until potatoes are tender and the top is brown and bubbly.
Cool for 10 minutes before serving hot.
Fennel deserves a lot more love and attention from food gardeners! The Fabulous Fennel Gardening Guide will give you everything you need to know about fennel, including planting tips, harvesting methods, and quick-and-easy recipes that will please even the most discriminating diner! Check it out and start growing fennel today.
Have you tried this recipe? It's delicious and easy—how did it turn out for you? Please comment below.