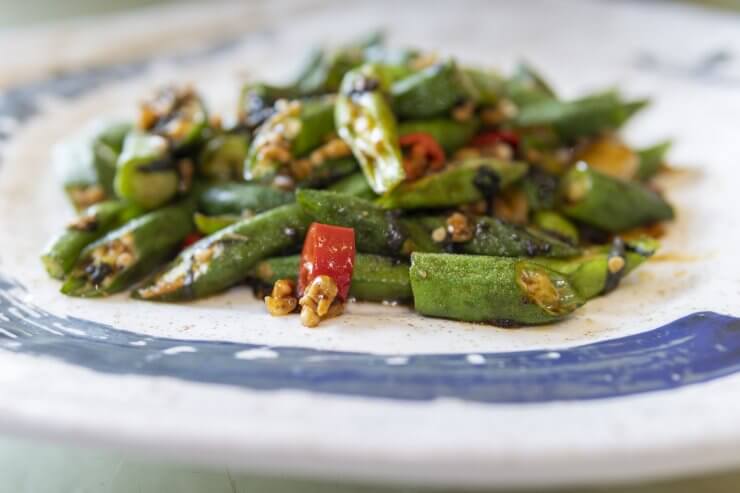 If you grow okra, I'm going to assume you love it, like I do. And when it's okra season, you will probably end up with a bumper crop and need ideas for ways to add it to your menu, which is why I love this recipe for Okra and Greens.
Now, I know okra is the kind of veggie that garners differing opinions — you either hate it or love it depending on the dish you're preparing. So maybe this dish is for the whole family, or maybe it's just for you to enjoy, but much like Brussels sprouts, the way okra is cooked makes all the difference. If you're not ready to make okra the central ingredient of your dish, then cooking it up as a side can be a good start until the rest of your company is comfortable enough to explore new ways to appreciate its fresh, tender pods.
For some home-cooked goodness, this simple recipe for Okra and Greens will certainly step up your side dish game. Quick and easy, this side takes only 40 minutes to cook and can serve as the perfect companion to any meat dish. Like I mentioned, the manner of cooking makes all the difference, and simmering the okra is what can reduce this veggie's mucilage. What really carries this dish, however, is the addition of hot peppers as these make your okra and greens truly irresistible and appetizing. Shredded mustard or collard greens give it that extra earthy kick, and onions sautéed to a perfect golden-brown lends it just the right amount of saltiness and crunch.
Squeezing some lemon juice over the finished dish serves as a nice little flourish, but the subtle tanginess can temper the spice. Serve while there's still steam rising out of your bowl, and this simple side might be gone before you know it!
Print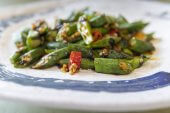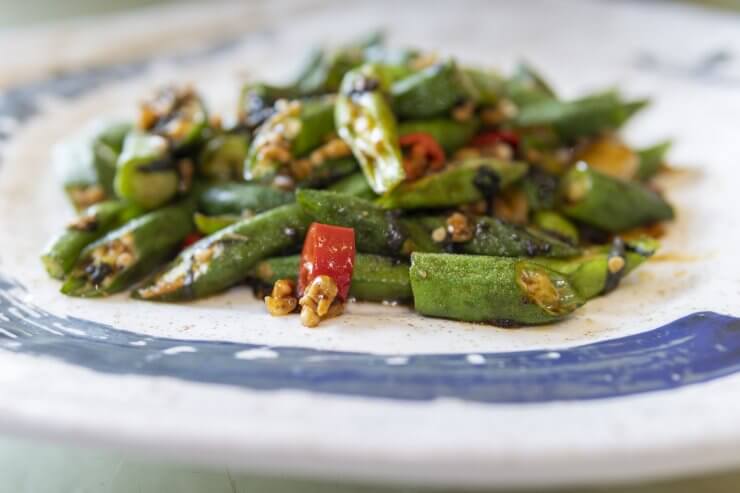 Okra and Greens
Have a bumper crop of okra? Want to step up your side dish game with some down-home cooking? Fire up the stove—and maybe make some cornbread, too.
Author:
Prep Time:

20 minutes

Cook Time:

20 minutes

Total Time:

40 minutes

Yield:

Serves 4

Category:

Sides & Sauces
Ingredients
1

small yellow onion, finely chopped

2 tablespoons

canola oil

1

pound shredded mustard or collard greens

16

okra

4

hot peppers

1/4 cup

water

1

lemon
Instructions
Chop the onion.
Wash the okra. Remove the stems.
Chop the hot peppers.
Warm the oil in a large steel pan over medium heat.
Add the onions and sauté until the onions turn a golden brown.
Add the hot peppers, okra, greens, and water to the pan.
Bring the water to a simmer, then turn the heat to low.
Cover the pan and continue to cook until the greens are tender.
Cut the lemon and squeeze it over the dish before serving.
Okra is highly versatile and can grow almost anywhere that has lots of sun. From containers on balconies to open fields of freestanding plants, there's an okra that you can grow. It's delicious raw or cooked—and if you're not big on that slime factor, no worries—there are plenty of ways to prepare okra that are totally slime-free! Check out The Guide to Growing Okra. You get everything from the history of okra to planting to picking and storing and, of course, eating. Get it all in The Guide to Growing Okra Collection right now!
Have you tried this recipe? It's an easy dish to make, and with so much flavor! Please tell us how it turned out for you.