One of the best things about using eggplants for cooking is that they're great at absorbing the flavors of the ingredients they're paired up with. This makes them perfect to use when you want Spicy Pickled Eggplant!
Soft, brown eggplants coupled with tomato paste or puree, crushed garlic, and finely chopped red chili doesn't just make for a lusciously vibrant treat—it's also bursting with flavor that you can enjoy by itself or pair up with a warm piece of bread. The bright reds, subtle greens, and deep purples you can get from making Spicy Pickled Eggplant can satisfy your visual appetite and prepare you for an explosion in your taste buds.
For this recipe, make sure to have a little more olive oil on hand because eggplants can absorb oil quickly while they're being sauteed. Don't be surprised when it seems like the oil suddenly disappeared! Since it's olive oil, you don't really have to worry about putting in a little more than usual.
To temper the varying degrees of spices from red chili and garlic, adding a little bit of red wine vinegar and sugar will do the trick. These also work amazingly well with the tomato paste or puree, bringing out its juicy, sweet tang.
Most pickle recipes can take longer to marinate, but since eggplants easily absorb flavors, you can enjoy your Spicy Pickled Eggplant in about one hour from marination. Of course, the longer you let it marinate, the more flavor each bite of the eggplant has. When you're ready to enjoy it, sprinkle it with some freshly chopped parsley and dig in!
Print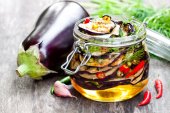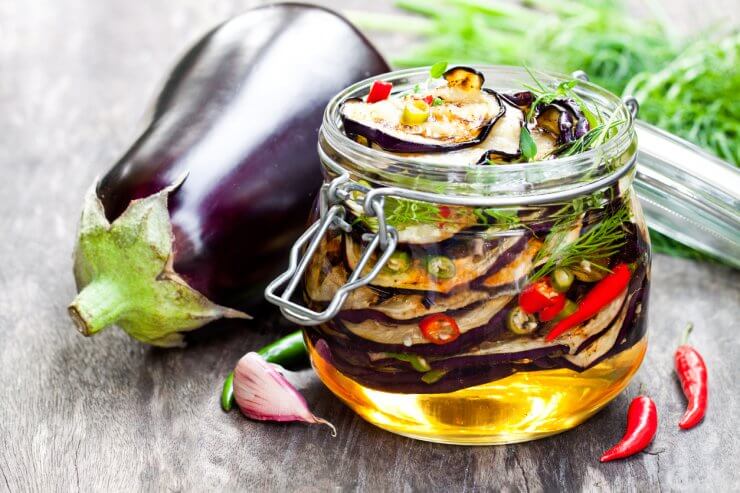 Spicy Pickled Eggplant
Dig into this Spicy Pickled Eggplant if your taste buds are hankering for a burst of delectable spices!
Author:
Prep Time:

10 minutes

Cook Time:

6 minutes

Total Time:

16 minutes

Yield:

Serves 6

Category:

Sides & Sauces
Ingredients
1

medium eggplant

1cup

apple cider vinegar

1/3 cup

extra virgin olive oil

2 teaspoons

honey

1 tablespoon

tomato paste

2

cloves garlic, minced

1

chili, finely sliced

1/8 teaspoon

salt

1/8 teaspoon

freshly ground black pepper
Instructions
Sterilize a mason jar or bowl that is an inch wider than your eggplant. Using a mandolin, slice eggplant to round 1/4-inch slices and drizzle with olive oil.
Heat a skillet to medium-high heat and add eggplant, toasting on both sides for about 2 to 3 minutes each, then let cool.
While eggplant is cooking, add olive oil, apple cider vinegar, honey, tomato paste, garlic, chili, salt, and pepper to jar and shake to mix (or stir if in a bowl). Once eggplant is cooled, add to jar or bowl and cover. Let marinate at least an hour before serving (alone, or with bread and crackers).
Start growing eggplant at home
Eggplants add a beautiful aura to any garden with their bright purple flowers and jewel-toned fruits. They're also a culinary staple in many homes. This warm-weather crop is in the nightshade family and can be enjoyed fried, roasted, baked, and freshly seared in a skillet. Eggplant is easily grown in warmer climates but can be quite cold-hardy in northern climates as well. Want to grow your own eggplant? In our Eggplant Gardening Guide, we explain how to choose eggplant varietals, grow them in your garden, harvest them, and then enjoy them at the table. Check it out.
Have you made Spicy Pickled Eggplant? How does it compare with other pickled eggplant recipes? Let us know!