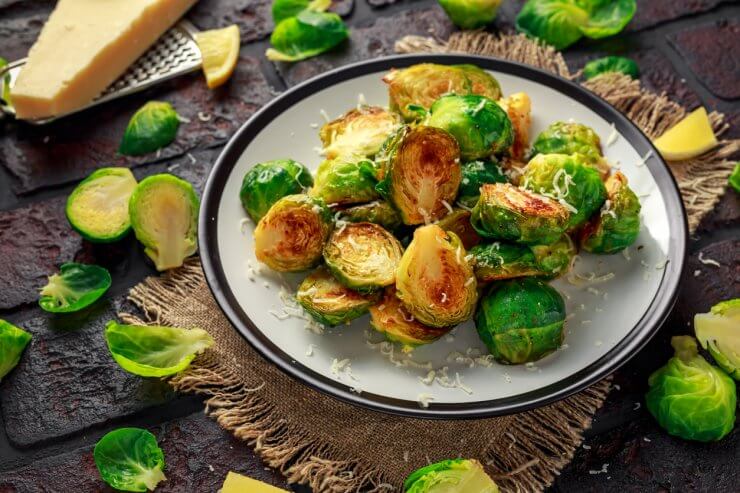 If you think Parmesan cheese is just something you grate over pasta, then you're totally missing out! Think of Parmesan as the chic scarf of the food world that you can drape over any plain dish to make it taste extraordinary. Because of its versatility, Parmesan cheese can go well with almost anything, from boiled eggs to sauteed greens — even Brussels sprouts!
Take this recipe for Roasted Parmesan Brussels Sprouts, for example. The ingredients are so simple that you wouldn't even believe this dish is something you can prepare and cook in 30 minutes.
You probably already have everything you need for a hearty serving of Roasted Parmesan Brussels Sprouts: extra virgin olive oil (or if you want a richer texture, go for butter), some kosher salt and black pepper, Italian seasoning, and minced garlic cloves. Of course, you can't forget the superstars of this dish, which are Brussels sprouts and grated Parmesan cheese.
If you really think about it, Brussels sprouts and Parmesan cheese might just be a match made in heaven because their flavors really complement each other. Parmesan has a slightly fruity and nutty taste, while roasted Brussels sprouts are also nutty with a mild sweetness. Mix them all together, and you've got this subtle but wonderful flavor that combines earthiness with a velvety delight.
What's even better about Roasted Parmesan Brussels Sprouts is how it looks so fresh on a plate. Tiny globes of bright green, tempered by brown and yellow accents. Its simplicity is what gives it elegance, but the flavors are what really sell it! If you're feeling a little indulgent, don't be afraid to add some more Parmesan for that extra dose of cheese.
Print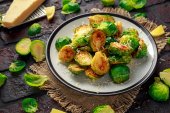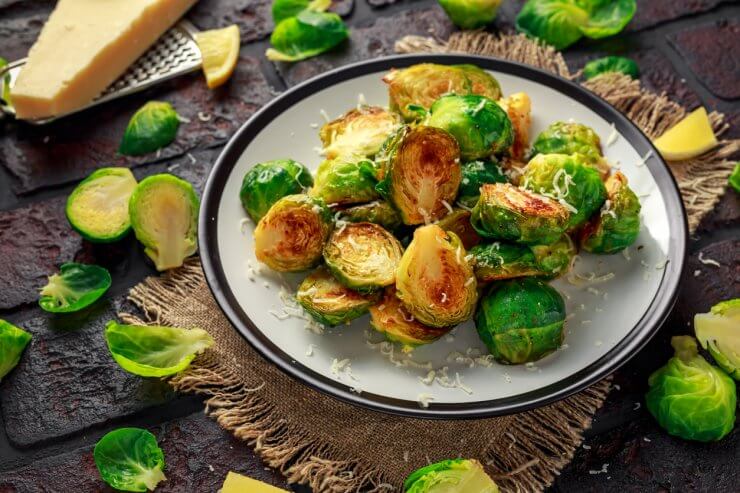 Roasted Parmesan Brussels Sprouts
This savory, cheesy Roasted Parmesan Brussels Sprouts dish will make your Brussels sprouts shine! You may want to make extra to have some for leftovers!
Author:
Prep Time:

15 minutes

Cook Time:

30 minutes

Total Time:

45 minutes

Yield:

Serves 6

Category:

Sides & Sauces
Ingredients
1

pound Brussels sprouts, cleaned, trimmed, and cut in half

3 tablespoons

extra-virgin olive oil (or butter, if you like)

1/2 teaspoon

kosher salt and fresh black pepper

1 teaspoon

Italian seasoning

3

garlic cloves, minced

1/2 cup

grated Parmesan cheese
Instructions
Preheat oven to 400 degrees F and line a baking sheet with parchment paper.
Put Brussels sprouts in a mixing bowl. Add the olive oil, spices, and Parmesan. Toss gently to cover evenly.
Spread the Brussels sprouts out in one layer on the baking sheet. If you have the patience, put the sprouts cut side down; they'll brown better.
Bake on the center rack for 25 to 30 minutes.
Brussels sprouts are done with they're golden brown.
Have you tried this recipe? Do you think it would be better with more cheese? Please tell us how it turned out for you.