If you dislike veggies, chances are you've never had them roasted. Brussel sprouts, artichokes, asparagus, eggplants, broccoli, okra, fennel—all can taste horrible when eaten out of a can or boiled until they're a soggy, flavorless mush. But if you learn the right way to cook them, you'll awaken an appreciation you never realized was possible. If you have a fresh batch of home-grown fennel, this Roasted Fennel recipe is an absolute must-try.
The recipe is simple enough that you'll be able to cook it even without being a regular in the kitchen. Also, it only requires four ingredients you likely already have in your garden or kitchen—fennel, extra-virgin olive oil, salt, and pepper—so you won't need to make a detour to the grocery store before you start cooking.
All you need to do is preheat the oven, toss the fennel wedges together with the olive oil, salt, and pepper, stick them on a baking sheet, and wait until the pieces look tender and crispy brown around the edges. That's it!
Only 30 minutes later, you'll have a perfectly sweet and savory side dish perfect for pairing with any fish, meat, or poultry main dish. Oven-roasting fennel brings out an indulgent sweetness, creaminess, and nuttiness to mellow out its natural licorice flavor. If you want a bit more luxury, you can also melt a pat of butter over the fennel or add some freshly-grated parmesan!
To ensure the success of your Roasted Fennel, don't forget to preheat your oven to ensure that it's hot enough to caramelize the fennel and dry the fennel wedges well after rinsing, so you don't end up with a soggy end result.
Print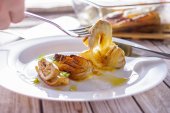 Roasted Fennel
Sweet fennel and a savory char are married together in this exceedingly simple and flavorful Roasted Fennel recipe!
Author:
Prep Time:

5 minutes

Cook Time:

25 minutes

Total Time:

30 minutes

Yield:

Serves 2

Category:

Sides & Sauces
Ingredients
1

fennel bulb, fronds (the leafy top and stalks) removed, and cut into wedges

3 tablespoons

extra-virgin olive oil

1/2 teaspoon

coarsely ground sea salt

1/2 teaspoon

freshly ground pepper
Instructions
Preheat the oven to 400 degrees F.
Line a baking sheet with parchment paper.
In a mixing bowl, toss the fennel wedges with olive oil, salt, and pepper until thoroughly and evenly coated.
Roast fennel wedges on lined baking sheet for 25 to 35 minutes, until pieces become tender and crispy brown around the edges.
Fennel deserves a lot more love and attention from food gardeners! The Fabulous Fennel Gardening Guide will give you everything you need to know about fennel, including planting tips, harvesting methods, and quick-and-easy recipes that will please even the most discriminating diner! Check it out and start growing fennel today.
Have you tried this delicious dish? It's so easy and healthy. Please tell us how it turned out for you.