I love making Roasted Garlic Cauliflower. Not only is it so easy to make, but the flavor combination of roasted garlic and cauliflower is incredibly delicious. Roasting the garlic brings out a deep sweetness and nuttiness that pairs perfectly with the mild flavor of cauliflower. Roasted Garlic Cauliflower is also a great way to add vegetables to your meal without sacrificing on taste.
What does it taste like? Well, Roasted Garlic Cauliflower has a great crunchy texture that pairs perfectly with any sauce or dressing you choose. Roasting the cauliflower allows it to caramelize and develop more complex flavors, making it a delicious side dish or snack. The little burned bits are always my favorite part.
I first tried Roasted Garlic Cauliflower at a restaurant. The flavor was so pungent and complex that I instantly fell in love. It's true that roasting the garlic brings out its natural sweetness while adding an amazing depth of flavor to the cauliflower. And I can't ever say no to garlic! I never thought I'd be a cauliflower fan, but garlic makes me a believer, and after growing them in my garden many summers in a row, I needed to find a way to use them, which is when this recipe came to me.
Roasted Garlic Cauliflower has become a staple in my kitchen, and I can't wait to share it with everyone. Whether you're looking for an easy side dish or just trying something new, Roasted Garlic Cauliflower is a great option.
Print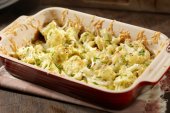 Roasted Garlic Cauliflower
Try this wonderful Roasted Garlic Cauliflower that your family will love, even the kids! Add more spices and herbs to suit your taste.
Author:
Prep Time:

15 minutes

Cook Time:

25 minutes

Total Time:

40 minutes

Yield:

Serves 6

Category:

Sides & Sauces
Ingredients
2 tablespoons

minced garlic

3 tablespoons

olive oil

1

large head cauliflower, separated into florets

1/3 cup

grated Parmesan cheese
Salt and black pepper to taste

1 tablespoon

chopped fresh parsley
Instructions
Preheat the oven to 450 degrees F. Grease a large casserole dish.
Place the olive oil and garlic in a large resealable bag. Add cauliflower, and shake to mix. Pour into the prepared casserole dish, and season with salt and pepper to taste.
Bake for 25 minutes, stirring halfway through. Top with Parmesan cheese and parsley, and broil for 3 to 5 minutes, until golden brown.
Cauliflower love is on the rise in restaurants and homes everywhere, from cauliflower rice to pizza crust, and it's easy to see why—it's a health power food and it tastes delicious as well. While cauliflower is known to be tricky to grow, our Marvelous Cauliflower Gardening Guide will get you fully prepared to take on the challenge.
Have you tried this delicious dish? It's so easy and healthy. Please tell us what your family thinks of it.