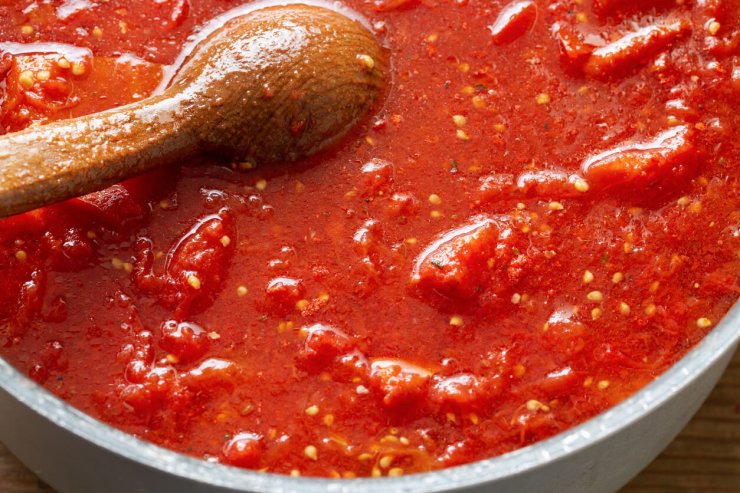 There are several ways to make stewed tomatoes at home, so I want to say that this is just one. The easiest way is to simply simmer them in water or stock until they soften, remove skins, and then heat over the stove until they break down. That's what I've done here with a bit of flavor added.
Another way is to simmer the tomatoes with some fresh herbs in a small amount of oil; this will give the flavors time to develop. You can also use canned tomatoes. Just be sure to drain off the excess liquid before adding any other ingredients.
How much stewed tomatoes you make is really up to you and how often you want to make homemade tomato sauce. Some people like making it as needed throughout the year, while others prefer to make it once every couple months so that there's always enough on hand for cooking. Either way, don't let it go to waste. Can it if you are making a ton!
You could experiment with different varieties of tomato to see which one makes the best stewed tomatoes. For example, if you'd like to try something new, you might get a mix of cherry and Roma tomatoes. Or try heirloom tomatoes such as Sun Golds or Brandywines. These tomatoes tend to taste sweeter because of their high sugar content.
If you have never tried stewed tomatoes before, I highly recommend you try this simple but healthy dish with many flavors.
Print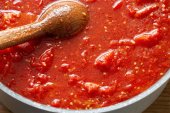 Stewed Tomatoes
This easy-to-make stewed tomato recipe simmers for just 30 minutes to make a homemade dinner side dish or it can be canned. So simple and so delicious—and a great way to use your Red Beefsteak tomatoes!
Author:
Prep Time:

10 minutes

Cook Time:

30 minutes

Total Time:

40 minutes

Yield:

Serves 6

Category:

Sides & Sauces
Ingredients
10

Red Beefsteak or Roma tomatoes

2 teaspoons

salt

1/2 teaspoon

sugar

1 tablespoon

freshly chopped parsley

1/4 cup

chopped green pepper
Instructions
Bring a large pot of salted water to boil, and plunge the whole tomatoes in the boiling water for 30 seconds.
Remove tomatoes, and place them immediately in an ice bath (a large bowl of ice and cold water).
When cooled, peel the tomatoes. Discard the skins (or compost them!).
Dice the tomatoes up to desired eating size.
In a large pot on medium heat, combine all ingredients.
Cover and simmer for 30 minutes.
Serve fresh, store in a Mason jar, or freeze in a bag for using later.
Tomatoes are the most popular plant for home gardeners! With The Everything Tomato Gardening Guide, you'll have everything you need to know about growing and enjoying this versatile food, from the history and background of the mighty tomato to specific advice on growing, harvesting, and enjoying your hard work! Check it out now.
Have you tried this recipe? It's so easy and will warm you up when cooked on a cool or chilly evening—please tell us how it turned out for you.