I like to grow some of my potatoes in those grow bags with the special access door on the side. I'm keeping two bags on my deck as an experiment. I have French fingerling potatoes in one bag, and Yukon Golds in the other. The fingerling potatoes are great roasted, but the Yukon Golds just call out to be mashed.
Now, when someone says "mashed potatoes," do you automatically think "with gravy" or "with sour cream and chives"? Honestly, it partly depends on the time of year and what else we're having with the meal. OK, it could also be that I hate whisking the lumps out of my homemade gravy, and there's no way I'm buying a jar of gravy at the market. So, sour cream and chives it is.
I have a few favorite chive varieties, and I love the idea of chopped chives fresh from my garden! I grow a couple varieties of chives indoors. In fact, only yesterday I was harvesting Garlic chives to go with tonight's dinner, which is going to feature my homegrown potatoes and chives.
I often find myself harvesting Garlic chives before the other varieties; it's probably because our family really likes garlic! That's what usually winds up in our mashed potatoes. Sometimes I serve homemade Chive Butter to slather on our mashed potatoes, but I really like this chive and sour cream combination. It's simple, delicious, and it gives the mashed potatoes a delicious lift.
You can use any chive varieties you like; it's all a matter of taste. For now, I'll stick with the Garlic chives. Let us know what kind of chives you use in your homestyle mashed potatoes!
Print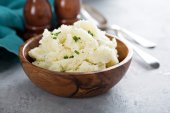 Mashed Potatoes with Sour Cream and Chives
Take your homestyle mashed potatoes to the next level by mixing in flavorful sour cream and fresh chives. It's a quick and easy way to add a little extra sparkle to your next dinner. Extra points if you've been growing your own potatoes!
Author:
Prep Time:

15 minutes

Cook Time:

30 minutes

Total Time:

45 minutes

Yield:

Serves 8

Category:

Sides & Sauces
Ingredients
2

pounds Yukon Gold potatoes, peeled (optional) and cut in quarters

1/2 cup

milk

1/2 cup

sour cream

1/3 cup

chopped chives
Half dozen whole chive leaves for garnish
Salt and pepper
Instructions
Boil potatoes in lightly salted water in a large pot until tender, about 20 to 25 minutes.
Drain and mash.
Mix in the milk using a potato masher or electric mixer.
Stir in sour cream and chives, and season lightly with salt and pepper.
Garnish with chive leaves.
Notes
Whether you peel your potatoes before you boil them is entirely up to you. It's a matter of preference. For more potato variety suggestions, check out our Potato Collection
Have you tried this recipe? It's the taste of home in a bowl—please tell us how it turned out for you.