There used to be an ad on TV in which the family observed the meal on the table and complained to the poor hardworking mom, "Potatoes again?" The implication being that potatoes were bland and boring. Well, that family, however ungrateful, would love this potato recipe—and it's so easy that just about anyone can make it. Our Potato Collection to great detail about the marvelous properties of the humble spud; check it out when you get a chance.
Potatoes are one of the most versatile vegetables around. You can bake them (in the oven, the microwave, the grill, the fire pit), roast them, mash them, hash them, boil them, and fry them. In this recipe, you boil first, then stir-fry with a little oil, herbs, and spices to make them crisp and tasty. The spices—particularly the coriander and turmeric—add earthy goodness to the potatoes and turn them a lovely yellow color.
Coriander is a spice, the seed of the cilantro plant. It can be used whole but usually the seeds are ground before adding to the recipe. Like any spice, coriander tastes best when freshly ground. To do this, you can employ a mortar and pestle or, if you're short on time and muscle, a spice grinder. If you enjoy freshly ground spices, having at least one of these implements in your kitchen is a must.
This recipe is a good example of how you can take a simple, straightforward vegetable like a potato and turn it into a more exotic dish. The addition of cilantro and citrus at the end really brightens the flavor, and will have your family exclaiming, "Potatoes again!"
Print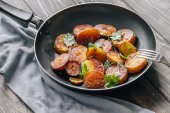 Crispy Coriander Potatoes
Coriander and cilantro leaves are different fruits of the same plant, and we use both—plus other herbs and spices—to make this exotic tasting, but easy, side dish. Boiling softens the potatoes inside and stir-frying them makes the outsides crispy. The splash of citrus at the end is optional, but we think it adds a piquancy that balances the earthy seasonings. Serve with your favorite Indian dishes or a nice piece of grilled meat, fish, or vegetable kebobs.
Author:
Prep Time:

5 minutes

Cook Time:

30 minutes

Total Time:

35 minutes

Yield:

Serves 4

Category:

Sides & Sauces
Ingredients
1 1/2

pounds small red potatoes
Salt

2 tablespoons

vegetable oil

1 teaspoon

fennel seeds

1 teaspoon

ground coriander

1/2 teaspoon

turmeric

1/2 teaspoon

dried thyme

1 teaspoon

kosher salt

1/2 teaspoon

ground black pepper

2 tablespoons

minced fresh cilantro
Squeeze fresh lime or lemon, optional
Instructions
Place potatoes in a large pot, cover with room temperature water, and season with salt. Set on a high flame and bring to a boil.
Reduce to a simmer and cook until a fork inserted into the potatoes draws out without resistance, 15 to 20 minutes. Drain and set aside to cool.
Once they're cool enough to handle, cut each potato into bite-size pieces. In a large skillet or wok, warm the oil until it's shimmering, but not smoking.
Add the fennel seeds; they should sizzle upon contact with the oil. Immediately add the potatoes, coriander, turmeric, thyme, salt, and pepper. Stir-fry until the potatoes get crispy and golden brown on the outside.
Finish with the fresh cilantro and lime juice and serve.
Have you tried this recipe? It's a great side dish with plenty of flavor—please tell us how it turned out for you.