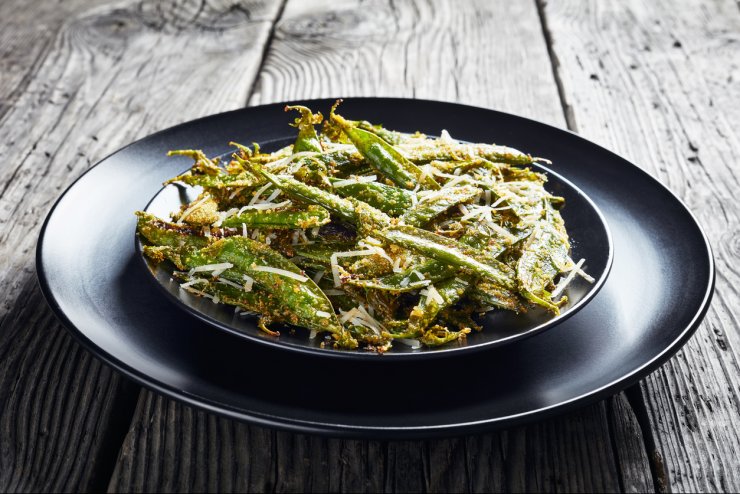 I love movie nights. They're a great way to relax and be entertained, especially after a long, tiring week. When we get together with friends for movie nights at home, the best part is that we get to share new snacks! One of my new favorites is whipping up a batch of garlic parmesan sugar snap peas.
Hear me out. They're breaded in panko and baked until crispy and crunchy! Instead of munching on your typical commercial chips with all those unhealthy preservatives, garlic parmesan sugar snap peas can be enjoyed guilt-free and worry-free! After all, they're packed with protein and fiber. Even the kids can't resist!
What makes sugar snap peas perfect for this recipe is that you get the best of two amazing worlds — the crunchiness of snow peas and the sweetness of garden peas. The garlic and parmesan temper the sweetness of the sugar snaps, giving you this perfect blend of sweetness and saltiness. At the same time, a dash of pepper gives this snack that irresistible spicy undertone.
Regular olive oil works with garlic, but to get that seamless fusion of flavors, I would recommend using roasted garlic olive oil. This really brings out that distinct roasted-nutty flavor. For all you know, you might be craving another bowl even before the opening credits are done!
If you're going to serve this for movie nights, I'd suggest making just about enough to go around, and serving right on the baking sheet. This is one snack you don't want sitting idly for too long so don't think twice about enjoying it while it's fresh from the oven! This recipe for garlic parmesan sugar snaps also works well as a snack for parties with people of all ages and palates.
Print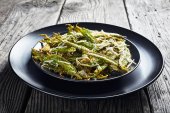 Garlic Parmesan Sugar Snap Peas
This delicious snack or side of Garlic Parmesan Sugar Snap Peas offers up a crisp crunch while providing protein and fiber. Kids and adults will eat these like candy!
Author:
Prep Time:

5 minutes

Cook Time:

20 minutes

Total Time:

25 minutes

Yield:

Serves 6

Category:

Sides & Sauces
Instructions
Preheat oven to 400 degrees F. Grease a baking sheet with cooking spray or line with parchment paper.
Combine peas and olive oil (including garlic if using regular olive oil) in a mixing bowl and toss to combine.
In a separate bowl mix together panko crumbs, parmesan cheese, parsley, salt, and pepper.
Add the panko mixture to the sugar snap peas and toss to combine.
Arrange mixture on previously prepared baking sheet in a single layer.
Roast for 15 to 20 minutes, or until crispy, turning once during cooking.
Remove from oven and serve immediately.
Have you tried this recipe? It's so easy and should be a staple in your house—please tell us how it turned out for you.