Whipping up a bowl of salsa is probably one of the easiest ways you can spice up any meal. Regular chips sound too boring? Add salsa. Want to give that chicken or steak meal a bit of a twist? Top it with salsa. Want some more magic for those tortillas or steaming hot rice? Mix them with salsa!
There are tons of ways you can make salsa and one of my favorites is Radish Salsa. This was a recipe shared by one of my cousins after she grew a valiant crop of radishes in her home garden. Since then, Radish Salsa has been something I enjoy making myself! You only need a handful of ingredients and about 15 minutes to prepare this spicy and fragrant recipe.
Preparing salsa is all about dicing, chopping, and slicing your garden goodies. The different layers of spiciness in Radish Salsa are what make this so good to eat. Radishes, jalapeño peppers, scallions, and garlic cloves all share a spicy, peppery goodness that comes in varying degrees. Mixed together, they're absolutely flavorful and harmonious. You'll get to enjoy hints of heat, earthiness, and even a little bit of sweetness. Pairing these up with cilantro and lime juice gives your bowl of Radish Salsa a nice citrusy flavor. The bright and zesty tang of lime juice coupled with cilantro helps balance out the spices, elevating the harmony among your ingredients even more.
After tossing them all together, let your Radish Salsa bowl rest in the fridge for about half an hour. This lets the flavors blend even more, and the quick chill enhances its freshness. Enjoy your Radish Salsa any time of the day for that quick fix!
Print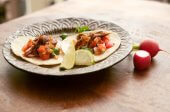 Radish Salsa
When you have a valiant crop of radishes, put it to work in this spicy and fragrant Radish Salsa.
Author:
Prep Time:

15 minutes

Total Time:

15 minutes

Yield: Serves

2

to 4

1

x
Category:

Sides & Sauces
Ingredients
1 cup

radishes, washed and diced

1

jalapeno, seeded and diced

2

scallions, finely sliced and chopped

2

garlic cloves, grated

1 tablespoon

cilantro, chopped

1/4 teaspoon

sea salt

1 tablespoon

lime juice (adjust to taste)
Instructions
Rinse chopped scallions under water to reduce bite.
Toss all ingredients together in a bowl and let rest in the fridge for about 30 minutes, then serve.
Radishes are annual plants in the Brassicaceae mustard family. So, while they might look like a carrot or a turnip, radishes are actually more closely related to Brussels sprouts and cabbage. If you want to start growing radishes in your garden or on your deck in deep containers, and we'll walk you through the whole process in our Radiant Radishes Gardening Guide!
Have you tried Radish Salsa? What did you think? Please let us know if you made any changes or have any suggestions.