You may not have thought of roasting green beans, but once you try them, you may never boil a green bean again. Roasting green beans caramelizes them, bringing out their sweetness and adding a smoky flavor that will have you eating them like candy. Yet, with just a bit of oil and salt, roasted green beans are a very healthy snacking option.
Green beans roast quickly, and the recipe couldn't be easier. But there are some tips to help your roasted green beans come out perfect.
First, always use fresh green beans—preferably from your garden or a nearby farm stand. They should be smooth on the outside and snap when you break them. Older, tough beans are not worth roasting—or eating. You can use any type of green bean, but longer, slim varieties look very elegant.
Cut or snap off the stem end and rinse the beans, then dry them with a clean tea towel or paper towels. Beans with beads of water on them will turn mushy in spots, which you should avoid.
Line your baking sheet with parchment to make cleanup easier and spread the beans out in a single layer. Don't crowd the beans; if there isn't enough room on one pan, line and use a second pan.
You can easily enjoy roasted green beans with just oil and salt, but you might consider some mix-ins or toppings. A favorite is garlic, minced and tossed with the green beans before cooking. Other ideas include toppings like toasted sesame seeds or sliced almonds; a squeeze of lemon juice or a sprinkling of lemon zest; a dusting of finely grated parmesan cheese; a few dots of butter; or anything else you can think of to enhance your enjoyment.
Print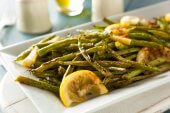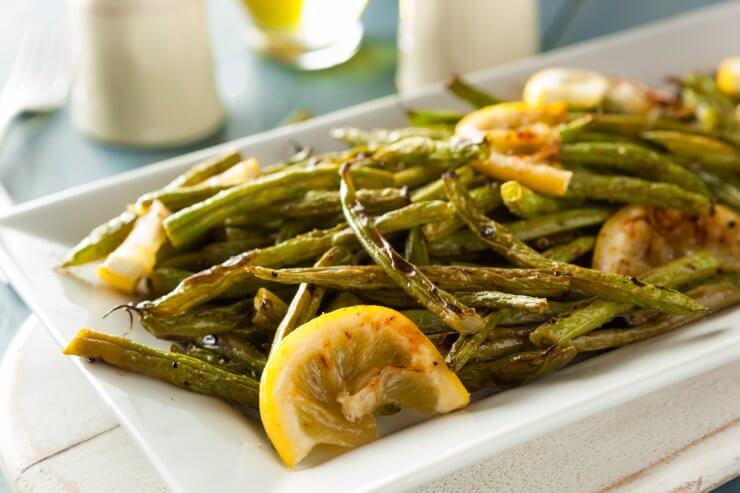 Perfect Roasted Green Beans
This is a quick and easy method for Perfect Roasted Green Beans—and is sure to become a favorite. Healthy and delicious—rumor has it even children will greedily gobble up green beans when prepared this way.
Author:
Prep Time:

5 minutes

Cook Time:

15 minutes

Total Time:

20 minutes

Yield:

Serves 4

Category:

Sides & Sauces
Ingredients
1

pound green beans, stem ends trimmed

2 teaspoons

extra-virgin olive oil

1/4 teaspoon

fine sea salt
Instructions
Preheat the oven to 425 degrees F and line a large, rimmed baking sheet with parchment paper for easy cleanup.
Wash and trim the rough ends off the green beans. Pat them very dry with clean tea towels or paper towels (wet green beans turn soggy in the oven).
Place the prepared green beans on your baking sheet. Drizzle the olive oil over the beans and sprinkle the salt all over. Use your hands to toss until all of the beans are lightly coated in oil. Arrange the green beans across the pan in a single layer.
Roast for 14 to 16 minutes, undisturbed, until they are crisp-tender with some golden, caramelized spots. (If using slender haricots verts, they may be ready a couple of minutes earlier.)
Transfer to a serving dish and enjoy with any desired accompaniments (see Recipe Notes for seasoning suggestions).
Notes
Roasted green beans are best enjoyed while warm, but will keep in the refrigerator, covered, for 4 to 5 days.
Green beans are grown, and eaten, the world over. With the Latin name Phaseolus vulgaris (common bean), green beans are also referred to as string beans, pole beans, and snap beans. With our Grow Great Green Beans Gardening Guide, you'll have everything you need to know about growing and enjoying this unique food in your home garden, including advice on planting, raising, harvesting, and preparing dish after delicious dish featuring your home-grown green beans.
Have you tried our Perfect Roasted Green Beans? What accompaniments did you choose, if any? Please tell us how it turned out for you.