I woke up from the weirdest dream: someone, or some thing, had picked all my basil plants clean. It was still early morning, and the house was still. I threw on socks, jeans, and a t-shirt and headed downstairs. I slipped on my gardening shoes and headed outside.
It was no dream. Actually, it was a nightmare. Had I forgotten to latch the gate yesterday? It was as if a cyclone had wound its way through half my garden. Some plants had been trampled. A few cucumbers—or what was left of them—littered the path that led to my herb garden. Red peppers lay pulverized, some still clinging to the vine.
And there it was—or rather, wasn't. The rosemary was fine (it's virtually indestructible). The mint, the same (Ever tried to eradicate mint? Good luck). But where the basil should be was… nothing but freshly dug earth and a few bruised leaves.
Basil bandits? My guess would be one of the local raccoons, or maybe that groundhog that lives in the woods on the far side of the garden. But why my basil? I had had my heart set on pesto for dinner; we had friends coming over.
Well, if I've learned anything about cooking with food fresh from the garden, it's that you work with what you have. I had three chive varieties growing in the garden, and they all looked fine. I was really happy I'd spent some time the day before harvesting Garlic chives.
I took my mini snips out of my pocket and harvested a whole lot of chives. When I was done, I carefully locked the gate behind me.
Well, my improvisational pesto turned out to be the highlight of dinner that night. It was one of the better pestos I've made in a long time. I'll still go the traditional route some of the time, but I like having chives as an alternative. Let us know what you think about this variation on pesto.
Print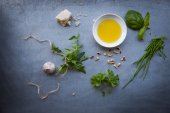 Fresh Chive Pesto
Here's a secret about pesto: it can be whatever you want it to be. Purists may tell you pesto must be made with basil, but that's just not so. Put your freshly harvested chives to excellent use in a flavorful pesto that's perfect for pasta, bruschetta, and more.
Author:
Prep Time:

10 minutes

Total Time:

10 minutes

Yield:

1 cup

1

x
Category:

Sides & Sauces
Ingredients
2 cups

loosely chopped Garlic chives (if you don't have Garlic chives, add

1 tablespoon

chopped garlic)

2 tablespoons

chopped parsley

1 tablespoon

lemon juice

1/2 cup

grated parmesan cheese

1/4 cup

pine nuts
Salt and pepper to taste

1/2 cup

extra virgin olive oil
Instructions
Combine all ingredients except the olive oil in a food processor and pulse until you have a smooth mixture.
Using the feeder tube, slowly pour the olive oil in while running the food processor. Mix until smooth.
Refrigerate in an airtight glass container until you're ready to use it.
Have you tried this recipe? It's a delicious alternative to using basil—please tell us how it turned out for you.