Healthy with a little bit of decadence—that's what these Baked Brown Butter Radishes are! You can already tell from the name that they're bound to be a treat. It's a perfect companion to a main protein dish and you won't even notice that you're eating a veggie!
Baked Brown Butter Radishes are so simple and easy to do that you'll definitely enjoy including them on your menu. As with most simple recipes, you'll be surprised at how well the combination of caramelized butter and radishes go together. It's absolutely delicious. With a little sprinkling of sea salt and ground black pepper, you'll have a side that's really hard to resist!
When making Baked Brown Butter Radishes, any kind of radish will do, but the red globe variety is recommended. While still raw, red radishes already have a semi-sweet, slightly peppery, and sharp flavor. The flavors mellow out when cooked, but they retain that peppery hint. This makes them so receptive to the fragrant, toasty, and butterscotchy taste of caramelized butter. It's even better if your radishes are fresh! If plucked from a home garden, don't forget to remove the radish tops before cooking.
Aside from the amazing flavors, I think one thing that makes Baked Brown Butter Radishes really delicious is how radishes become so tender when cooked. The texture is reminiscent of potatoes but cooked radishes remain distinct in their own way. It's one of those things that you really have to try out for yourself.
Once they're easily pierced by a fork and the butter has turned a nice brown color, your Baked Brown Butter Radishes are ready to enjoy! Pair them up with a protein meal so you can have a healthy, hearty side that's perfect for all occasions!
Print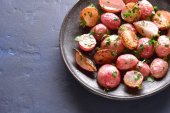 Baked Brown Butter Radishes
As the butter toasts and caramelizes in this recipe, so do the halved radishes that soak up every delicious drop in these Baked Brown Butter Radishes.
Author:
Prep Time:

10 minutes

Cook Time:

30 minutes

Total Time:

40 minutes

Yield:

Serves 4

Category:

Sides & Sauces
Ingredients
1

pound small 1- to 2-inch radish bulbs, washed and scrubbed (red globe varietals work best)

1

stick (8 tablespoons) salted butter, melted

1/2 teaspoon

sea salt

1/4 teaspoon

freshly ground black pepper
Instructions
Preheat oven to 425 degrees F.
First wash and scrub your radishes. If they are fresh from the garden remove the tops as well. Next, slice them in half from top to tip.
In a 9×12-inch baking dish, add half the melted butter, then arrange radishes flat side down in the baking dish. Drizzle with remaining butter, then sprinkle with salt and pepper.
Bake for about 30 minutes until the radishes can be easily pierced by a fork and the butter has browned. Cook longer if needed and baste with butter so radishes don't dry out.
Serve alongside protein and enjoy!
Radishes are annual plants in the Brassicaceae mustard family. So, while they might look like a carrot or a turnip, radishes are actually more closely related to Brussels sprouts and cabbage. If you want to start growing radishes in your garden or on your deck in deep containers, and we'll walk you through the whole process in our Radiant Radishes Gardening Guide!
Have you tried these caramelized radishes? What did you think? Please let us know if you made any changes or have any suggestions.