Almost all veggies taste better roasted. There's something about roasting that really brings out the best in vegetables. The year that I grew a full rainbow of carrots gave me an opportunity to try out roasting carrots indoors and out, on the stove and in the oven. Each approach gives you a subtly different flavor (though I admit, I love roasted carrots).
In the summer, the grill is on pretty much every day. That's when I start experimenting with grilling my vegetables (and some fruits) as they come ready to harvest. Carrots are great to work with since you don't need to fuss about using a grill basket; you can just plunk them down on the grill. The key is to start them on the hot side of the grill and then move them over to indirect heat. If you try to grill them over the heat the whole way, you'll have a bunch of charred carrots—and not in a good way.
Roasting is really a flexible method. I've used my oven on the convection setting on high heat, and my roasted carrots have been ready in no time. And even using nothing but olive oil and salt and pepper, they come out with a savory crusty glaze on the outside with full tender flavor on the inside. I would say that oven roasting is by far the most hands-off method, so choose this if you have other things to tend to while the carrots are cooking.
Carrots are pretty forgiving when it comes time to cook them. Roasting really brings out a carrot's flavor, and the seasonings you use can highlight the carrot's natural sweetness.
If I'm in relaxed cooking mode, I get out the cast-iron skillet and roast my carrots in the pan. I can keep a close eye on them, add a little honey or maple syrup to get a good glaze going, and if I want to, I can even finish them off in the oven. That's one of the joys of cast iron—from stove to oven to counter with no fuss.
Happy roasting!
Print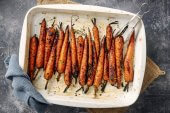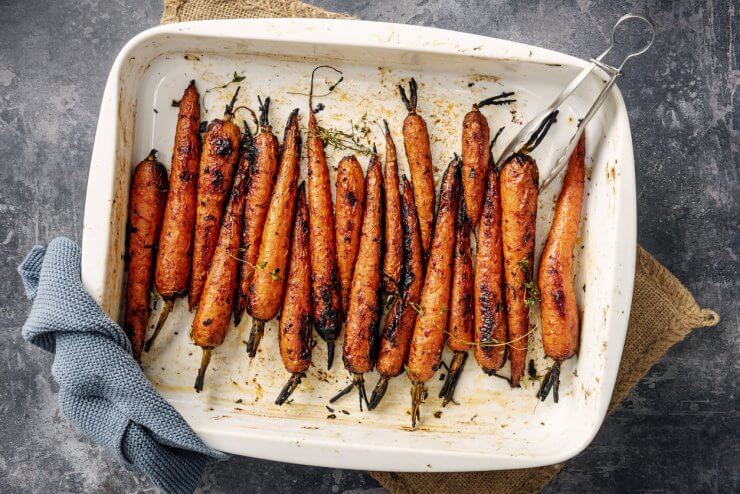 Roasted Carrots Your Way
You don't have to limit yourself to roasted carrots in the oven. Get delicious carrots bursting with flavor by roasting them your way. You can peel them if you like, but some people prefer their carrots with the skin on.
Author:
Prep Time:

15 minutes

Cook Time:

40 minutes

Total Time:

55 minutes

Yield:

Serves 4

Category:

Sides & Sauces
Ingredients
2

pounds carrots

1 1/2 teaspoons

kosher salt

2

to

4

tablespoons olive oil
Optional additions: minced garlic, lemon juice, maple syrup, soy sauce, or honey
Instructions
Preheat oven to 400 degrees F.
Toss carrots in olive oil.
Spread carrots on a baking sheet lined with parchment paper.
Sprinkle with kosher salt.
Drizzle lemon juice over carrots.
Roast for 20 to 25 minutes, checking the carrots and turning them halfway through.
Heat olive oil in a cast iron skillet over medium-high heat.
Add the carrots. You may need to do this in two batches, depending on the size of your pan.
Sprinkle carrots with salt.
Cook carrots, stirring occasionally, until they're golden brown, about 15 to 20 minutes. If you choose to use minced garlic, now's the time to add it.
Finish with a splash of your preferred seasoning liquid and serve.
Notes
Cooking times will vary depending on the size of your carrots, whether you keep your carrots whole or cut them, and which roasting approach you choose.
Carrots take some time, but they're easy to grow in both spring and fall. If you want to start growing carrots in your garden or on your deck in grow bags, we'll walk you through the whole process in our Crunchy Carrots Gardening Guide!
Have you roasted carrots? Which method do you prefer? What's your favorite way to season your carrots? Please share your favorite method and seasoning in the comments below.