You'd never know it now, but I used to be one of those people who didn't love eggplant. My exposure to it was mostly in the form of a poorly made soggy eggplant parmesan and I wasn't having any of it. But once I started eating less processed foods, including breads, I came to appreciate eggplant's ability to soak in the flavor of whatever you cook it with, and deliver an almost bread-like texture when done right. And by done right, I mean grilled with a mighty fine Grilled Eggplant Marinade, like this one here.
There are, of course, so many different types of eggplant. The store variety—usually Italian eggplant—is great, but there are also adorable and easy-to-grill Fairy Tale Eggplants too and long skinny Japanese eggplants that are thin-skinned and easy to grill.
This recipe for Grilled Eggplant Marinade calls for a traditional Italian eggplant in case you're not growing your own, but feel free to mix it up with any type you're currently growing in your garden.
I know everybody has a lot of questions when it comes to grilling eggplant (as did I when I first started getting into it!) so here are a few anticipated Q&A's:
You don't need to peel it, because the peel will keep the eggplant together. However if you want to peel it, cut lengthwise rather than in rounds.
Too thick of a cut and they may undercook, making an unpleasant texture that is tough and spongey.
Salting the eggplant (if it's a more traditional Italian or large eggplant) will help with the bitterness, help make eggplant more sweet, and tenderize the fruit.
Grilled marinated eggplant can be served warm or cold.
The result of this recipe is eggplant rounds that can also be used instead of bread for apps where you add sliced prosciutto and cheese or bruschetta or use the halves as a bun.
Cook the eggplant all the way through – you'll know if you can easily pierce each slice with a fork.
If you're using smaller Japanese eggplants, simply slice down the middle the long way.
With all of that out of the way, let's make the Grilled Eggplant Marinade!
Print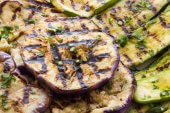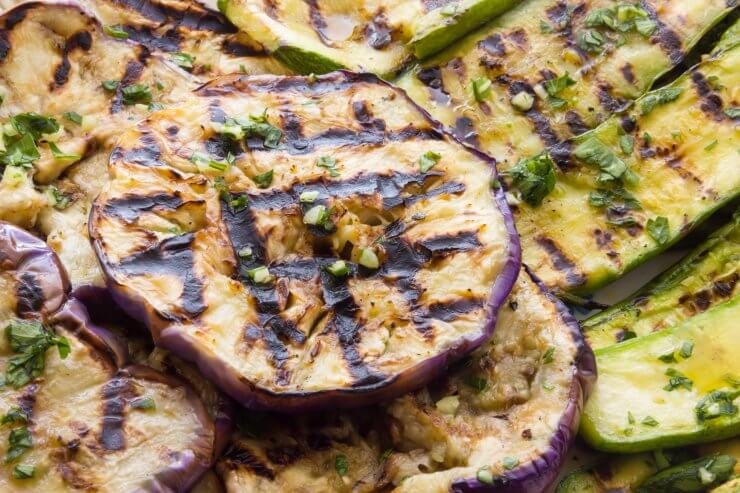 Grilled Eggplant Marinade with Garlic and Basil
Tender, savory slices of eggplant are what you'll get when you use this Grilled Eggplant Marinade that envelops the eggplant in garlic and basil. They can be used as a simple side dish, served over a couscous salad, or even plated as a low-carb bruschetta.
Author:
Prep Time:

30 minutes

Cook Time:

15 minutes

Total Time:

45 minutes

Yield:

20

-ish 1/4" slices

1

x
Category:

Sides & Sauces
Ingredients
1

12″ Italian eggplant

2 tsp

kosher salt

1/2 cup

olive oil

6

cloves of garlic, peeled and grated

4 tbsp

fresh basil, chopped

1/2 tsp

freshly ground black pepper
Instructions
Oil the grates of your grill, then preheat to medium.
Slice the eggplant into 1/4″ rounds (don't peel) and sprinkle with salt, then let sit for 30 minutes to 2 hours. Dab with paper towels when done.
While the eggplant rests, in a large bowl or plate with raised sides, combine olive oil, minced garlic, basil, and pepper.
Dip each slice in the oil mixture and shake off.
Add slices to grill and close cover. Cook for about 5-6 minutes until browned, then flip and cook another 5 minutes, until they are fork-tender.
Brush with oil if they start to dry out. Once cooked, toss back in oil mixture and serve right away, or add to a plate and drizzle the remaining oil mixture over the top. Only if needed, sprinkle with more salt. 
Notes
Note: Can be stored in the fridge for 3 days and served cold with antipasto.
If you'd like to know more about growing eggplant at home, check out our Eggplant Collection!
If you make this recipe for Grilled Eggplant Marinade, I'd love to know what you think! I make it all the time once Eggplant season comes along!