I know the feeling you get when you're waiting for your eggplants to fully mature. Seeing plump, large eggplants among your greenery is such a milestone!
Of course, not all eggplants are going to grow huge, but that doesn't mean they won't be delicious. In fact, when you're making Eggplant Hummus  (also known as Baba Ghanoush), small or medium-sized eggplants are perfect!
Baba Ghanoush is a Middle Eastern delicacy that's thick, creamy, and smoky in flavor. The best thing about this dip is that it works so well with a sundry of foods like pitta bread, flatbreads, corn chips, toast, buddha bowls—almost anything you can think of! Baba Ghanoush—which translates to "pampered father" in Arabic—aptly describes the luxurious taste you'll be indulging in.
Like I mentioned, smaller eggplants are best because larger ones can contain larger seeds, which might affect the dip's overall texture. You also need to select eggplants that aren't over-ripe to get a fresh taste without any bitterness.
Now you'll notice that for this recipe, there's a lot of room for you to adjust the seasonings and other ingredients like garlic, lemon juice, and tahini to taste. It's all about pleasing your taste buds, so don't hesitate to sprinkle a little more of what you like.
Eggplant Hummus can take some time to make since you'll be roasting the eggplants until the flesh is very soft—enough to be easily scooped out by a spoon. Depending on how smooth you want it to be, you can use a blender, but I prefer using a fork because you can enjoy a delightfully chunky texture and more distinct flavors.
Warm or cold, this Eggplant Hummus is a delight for your taste buds! Believe me when I say that you'll come back for more so consider making a big batch!
Print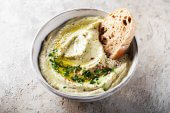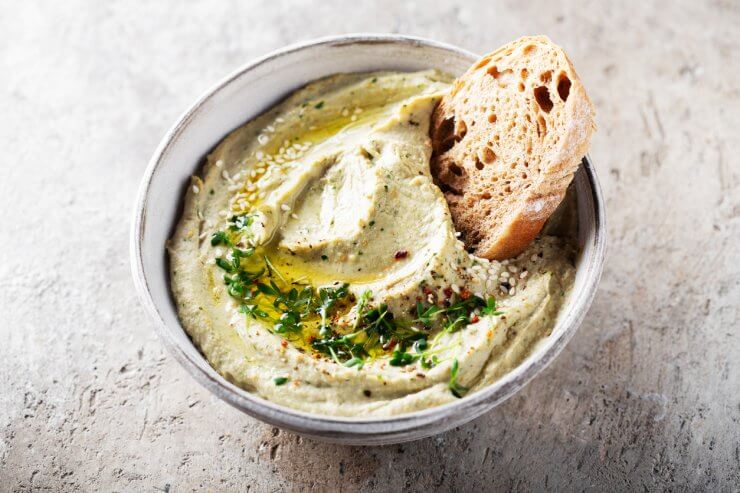 Eggplant Hummus (Baba Ghanoush)
Indulge in a creamy, luxurious dip with a helping of this delightful Eggplant Hummus (Baba Ghanoush)!
Author:
Prep Time:

10 minutes

Cook Time:

1 hour

Total Time:

1 hour 10 minutes

Yield: Serves

6

; Makes 2 cups

1

x
Category:

Sides & Sauces
Ingredients
3

medium eggplants or 6 to 8 small eggplants (large eggplants are too meaty/seedy)

4 tablespoons

tahini

2

garlic cloves, minced

2 tablespoons

lemon juice

1 teaspoon

smoked paprika

1/4 teaspoon

freshly ground black pepper
Salt (to taste)

1 tablespoon

extra virgin olive oil

2 tablespoons

cilantro, chopped
Cheesecloth
Instructions
Preheat oven to 425 degrees F. Slice the eggplants lengthwise and lay fresh side down on a baking sheet. Cook for 45 minutes to 1 hour, or until tender. They should collapse when poked. Remove from oven and allow to cool completely.
Use a spoon to scoop out flesh once cooled and use cheesecloth to strain out any extra moisture (wrap and squeeze).
Add meat of eggplant, tahini, garlic, lemon juice, smoked paprika, black pepper, and salt to a blender; discard skins. Blend gently, as this is better when there is still some texture. Just a few pulses will do.
Drizzle with olive oil and fresh cilantro, then enjoy with pita bread, veggies, and more.
Start growing eggplant at home
Eggplants add a beautiful aura to any garden with their bright purple flowers and jewel-toned fruits. They're also a culinary staple in many homes. This warm-weather crop is in the nightshade family and can be enjoyed fried, roasted, baked, and freshly seared in a skillet. Eggplant is easily grown in warmer climates but can be quite cold-hardy in northern climates as well. Want to grow your own eggplant? In our Eggplant Gardening Guide, we explain how to choose eggplant varietals, grow them in your garden, harvest them, and then enjoy them at the table. Check it out.
Have you tried Eggplant Hummus? What did you and your friends or family think? Let us know what you thought about this recipe.