Tis' the season to celebrate summer squash! I know if you're growing this abundant crop, you'll soon be searching for recipes on how to use them up, and maybe a few ideas on how to get your neighbors to take them off your hands if you don't want to preserve them, too. Don't fret, this scrumptious side, Grilled Summer Squash and Red Onion with Feta, goes with grilled steak and chicken easily, and if you're vegetarian, it makes a killer main dish as well.
Did you know that summer squash is technically a fruit, not a vegetable? That's because the squash holds the seeds of the plant, but this fruit that eats like a vegetable is a fast-growing, prolific producer. As our Editorial Director Norann suggests in our Introduction to Summer Squash, if you're making plans for your summer garden, keep in mind that you won't need many plants (and you may want to keep some space for slower-growing winter squash, anyway). Just a couple of plants will easily feed a family of four or even six—any more than that, and you'll become that legendary gardener who's forced to give away extra zucchini to strangers on the street!
If you've ever read the book Salt, Fat, Acid, Heat, you know that any great dish has a little bit of each, and in this dish, we're salting our summer squash, drizzling it in oil (fat) and lemon juice (acid), and then grilling it (heat). The real trick to this dish is tossing it all together in the dish you plan to serve it in. Because when you're done grilling, you can toss it back together on the same plate where it can soak in all the leftover marinade. Then, you sprinkle with feta and you're done!
Here are a few action shots.
First, we toss together everything except the feta cheese and half the lemon. Then we grill the veggies at 400F. I put the red onion on the top rack because it cooks longer and I don't want it to dry out and burn.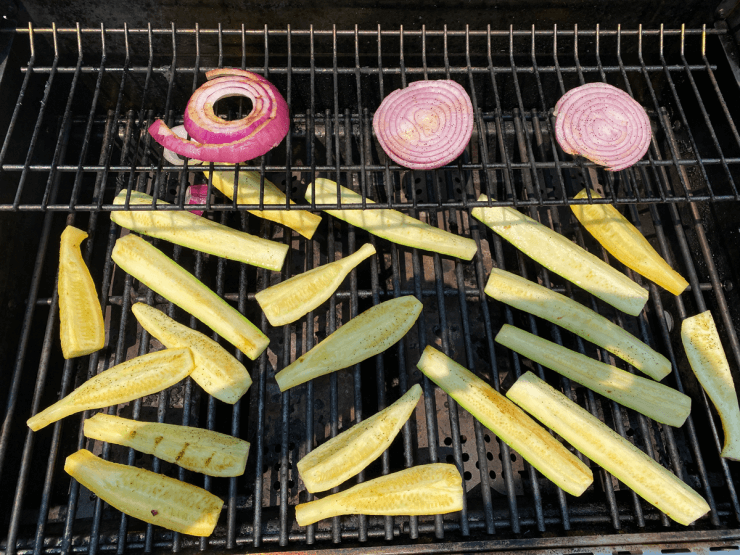 When done, the veggies should be al-dente. I generally toss out anything that's been too cooked or soft, because it'll just end up mushy in the salad.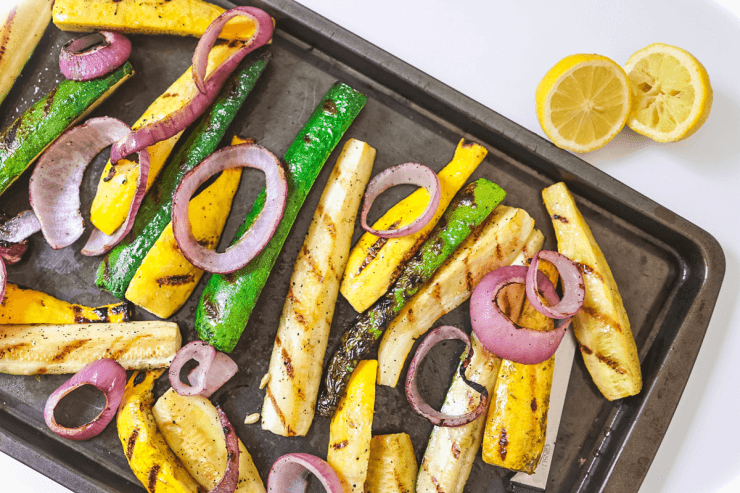 Then you chop everything, toss it all together, and serve!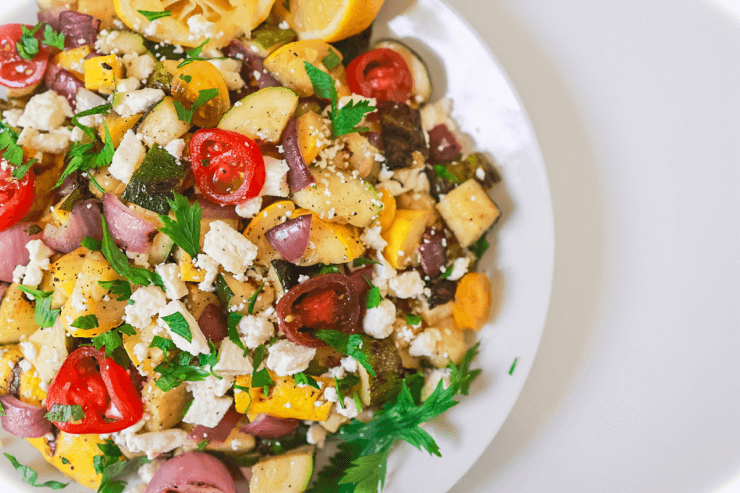 Print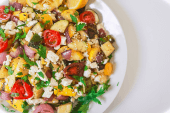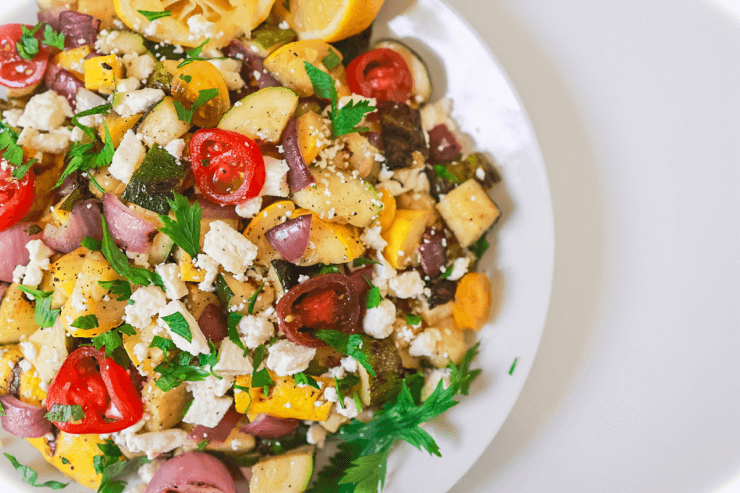 Grilled Summer Squash and Red Onion with Feta
This mouth-watering side dish uses grilled summer squash and red onion with feta and lemon to create a warm summer side dish that's fresh and satisfying!
Author:
Prep Time:

15 minutes

Cook Time:

15 minutes

Total Time:

30 minutes

Yield:

4

-

6

servings

1

x
Category:

Sides & Sauces
Ingredients
2

yellow summer squash

2

zucchini

2 tbsp

extra virgin olive oil

1

garlic clove

1

lemon, halved

1

red onion

Salt, pepper

1/2 cup

feta cheese
Optional: chopped parsley and sliced cherry tomatoes as a garnish.
Instructions
Oil your grill, then preheat to 400F.

Slice the ends off your summer squash, then cut into quarters the long way, so that you have 4 long strips from each squash, then add to your serving plate. Slice your red onion into 4 thick round "steaks", which you'll also grill and add that to your serving plate with the squash.

Drizzle squash and onion rounds with olive oil, and use a cheese grater or microplane to grate your garlic over the squash. Squeeze half your lemon over the top, and sprinkle with a couple pinches of salt and pepper. Rub this mixture over the squash and onions, and let sit for 15 minutes.

Add the onion "steaks" to the grill and let cook for about 5 minutes, flip in one piece with tongs, then add squash spears to the hot grill, sprinkle generously with salt and pepper, and let cook about 3 minutes on each side or until tender, salting and peppering a little each time. Remove everything from the grill and add back to your original serving plate. Chop grilled red onion, then toss everything again with the marinade left on the plate.

Sprinkle with feta, and then use your remaining lemon slice and salt and pepper to finish to your taste, then enjoy!
Grow Summer Squash To Make Grilled Summer Squash and Red Onion with Feta at Home
Whether you've grown summer squash before, or you've only thought about trying it, you're bound to learn something from our Summer Squash Collection. Summer squash is fairly easy to grow, requiring little more than the usual water maintenance and pest and disease vigilance, but we can help you navigate everything from starting seeds, planting, transplanting, and dealing with pesky issues like powdery mildew, should it come up. Check out our Summer Squash Collection.
Have you tried this recipe? I'd love to know what you think!