Fries are my total guilty pleasure. If I'm not careful, I might just end up eating more even after I'm stuffed! After all, fries are nostalgic—they make us think of fairs, baseball games, and good times. But they're also a great side for dinners too, and my kids certainly never complained when I served them up.
Store-bought fries are naturally the quickest option because all you have to do is toss them in a pan with lots of oil. The problem with store-bought fries is that they can never beat the delicious taste of fresh potatoes—especially if they've grown from your beautiful home garden! If you have a plentiful harvest or have fresh potatoes in the pantry, it's time to whip up a batch of oven fries.
Unlike store-bought fries, oven fries prepared from fresh potatoes have a more pronounced flavor since they haven't been frozen. They also turn out to be more tender and blend much better with the seasoning. By using fresh potatoes, you won't get that dry, overly starchy taste. You don't have to worry about burnt sides and soggy centers either, which often happen when frozen fries aren't thawed properly. Plus, with fresh potatoes, you can leave the skin on to enjoy a richer, earthier flavor.
Oven-baked white potatoes or sweet potatoes also minimize the use of oil, which is good news for those watching their cholesterol. Everyone knows deep-fried store-bought potatoes absorb a lot of oil, and they can leave you feeling heavy and bloated.
So if you're craving some carbs but don't want to feed your guilt, try out this recipe for oven fries. Indulge a little more when you have a light dip on the side. These fries are lip-smackingly good without the grease!
Print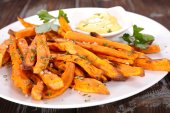 Oven Fries: Regular or Sweet Potato
It's so easy to make your own oven fries. This recipe works with your favorite potato, or sweet potatoes—or both! Once you try this recipe for oven fries, you'll never go back to the store-bought kind again!
Author:
Prep Time:

15 minutes

Cook Time:

30 minutes

Total Time:

45 minutes

Yield:

Serves 6

Category:

Appetizers
Ingredients
4

medium potatoes/sweet potatoes of your choice

1/2 teaspoon

salt

1/4 teaspoon

black pepper

1 1/2 teaspoons

paprika (optional)

1 tablespoon

canola oil
Cooking spray
Instructions
Preheat oven to 450 degrees.
Scrub and rinse your potatoes. Leave the skin on.
Dry potatoes.
Cut potatoes into long strips, 1/4 X 1/2 inch wide.
In a large bowl, mix your spices and oil.
Add your potato strips to the bowl and toss until they're thoroughly coated.
Spread potato strips in a single layer on a baking sheet lined with parchment paper or coated with cooking spray.
Bake for 15 minutes.
Turn fries over and bake for another 10 to 15 minutes, until the fries are tender.
Potatoes and sweet potatoes have been around for thousands of years, and they're a main staple in many cultures. Both of these root vegetables are easy to grow at home. With our How to Grow Potatoes Gardening Guide, you'll learn all you need to know about growing and enjoying these fabulous root vegetables.
Have you tried this recipe? You may never go back to store-bought fries again! Please tell us how it turned out for you.