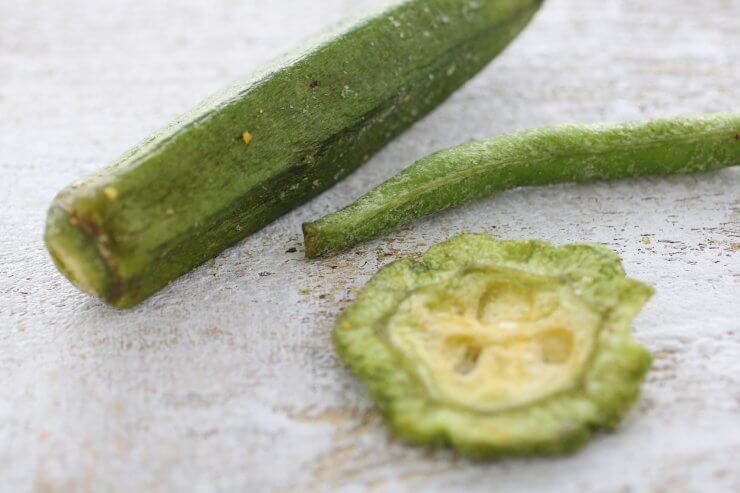 Chips have been a favorite snack forever. If chips were invented as far back as prehistoric times, I bet even the dinosaurs would love them! My only problem with chips is that as much as I enjoy munching on them, it's the type of food that makes you feel guilty right after you see an empty bowl.
This is where veggie chips have become a godsend! They are, of course, the healthier alternative — especially for people like me who tend to mind their health. In the past, I used to eat store-bought veggie chips. I could have definitely made my own version, but it was for a quick fix and I didn't want to go through the trouble of preparing them. Boy, did I get an unpleasant surprise once I finally took the time to read the ingredient list closely. Potato chips actually seem healthier when compared to all the over-processing you get from commercial veggie chips! That was when I told myself there's just nothing like homemade chips.
Out of all the veggies that I could turn into chips, I'm sure you're wondering why I chose okra for this recipe, but I'm here to tell you that baked okra chips will blow your mind away!
The trick to this recipe is to soak the okra in a mild vinegar solution for 15 minutes to reduce its mucilage. The best part is that you can sprinkle on more than just olive oil and salt as seasonings! You can certainly get creative with these baked okra chips as they're pretty versatile veggies that will work well with a variety of spices. It'll take about two to three hours of baking before the pods reach crispy perfection, but your patience will surely pay off.
If you want to take it slow with these baked okra chips, you can store them in an airtight container for three days — if they even manage to last that long!
Print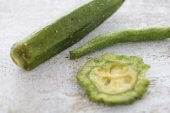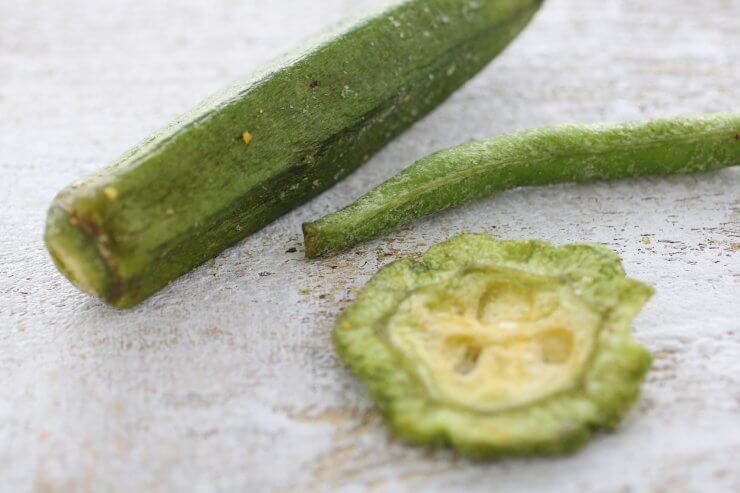 Baked Okra Chips
For some crunchy chips with a tasty twist, these Baked Okra Chips will get you munching without the guilt!
Author:
Prep Time:

25 minutes

Cook Time:

3 hours 20 minutes

Total Time:

3 hours 45 minutes

Yield: Serves

2

to 4

1

x
Category:

Appetizers
Ingredients
1

pound fresh okra pods

1 tablespoon

white vinegar

1 tablespoon

olive oil

1/2 teaspoon

salt

1/4 teaspoon

garlic powder
Instructions
Preheat your oven to 500 degrees F.
Rinse the okra pods gently, and slice each pod lengthwise.
Put the sliced okra into a large bowl, sprinkle the vinegar over it, and cover the sliced pods with enough fresh water to completely cover them.
Let the okra soak in the mild vinegar solution for about 15 minutes. Give the bowl a stir every 5 minutes or so.
Drain and rinse the okra slices.
Pat the okra slices dry with a paper towel and put into a clean, dry bowl.
Drizzle olive oil over the okra slices, then sprinkle in the salt and whatever seasonings appeal to you.
Toss the okra slices until they're evenly coated with the seasonings and olive oil.
Put the okra on a foil-lined baking sheet and spread the slices out evenly.
Bake for 20 minutes, turning the slices over halfway through.
Take the okra out of the oven and lower the oven temperature to 160 degrees F.
When the oven temperature has dropped, put the pan back in the oven—but don't close the oven door all the way.
Bake for another 2 to 3 hours until the slices reach the desired crispness.
Remove from the oven and let them cool completely.
Store in an airtight container for up to 3 days—if they last that long!
Okra is highly versatile and can grow almost anywhere that has lots of sun. From containers on balconies to open fields of freestanding plants, there's an okra that you can grow. It's delicious raw or cooked—and if you're not big on that slime factor, no worries—there are plenty of ways to prepare okra that are totally slime-free! Check out The Guide to Growing Okra. You get everything from the history of okra to planting to picking and storing and, of course, eating. Get it all in The Guide to Growing Okra Collection right now!
Have you tried this recipe to make your own veggie chips? Please tell us how they turned out for you.