Some winter squash varieties just seem ready-made to serve up dinner. I love the look of an acorn squash, with its deep ribbing, deeper green skin, and the lovely, luscious surprise of its succulent orange flesh inside. And it's small enough that you don't feel like you need to make a mountain of food.
In fact, the acorn squash can make a perfect meal for one or two people, depending on how you serve it. I've tried a wide range of stuffings: a traditional rice and ground beef filling; rich, creamy risotto; creamed spinach; whipped potatoes; seasonal veggies; and more.
The acorn squash is the ideal vessel for dishes of your wildest imagination. I once made roasted acorn squash stuffed with a combination of black rice, black lentils, and black quinoa. It was a stark contrast to the bright flesh of the squash, and one of my favorite ways to serve it.
The other nice thing about serving up dinner in a roasted stuffed acorn squash is the natural portion control. We know it's possible to have too much of a good thing. But with the right presentation, less can look and feel like more.
Of course, this doesn't have to be your main course. You could roast a couple acorn squash, fill each cavity with the hot dip of your choice, and you'd have a great set of appetizers for your guests.
Print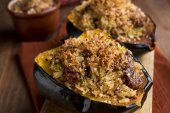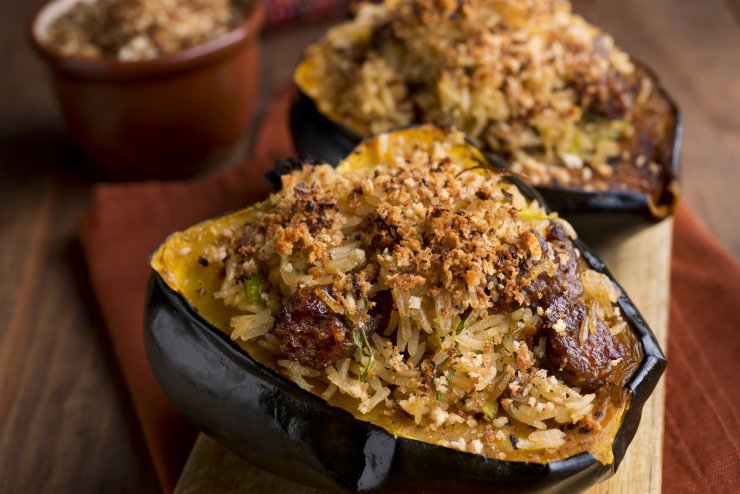 Roasted Stuffed Acorn Squash
Roasted Stuffed Acorn Squash makes a hearty meal. Acorn squash is the perfect size and shape to hold your favorite filling!
Author:
Prep Time:

30 minutes

Cook Time:

1 hour

Total Time:

1 hour 30 minutes

Yield:

Serves 4

Category:

Appetizers
Ingredients
2

acorn squash

1/2 teaspoon

salt
Water to fill squash cavity
Filling of your choice: taco meat, risotto, quinoa, rice, or spinach
Instructions
Preheat oven to 375 degrees
Wash acorn squash thoroughly.
Cut in half vertically, from the stem down.
Scoop out seeds and fibers.
Retain seeds for roasting.
Line a high-sided baking pan with parchment paper.
Lay the squash halves on the parchment paper.
Pour water into the cavity to fill it about 3/4 of the way.
Sprinkle salt over each squash half.
Roast in oven for about an hour, checking for doneness after about 40 minutes.
Meanwhile, prepare your filling.
When squash is done, put squash halves on a serving platter.
Fill each squash half with your chosen filling.
Serve with side dishes of you
Squash have been a popular crop for 10,000 years! With our Winning Winter Squash Gardening Guide you'll have everything you need to know about growing and enjoying squash of many varieties—from planting to eating!
Have you tried this recipe? What do you use for a filling? Please tell us how it turned out for you.