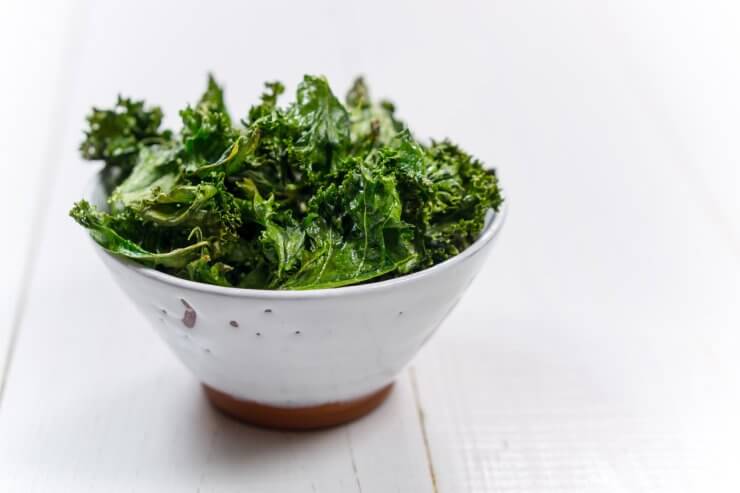 What is it about crunchy snacks that makes them so enjoyable? Potato chips, tortilla chips, pita chips—all so crunchy. Also salty, high in calories, low in nutrition, and overall, not really that good for you. But that crunch!
A lot of food companies have come out with "healthier" alternatives to the standard selection of chips. But are sweet potato chips really any "better" for you than potato chips? Not by much. Processed chips in general, while crunchy and delicious, aren't foundational members of the food pyramid.
If you love a good crunchy snack now and then, make yourself some kale chips. Not only do you get complete control over the seasoning and how much salt goes on them, you wind up with a snack that's far more nutritious than anything that comes in a colorful bag.
Some folks will tell you that you need to use the youngest, most tender kale leaves to get good kale chips. Well, I'm here to tell you that you can make kale chips out of just about any kind of kale—although I have to admit, I haven't tried making chips from Thousandhead kale. Yet.
Get a bunch of your favorite kale. I like to use lacinato kale because of the way the leaves crisp up. But your favorite kale is the best kale to use.
What's the deal with massaging the leaves? When you massage the leaves with a little olive oil and salt, you're helping to break down some of the membranes in the leaves, and that makes them more tender. You'll see that direction for making kale salad, too, along with the addition of lemon juice.
You don't need a dedicated food dehydrator to make kale chips; all you need is a regular oven. Some people with convection ovens swear by the addition of circulating hot air to give kale chips their perfect crunchiness. But really, this is a snack that's easy to make. Don't overthink it. Try it a few times and you'll find the approach that works best for you.
And you will make these kale chips more than once. Why? First, they're delicious. Second, they never last long. Enjoy!
Let us know how your kale chips turn out, and what kind of kale you're using!
Print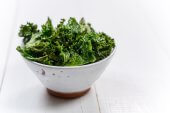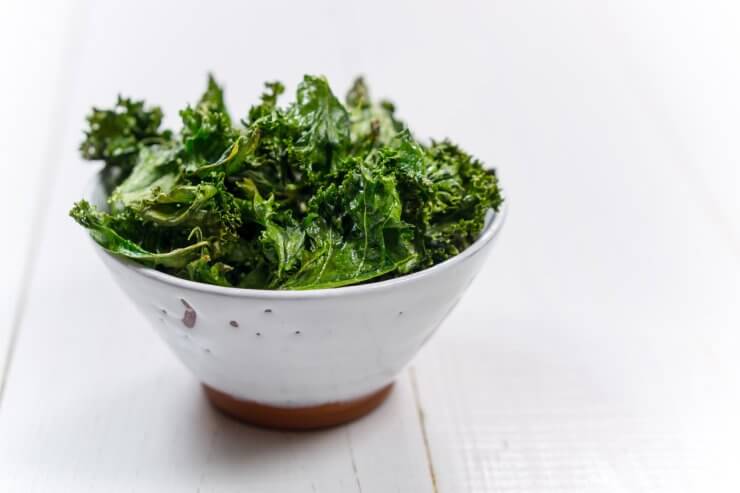 Krunchy Kale Chips
There's something wonderfully satisfying about the crunch of homemade kale chips. They're a great alternative to the high calorie/low nutrition chips you can get at the store, and they're a breeze to make.
Author:
Prep Time:

25 minutes

Additional Time:

15 minutes

Cook Time:

30 minutes

Total Time:

1 hour 10 minutes

Yield: Serves

1

to 3

1

x
Category:

Appetizers
Ingredients
1

large bunch of fresh curly kale

1 tablespoon

olive oil (approximately)
Kosher salt
Instructions
Preheat oven to 250 degrees F. Arrange two baking racks, evenly spaced, in the oven.
Thoroughly wash and dry your kale leaves. A salad spinner will help remove a lot of the water; use paper towels to soak up the rest of the moisture. Note: moisture is the enemy of a good crispy kale chip, so if you need to leave the leaves out for a while to thoroughly dry, that's OK.
Remove the stem from each kale leaf. One easy way to do this is to fold the kale leaf in half, then cut along the stem. (Don't compost those stems—they're delicious in soup!)
Chop or rip your kale leaves into pieces that are just slightly larger than bite-size; they're going to shrink a little in the oven.
Put the kale leaves into a large bowl and drizzle them with olive oil.
Massage the oil into each piece.
Spread the kale pieces in a single layer on a parchment-lined baking sheet. Be careful not to overlap any pieces.
Sprinkle your kale pieces with kosher salt; pepper is optional.
Bake kale for 20 to 35 minutes, checking after 20 minutes. If the leaves still look soft, give them another 10 minutes in the oven.
Turn the oven off and leave the kale in the oven for another 10 to 12 minutes to cool. The edges should be slightly brown, and each piece should be crispy.
Serve in a big bowl. Store in an airtight container and eat within 2 to 3 days (they probably won't last that long!).
Notes
Keep a close eye on the kale while it's in the oven. Since everyone's oven is different, your kale may crisp up sooner.
An alternate drying method is to set the oven at a higher temperature and bake for a shorter amount of time. Getting the timing just right depends on your oven, the kind of kale you're using, and how many baking pans you have in the oven at once. If your oven has a convection setting, try that to see if it makes a difference in the way your kale chips come out.
Want to get into the wonderful world of growing kale? Kale's a great crop to grow—especially for gardeners who live in regions with frost. Kale loves the cold—it even tastes better after a little frost! If you want to know more about growing kale, check out Kale: The Queen of Greens: The Complete Guide to Growing, Cooking, and Eating Kale.
Have you tried making kale chips? Did you use high heat or low heat? Please tell us how they turned out for you.