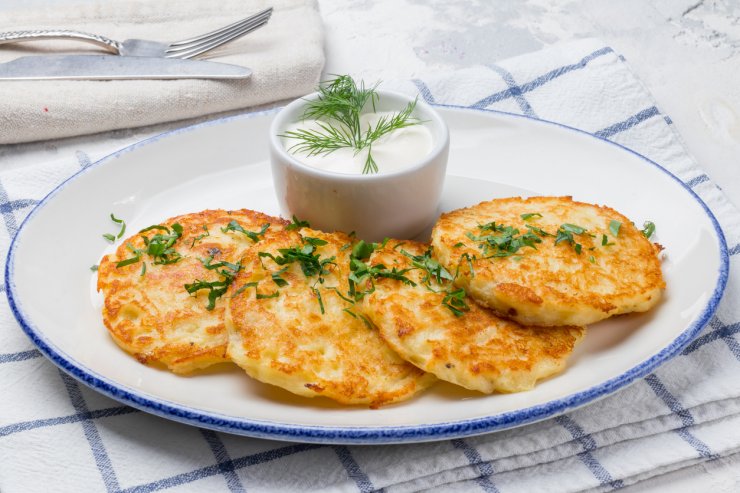 For a real sense of accomplishment, I suggest making this recipe for potato pancakes. To truly bring out the flavors of this dish, you can't just use any kind of potato. Even though all potatoes are delicious, russet or yellow potatoes will work best for this recipe. This is because russet potatoes have a light and fluffy texture with a mild earthy flavor. Yellow potatoes, on the other hand, are on the richer side, with a subtly sweet taste. Which one you choose depends on what kind of flavor profile you're going after. But don't get too caught up in this since both will pair nicely with a side of sour cream.
The trick to this recipe is to make a patty that's neither too thick nor too thin. Since you'll be frying your potato patties, be generous with the oil and pour as much as two inches deep into a large skillet. This makes sure that your potato patties are cooked through without the outsides being burnt or being too crisp that they are difficult to chew. Also, don't place the patties too close to each other, so they can have a nice, even brown color once they're done cooking.
Since you'll be working with a lot of oil for this recipe, a heavy-duty apron will come in handy. To avoid an explosion of oil, make sure that it's heated properly before dropping in the patties, or else you're going to have the 4th of July early in your kitchen!
Though these potato pancakes can take a while to prepare and cook, make sure you already have extra portions set aside. This is definitely one appetizer that will have you craving for more! Make extra to freeze for another meal—or two!
Print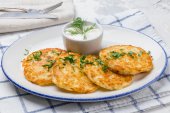 Potato Pancakes
Call them latkes, potato pancakes, or hash browns—just make sure you make enough for seconds! This recipe is a labor of love, but well worth the time and effort. Make extra to freeze for another meal—or two!
Author:
Prep Time:

25 minutes

Additional Time:

1 hour

Cook Time:

35 minutes

Total Time:

2 hours

Yield:

Serves 8

Category:

Appetizers
Ingredients
4

large potatoes, Russet or Yellow potatoes, cut in pieces to fit the feed tube of a food processor (Note: Chef's choice of whether to peel the potatoes.)

2

medium onions, quartered

1

egg

1 tablespoon

salt

1/2 teaspoon

white pepper (black pepper is also fine)

2 tablespoons

matzah meal or flour

1/2 teaspoon

baking powder
Canola oil
Apple sauce and/or sour cream for garnish
Instructions
Use a food processor with a grating disk to grate the onions and potatoes together. (If you have more than one grating disk, use the one with the bigger openings.)
Put the mixture into a colander set in a large bowl. Sprinkle with salt. Place a large bowl on top of the mixture to weigh it down.
Let it drain for 30 minutes, then press out the excess liquid.
In a large bowl, mix the egg, salt, pepper, matzah meal or flour, and baking powder.
Add the potato and onion mixture and mix well.
Cover bowl with plastic wrap and refrigerate for at least 30 minutes.
Add canola oil to a depth of about 2 inches to a large skillet. Heat oil over medium-high heat (keep an eye on it so it doesn't start smoking).
When the oil is hot, take a 2-inch ball of the potato mixture and shape it into a patty.
Use a slotted spoon to set the patty into the oil, taking care not to splash. Leave enough room between patties so they brown evenly.
When the patty edges turn brown, use tongs to flip them over.
Drain the pancakes on a paper towel.
Season with salt. Serve with apple sauce or sour cream on the side.
Notes
Always be careful when cooking with oil.
Heavy-duty apron recommended!
Potatoes and sweet potatoes have been around for thousands of years, and they're a main staple in many cultures. Both of these root vegetables are easy to grow at home. With our How to Grow Potatoes Gardening Guide, you'll learn all you need to know about growing and enjoying these fabulous root vegetables.
Have you tried this recipe? It's terrific as an appetizer or a side dish—and it freezes well. Please tell us how it turned out for you.