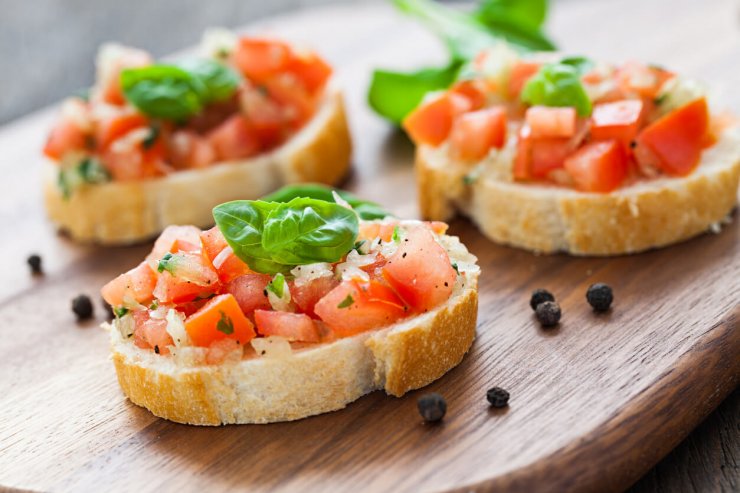 There's something about bruschetta that just makes me happy. Maybe it's the mix of flavorful ingredients like tomatoes, basil, and balsamic vinegar, or maybe it's the dish's simplicity that allows all of the flavors to shine through. No matter what it is, I know that I love balsamic bruschetta!
Whenever I see recipes for balsamic bruschetta, I can't help but want to try them! This simple appetizer is easy to make, and it always impresses guests. Plus, it's a great way to use up any leftover tomatoes from your garden or farmers' market haul.
The crispy bread combined with the delicious tomatoes and balsamic vinegar just make this dish so irresistible. It's easy to make and always a hit at parties! I love how versatile it is, too; you can serve it as an appetizer or main course.
Every ingredient complements one another. Every bite is a flavor explosion in your mouth! Whether you're eating it as an appetizer or a main course, balsamic bruschetta is always a winner.
In all honesty, there are many reasons why I love balsamic bruschetta. The crispy, crunchy bread. The juicy, delicious tomatoes. The tart, tangy balsamic vinegar. All are delicious by themselves but when combined, the flavors and textures are sublime.
Every time I host parties, I always have balsamic bruschetta. This dish looks so elegant and elevates the party experience without even trying. The color of the tomatoes topping the bread makes it irresistible to kids and adults alike.
Go ahead and give this recipe a try — I promise you won't be disappointed!
Print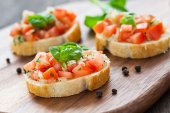 Balsamic Bruschetta
This Balsamic Bruschetta is a simple, yet elegant, appetizer to serve. The balsamic vinegar gives this dish a unique zest. A great way to start an Italian meal!
Author:
Prep Time:

15 mins

Chilling Time:

2 hours

Total Time:

2 hours

Yield:

Serves 8

Category:

Appetizers
Ingredients
8

Roma (or Plum) tomatoes, diced

1/3 cup

chopped fresh basil

1/4 cup

shredded Parmesan cheese

2

cloves garlic, peeled and minced

1 tablespoon

balsamic vinegar

1 teaspoon

olive oil

1/4 teaspoon

kosher salt

1/4 teaspoon

freshly ground black pepper

1

loaf French bread, sliced and toasted
Instructions
In a large bowl, toss together the tomatoes, basil, Parmesan cheese, and garlic.
Mix in the balsamic vinegar, olive oil, kosher salt, and pepper.
Cover the bowl with plastic wrap and refrigerate for 2 hours, to mix and blend all the flavors together.
Slice French bread in half-inch slices and toast until lightly brown.
Spread mixture on toasted bread slices and serve.
Tomatoes are the most popular plant for home gardeners! With The Everything Tomato Gardening Guide, you'll have everything you need to know about growing and enjoying this versatile food, from the history and background of the mighty tomato to specific advice on growing, harvesting, and enjoying your hard work! Check it out now.
Have you tried this recipe? It's a great way to spruce up your dinner party for friends as an appetizer—please tell us how it turned out for you.