The first time I tried Cauliflower Fritters was when I was visiting my aunt and uncle in their hometown. They had made them to test a new recipe they had come up with, and the dish was delicious! The combination of lightly fried cauliflower florets, herbs, and spices gave the fritters an amazing flavor that left me wanting more. After that first taste, Cauliflower Fritters became a favorite in my family. We often make them as part of our regular meals and also enjoy them as a delicious appetizer or snack. Cauliflower Fritters are easy to make, so anyone can give it a try!
You might think of cauliflower as a bland food, but the truth is that you can make it taste like whatever it's cooked with. Cauliflower Fritters are a great example of this because the combination of herbs and spices gives the fritters an amazing flavor. Cauliflower Fritters can be cooked in a variety of ways, from baking to deep-frying. Baking them is definitely the healthier option since it uses less oil, but frying gives them a delicious crunchy texture.
Cauliflower Fritters are a great way to get more veggies into your diet. Cauliflower is low in calories, packed with vitamins C and K, and high in fiber, which makes it an excellent choice for people looking to eat healthier. Cauliflower Fritters are also great for those who like to experiment with different flavors. You can add whatever herbs and spices you like, so the possibilities are endless!
Cauliflower Fritters are an easy, healthy snack or meal that anyone can make.
Print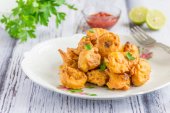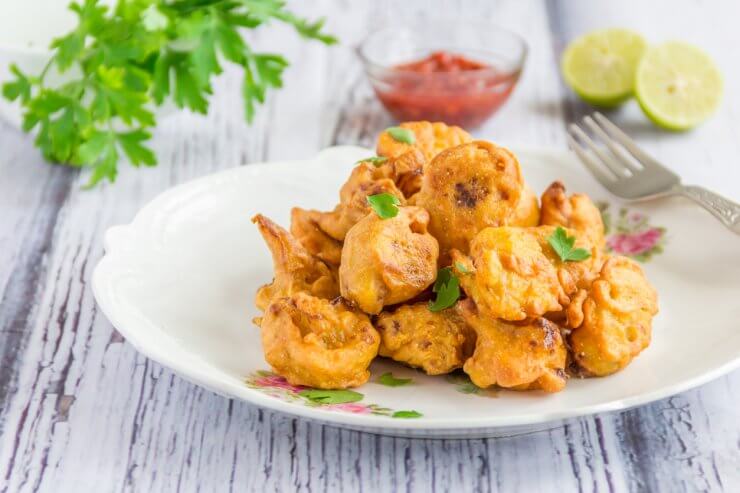 Cauliflower Fritters
These Cauliflower Fritters are easy to make and a different way to have cauliflower. You'll make them over and over for family and friends.
Author:
Prep Time:

20 minutes

Cook Time:

36 minutes

Total Time:

56 minutes

Yield: Serves

1

2

1

x
Category:

Appetizers
Ingredients
6 cups

cauliflower florets

1/2 cup

all-purpose flour

2

extra large eggs

1 teaspoon

baking powder

1

(.7 ounce) package dry Italian-style salad dressing mix

1/2 cup

olive oil for frying, or as needed
Instructions
Process cauliflower in a food processor until it is finely minced; transfer to a large bowl.
Stir flour, eggs, baking powder, and Italian dressing mix into cauliflower.
Heat enough olive oil to cover the bottom of a frying pan over medium heat.
Drop heaping tablespoons of cauliflower mixture into the hot oil; fry until golden brown, about 3 minutes per side.
Cauliflower love is on the rise in restaurants and homes everywhere, from cauliflower rice to pizza crust, and it's easy to see why—it's a health power food, and it tastes delicious as well. While cauliflower is known to be tricky to grow, our Marvelous Cauliflower Gardening Guide will get you fully prepared to take on the challenge.
Have you tried making these Cauliflower Fritters? Let me know what you think!