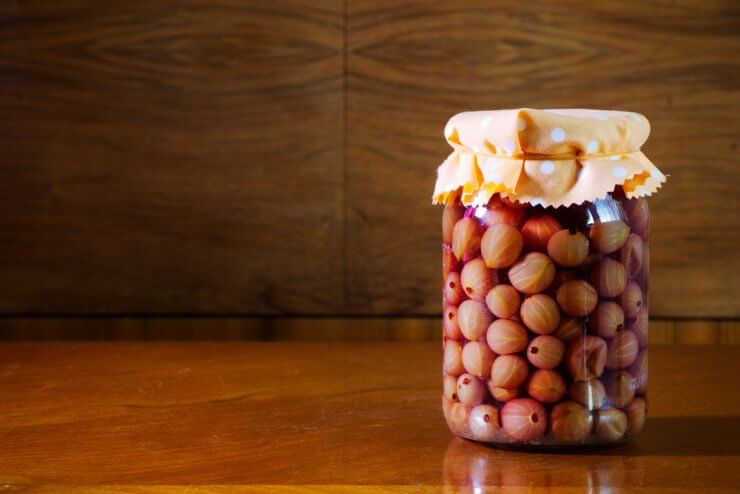 You know what I love about the midsummer gooseberry harvest? All the gooseberries.
Last summer, my cousin had a bumper crop of gooseberries. When she had first asked me about planting gooseberries, she had been a bit skeptical. But now, with her thriving Captivator gooseberry and luscious Hinnomaki Red gooseberry bushes going full speed ahead, she's a gooseberry believer.
And really, with just a little work (pruning among those thorns is… interesting) and a good dose of vigilance (the neighborhood critters can't get close to the bushes), my cousin agrees that planting gooseberries was a great idea. And could I please take a big container home with me? Why, of course!
Before I left that weekend, I helped my cousin put up eight jars of Perfect Pickled Gooseberries—four for her, four for me. This is an easy recipe to put together, and we figured we might as well make the best of a bountiful situation.
Gooseberries are light and juicy when they're ripe. Their flavor ranges from sweet/tart to outright sweet. And they practically burst in your mouth when you eat them raw!
Now take that light juicy sweetness and pickle it. Sounds a little weird, does it? Just wait until you try it! Lots of great recipes pair opposite flavors with great results, and Perfect Pickled Gooseberries are no exception.
Of course, you will have to exercise some patience while your gooseberries are pickling. But after a month, you're in for a real treat! You can eat them whole, serve them up in a sassy salsa, or use them to top broiled fish. You'll have a whole jar of opportunity awaiting you. Let us know how yours turn out!
Print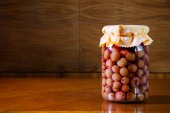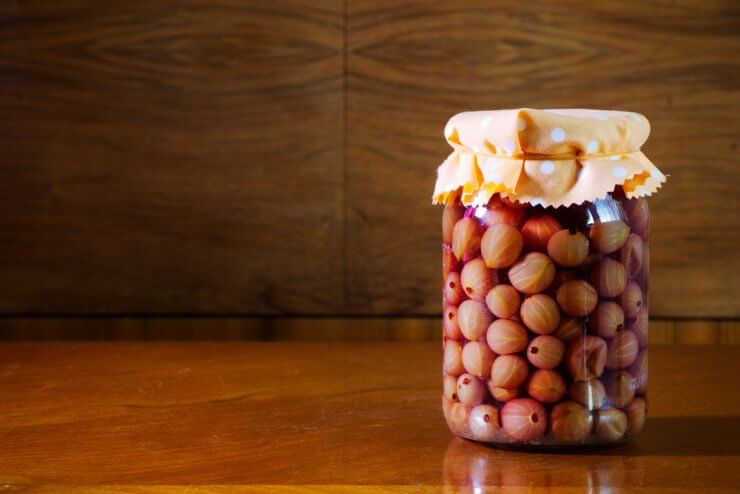 Perfect Pickled Gooseberries
When life gives you gooseberries, get out a canning jar. Make perfect pickled gooseberries with your surplus gooseberry harvest!
Author:
Prep Time:

10 minutes

Cook Time:

15 minutes

Total Time:

1 hour

Yield:

1 1/2 cups

1

x
Category:

Appetizers
Ingredients
1 1/2 cups

cleaned gooseberries, topped and tailed

1 cup

white wine vinegar

1/2 cup

sugar
Instructions
Fill a sterilized pint-size jar with the gooseberries.
Bring the white wine vinegar and sugar to a boil in a saucepan, stirring frequently.
When the sugar is fully dissolved, remove the saucepan from the heat and let the mixture cool completely.
Pour the cooled mixture over the gooseberries and seal the jar tightly.
Put the jar in the back of the fridge and check on it in a month. Your pickled gooseberries will be ready.
Notes
If you have more fresh gooseberries than you can handle and you already have some laid by in the freezer, try this quick and easy pickle recipe for a sweet-tart twist. They'll be ready in a month—and worth the wait!
Planting and growing gooseberries is easy, and the harvest is delicious! There are terrific, disease-resistant varieties to choose from, and you only need one gooseberry bush to start! So, what are you waiting for? With this collection, you get all the details that go into growing and harvesting plump, juicy gooseberries. Get recipes that make the most of the flavor of your gooseberries so you can enjoy the fruits of your harvest all year long! Get it all in our Triumphant Gooseberries Collection right now!
Have you tried this recipe for Perfect Pickled Gooseberries? Do you serve pickled gooseberries as a garnish? With a cheese plate? Please tell us how you used it.