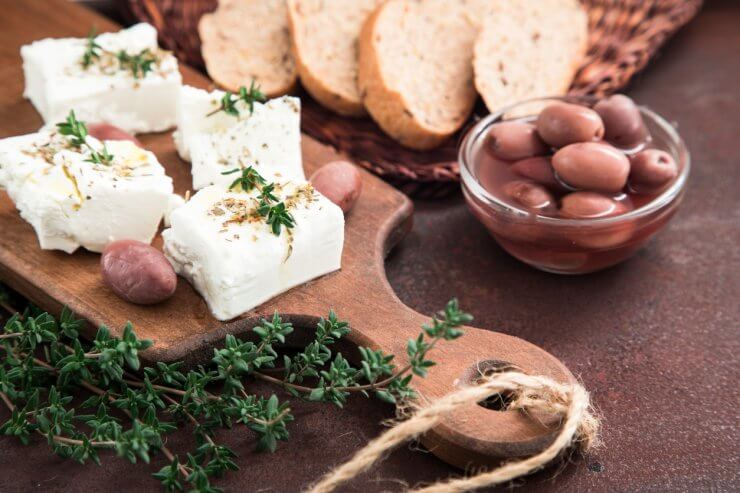 What better way to start off a meal than with cheese! As an appetizer, cheese can get your palate ready for all the other delectable dishes to come. One type of cheese I really like using as an appetizer is feta. Eaten by itself, feta cheese has an intense flavor, whether it's made from sheep's milk or goat's milk. Just be sure it isn't made of cow's milk because that's not real feta!
Though feta is often described as a brined cheese, it still retains a fresh taste that can easily whet your appetite. It's no wonder the Greeks love this cheese — in fact, the average Greek consumes 23 kilograms of cheese each year, half of which is feta!
Since we're on the subject of Mediterranean flavors, feta cheese naturally goes well with olives and thyme, which are also native to the Mediterranean region. If you're looking for a simple but exotic appetizer, this recipe for feta and olive bake with thyme is the way to go!
To make this dish a mouthwatering marvel, you need to carefully select your ingredients. For starters, choosing good-quality feta cheese is a must. Feta cheese aged in brine for two months is good, but to get that rich, salty flavor, pick feta that's been aged for about 12 months. The older it is, the harder and more peppery it tastes, so keep that in mind.
Along with pitted black and green olives, have some extra virgin olive oil at hand for baking and brushing. Of course, this appetizer wouldn't be complete without a sprinkling of fresh thyme leaves from your garden to give the cheese an earthy, aromatic flavor. Brushing the cheese with thyme-infused honey will enhance the fresh, floral taste of this herb and temper the saltiness of the feta with its sweetness.
Enjoy your feta and olive bake with thyme alongside pita or naan bread. If that doesn't have your guests begging for more, I don't know what will!
Print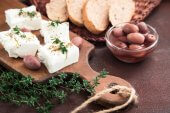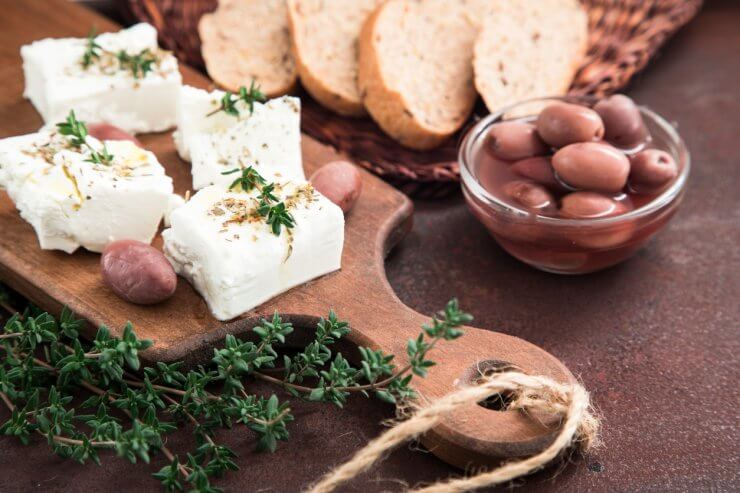 Feta and Olive Bake with Thyme
This appetizer couldn't be simpler, but your family and friends will rave about it. It melds Mediterranean flavors with a hint of thyme that pulls it all together. The savory, salty, and slightly sweet ingredients will have your guests begging for more.
Author:
Prep Time:

5 minutes

Cook Time:

15 minutes

Total Time:

20 minutes

Yield:

Serves 4

Category:

Appetizers
Ingredients
8 ounces

good quality feta cheese

1/2

to

1

cup Mediterranean black and green olives, pitted

1 1/2

to

3

teaspoons extra-virgin olive oil, plus more for brushing

1 1/2 tablespoons

good quality honey, preferably thyme-infused

1 1/2 teaspoons

fresh thyme leaves
Pita bread, naan, or similar for serving
Instructions
Place oven rack in top third of oven and heat to 400 degrees F.
Brush olive oil onto the inside of medium-sized oven-safe baking dish. Set the feta in the middle of the dish and brush the top and sides with olive oil.
Add the olives and scatter them around the feta. Drizzle with the remaining olive oil. Set the dish in the oven and bake for 10 minutes, or until the cheese is soft but not melted.
In the meantime, thin the honey by heating it in the microwave until it's spreadable with a pastry brush.
When the feta is ready, remove from the oven and brush the honey over the top. Return the dish to the oven and broil for 5 to 7 minutes, until it browns but doesn't burn—watch it carefully.
Remove the dish from the oven and sprinkle the cheese with thyme leaves. Add more thinned honey if desired.
Serve immediately with pita or naan.
Have you tried this recipe? It's so easy and delicious—please tell us how it turned out for you.