The Greeks have been enjoying the flavor and versatility of lemons for centuries. Lemons work equally well in sweet or savory recipes, and you'll find lots of lemon in Mediterranean recipes. And one of the most satisfying recipes I enjoy making is a classic Lemon Chicken Soup. It just amplifies everything that I love about chicken soup: the warmth, the flavor—the healthy, homey goodness that leaves you feeling satisfied.
This soup is heartier than your basic chicken soup. It's the lemony egginess that makes this soup thicker but not cloying. You'll love the creaminess that comes from blending the eggs and lemon juice to transform your basic chicken broth into a silky blend that provides just the right zing.
If you've never made this soup before, my best advice is for you to be patient. Don't rush that thickening step, or else you'll wind up with something that resembles weirdly tangy scrambled eggs. The gradual blending of the broth with the lemon/egg mixture will pay off.
You have a lot of options when you make this soup. You can make the chicken ahead of time (I like to roast thighs with the skin on, then discard the skin and shred the meat). You can roast a whole chicken and shred the parts you want in the soup. Or you can take advantage of the convenience of a ready-roasted chicken from your grocery store. However you get your shredded chicken is up to you. And you can decide whether to use all white meat, all dark meat, or a combination of the two. Put your own spin on this soup; soups are very flexible.
The lemon/egg mixture is the final step in thickening up this classic Lemon Chicken Soup. But your choice of starch will affect the texture, too. Rice, orzo, and couscous all have their good points. Rice in chicken soup always reminds me of summers with my grandparents. Orzo has a great shape and just a little bite to it. And the pearl-style Israeli couscous just enhances the silkiness of the soup with its smooth, round shape. Experiment and see what flavor/texture combination you like best—and let us know how it turns out!
Print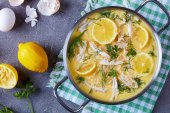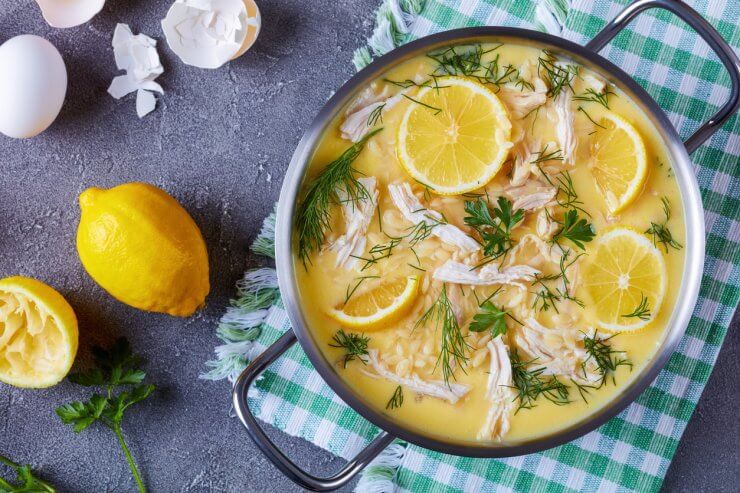 Lemon Chicken Soup with Rice, Orzo, or Couscous
This is a variation on the theme of a classic Greek soup made with the chicken and the egg, with your choice of hearty grain or pasta to soak up all the lemony deliciousness. If you don't have precooked chicken, add at least 30 minutes to the total time.
Author:
Prep Time:

25 minutes

Cook Time:

60 minutes

Total Time:

1 hour 25 minutes

Yield: Serves

6

to 8

1

x
Category:

Soups
Ingredients
1

to

2

tablespoons olive oil

1

small chopped onion

1

chopped carrot

4

cloves chopped garlic

1/2 cup

rice, orzo, or Israeli couscous (pearl style)

4

to

6

cups chicken broth

3 tablespoons

freshly squeezed lemon juice

3

eggs

2

chicken breasts, cooked and shredded, OR 4 chicken thighs, cooked and shredded (can cook with the soup if needed)

1/2 teaspoon

sea salt

1 teaspoon

fresh ground pepper

1/4 cup

fresh dill, chopped
Instructions
If you're cooking the chicken now, heat 1 tablespoon of olive oil in a deep pot. Otherwise, jump to No. 6.
Braise the chicken on both sides.
Add chicken broth and heat just to boiling.
Simmer chicken until it's cooked, about 30 to 45 minutes.
When the chicken is cooked, remove it from the pot and shred it.
Heat olive oil in a pan and sauté the chopped onion, carrot, and garlic for about 5 minutes, or until the onion turns translucent, the carrot begins to soften, and the garlic is lightly browned.
Put shredded chicken in a deep pot with the chicken broth.
Add sautéed onion and carrot, plus your choice of rice, orzo, or couscous.
Bring to a boil, then simmer, loosely covered, for about 15 minutes.
Beat the eggs together with the lemon juice.
Add a small amount of chicken broth to the egg and lemon mixture, stirring with a fork or whisk. Take care that you don't add too much hot broth at once or you'll cook the eggs.
Gradually add a little more broth to the egg and lemon mixture, stirring the whole time.
When you've mixed in about a cup or two of the broth to the egg and lemon mixture, gradually stir that mixture back into the pot. The soup will begin to thicken.
Garnish with dill.
Serve with crusty bread for dunking.
Lemons may seem like an exotic tree to grow, but all they need is a little TLC to give you years of tangy harvests! You don't have to live in a subtropical zone to grow lemons—there are plenty of varieties happy to grow as productive houseplants! With this gardening guide, you get all the details that go into growing and harvesting bright, fragrant lemons. Get recipes for dishes sweet and savory that make it all the more rewarding to grow your own lemons. Get it all in our Tart & Tangy Lemon Gardening Guide right now!
Have you tried this classic Greek-style Lemon Chicken Soup? What's your favorite way to make it? Please tell us how it turned out for you.