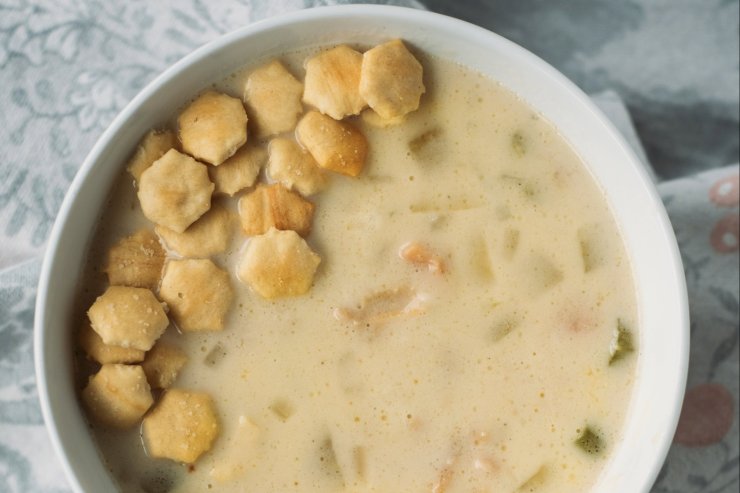 When you think seafood, you have to think of Maine, there is no better-tasting seafood anywhere. For clams specifically, I think of the wharf in Biddeford Pool and their large clam flats. When it comes to clam chowder, this area has it totally covered. Since I love clam chowder, I've been able to turn my personal search for the best clam chowder into a sort of field trip for me and my four-year-old daughter. Needless to say, we are always happy to see something other than the usual places around our neighborhood. Let me tell you, western Massachusetts is not where people go for clam chowder.
If you do ever end up on an impromptu pilgrimage to Biddeford pool, there are tons of seafood restaurants you can enjoy nearby, and many variations on clam chowder — all excellent. For me, a great clam chowder should be spectacularly creamy with potatoes so tender they melt in your mouth. Pepper is also key. If you want to create a culinary out-of-body experience, this recipe hits the mark.
It goes without saying that if you want to achieve that seafood heaven, you can't really cheat your way out of this recipe by buying canned clams. It's fresh clams or bust! Fun fact, in Biddeford Pool you can get a 1-day clamming license if you are a resident – which is lots of fun if you want to entertain the kiddos. I've done this with a friend who is a resident, and if you ever decide to do it, take her advice: if you wear water shoes or even sneakers, the mud just rips footwear off your feet. And you can't go barefoot because the shells will shred your soles. The best solution is to wear athletic knee socks and just throw them away when you're done. But in the end, you'll have the freshest of the fresh clams!
Let's not forget those potatoes though. The Yukon Gold potatoes in this recipe give it that added buttery flavor, making this clam chowder even more delightful. Bonus points if you've grown the potatoes in your very own garden and gone clamming yourself (don't worry, it's not required)! Fresh and flavorful, this dish works marvelously as a side for lunch or a light dinner.
Print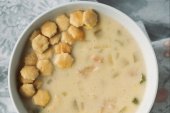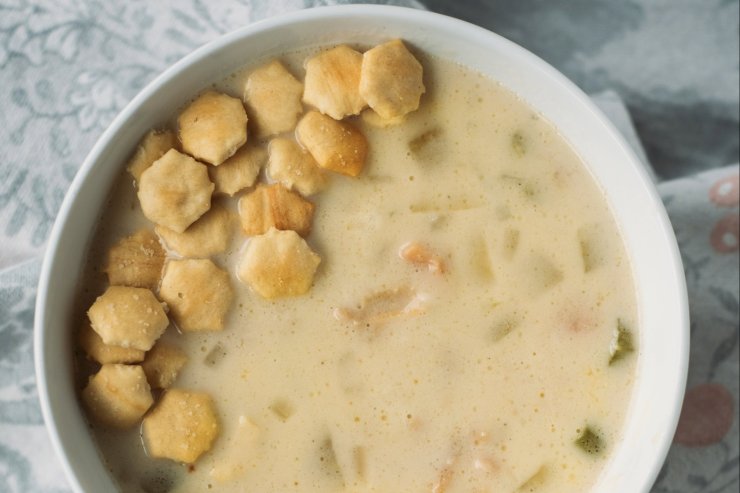 Dockside Clam Chowder
Savor the taste of the sea with this delightfully creamy clam chowder! The fresher the clams, the closer you'll get to seafood heaven!
Author:
Prep Time:

5 minutes

Cook Time:

30 minutes

Total Time:

35 minutes

Yield:

Serves 4

Category:

Soups
Ingredients
1/4 cup

salt pork, cubed (

8oz

bacon can work too)

1 tablespoon

unsalted butter

1

small onion, chopped

1

celery stalk, chopped

4

small Yukon Gold potatoes, peeled and diced

2 tablespoons

all-purpose flour

12oz

fresh clams or 2 (6.5-ounce) cans chopped clams, undrained

1 cup

seafood stock

2 cups

chicken broth

1/2 teaspoon

fresh thyme leaves

1 tbsp

salt (more to taste)

1/2 tsp

freshly ground pepper (more to taste)

2 cups

heavy cream
Oyster crackers, for garnish
Instructions
In a large pot, add salt pork and let it cook over low heat (about 20 minutes) until the fat is rendered. Keep the fat in the pot, remove any scraps, then add the butter and melt over medium heat. Add the onion, celery, and potatoes. Cook, stirring, for 3 to 5 minutes, or until the onion is translucent.
Create a roux by sprinkling the mixture with the flour and stirring until all the flour has been absorbed. Cook for 3 minutes more, until the mixture, is a pale brown.
Add the clams, seafood stock, broth, thyme, salt, and pepper; cover and bring to a boil.
Reduce the heat to low, and cook, covered, for 12 to 15 minutes, or until the potatoes are tender. Remove from the heat and stir in the cream. Return the pot to the heat and cook, stirring frequently, for 5 minutes, or until thickened. Taste and add salt/pepper as desired.
Ladle into bowls, garnish with oyster crackers and a little more pepper, and serve.
Keywords: clam, chower, clam chowder