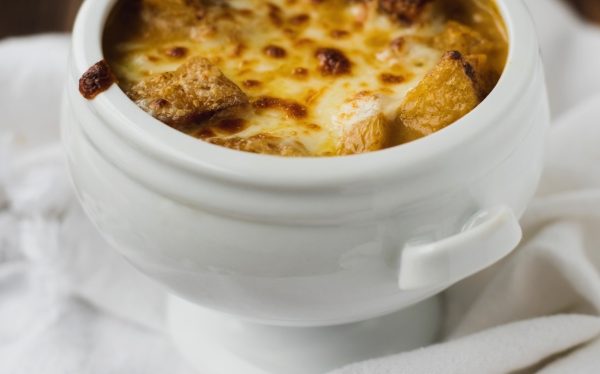 Philly cheesesteaks are a comfort food that you often don't find on menus throughout the United States. They are, as the name implies, quite famous and popular around Philadelphia. The story goes that Pat Olivieri invented the steak sandwich (originally without cheese) in 1930 when he cooked some chopped meat on his hot dog grill and put it in an Italian roll with some onions. 
Due to demand, he eventually added cheese, giving us the traditional Philly Cheesesteak. Simple? Yes, but tasty and popular enough that the original Pat's King of Steaks still stands on the corner of South 9th St and East Passyunk Ave in south Philadelphia. Not much has changed over the decades. 
They are cash only and there are about 20 items on the menu, but most of those are just variations on whether or not you want mushrooms or peppers on your cheesesteak, and what kind of cheese you want. (Cheez Whiz is popular, but you can opt for Provolone or American cheese.) 
In other words, this is a true American classic. And this homemade soup version is a perfect blend of two comfort foods. The Philly Cheesesteak soup uses the traditional thinly sliced top round steak, along with green bell peppers, as the base. The sautéed cremini mushrooms add some nice depth, and the broiled provolone on top of the soup gives this recipe the cheesesteak vibe we love. 
When you can't be in Philadelphia for an original Philly Cheesesteak, pull this recipe out, put a Phillies baseball game on the radio, and you can almost feel like you're there. 
Oh! One nice advantage this soup has is that it's ideal for packing up in storage containers to freeze and reheat whenever the mood strikes. You can't really do that with a regular Philly cheesesteak. 
Print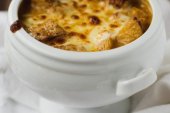 Philly Cheesesteak Soup
Thanks to this Philly Cheesesteak soup, you don't need to travel all the way to Philadelphia to enjoy this cheesy steak favorite.
Author:
Prep Time:

30 minutes

Cook Time:

50 minutes

Total Time:

1 hour 20 minutes

Yield:

Serves 4

Category:

Soups
Ingredients
3 tablespoons

olive oil

2

thick slices sourdough bread, cubed

1 teaspoon

finely minced garlic

2

carrots, chopped

1

small onion, chopped

8 ounces

cremini mushrooms, sliced

1

–

2

teaspoons finely minced fresh thyme

1/3 cup

all-purpose flour

4 cups

beef broth

1 tablespoon

Worcestershire sauce

1 teaspoon

hot sauce

5 ounces

sharp cheddar cheese, shredded

5 ounces

provolone cheese, shredded, plus 1 cup shredded provolone for garnish

1

pound top round steak, thinly sliced

1

green bell pepper, seeded and sliced into strips
Instructions
In a medium bowl, toss 1 tablespoon of the olive oil with the sourdough bread cubes and garlic. Put the bread cubes in a small skillet and cook over medium-high heat until browned and crispy. Set aside.
In a large pot, heat 1 tablespoon olive oil over medium-high heat. Add the carrots, onion, and mushrooms and cook until the vegetables are soft. Add the thyme and stir.
Add the flour and cook for 3 to 4 minutes, being careful not to burn the flour. Add the broth, Worcestershire sauce, and hot sauce. Reduce to medium-low and simmer for about 15 minutes.
Preheat the oven to broil. Carefully transfer the soup to a blender and puree until smooth. (Alternatively, blend the soup directly in the pot using an immersion blender.)
Return the soup to the pot (if necessary) and bring to a boil over medium-high heat. Remove the soup from the heat and stir in the cheddar and provolone cheeses until melted.
In a large skillet, heat the remaining 1 tablespoon olive oil over medium-high heat. Add the top round steak and bell pepper and cook until the beef is browned and the peppers are softened.
Divide the beef and peppers among four broiler-safe soup bowls. Add some of the bread cubes and top with the hot soup. Sprinkle each bowl with some of the provolone. Broil until the cheese melts, about 4 minutes. Serve immediately.