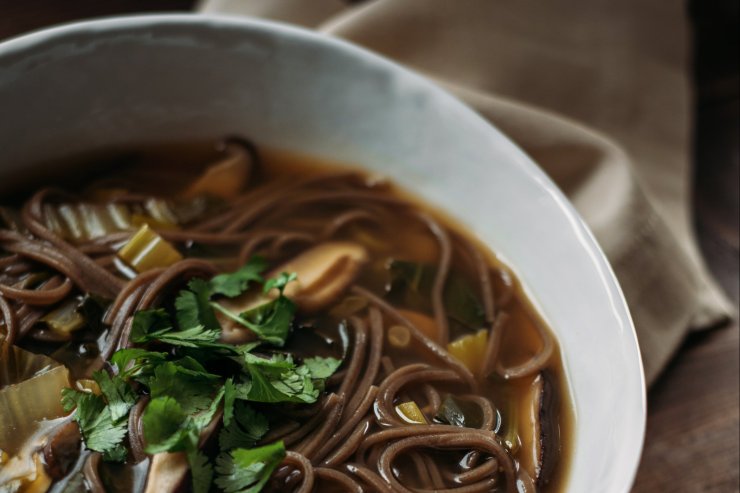 When I was younger, it was understood that there were four basic flavors: sweet, salty, sour, and bitter. All the other flavors we taste were combinations of these. Of course, now we know that's not necessarily true. And even if we were to whittle everything down to "basic" flavors, you still end up with… well, that's up for debate. 
I'm not qualified to get into genetics, biology, psychology, and all the other factors that result in what we taste. What I will say is that a fifth basic flavor, umami, is credited to Japanese scientist Kikunae Ikeda, who revealed the chemical makeup of the flavor in 1908. (In case you're doing the math, no, I'm not 100+ years old. These things just take time to make it into the knowledge base.)
Umami generally translates to "essence of deliciousness," or savory, which makes perfect sense given that umami is a common flavor profile in broths. It's that deep, somewhat dark flavor that's a bit hard to describe. 
So what does all this have to do with Veggie Soba Noodle Soup? I feel like this soup is one of the perfect examples of that umami flavor. Made with shitake and cremini mushrooms, soy sauce, bok choy, and buckwheat soba noodles, you can't miss the deep, rich flavor in your bowl. 
It doesn't hurt that this is a quick recipe. You need about 20 minutes of prep time and 20 minutes of cooking time until you're sitting down eating. And like many savory soups, this one lends itself well to variations. I've had this one with tofu, broccoli, Brussels sprouts, cauliflower, and shredded carrots. Sometimes it just depends on what's ready from the garden. 
Serve with a nice glass of sake if you can. Although red wine works, too! Pro tip: If you have any leftover, it makes a fabulous cold lunch the next day.
Print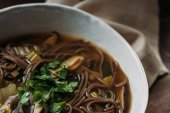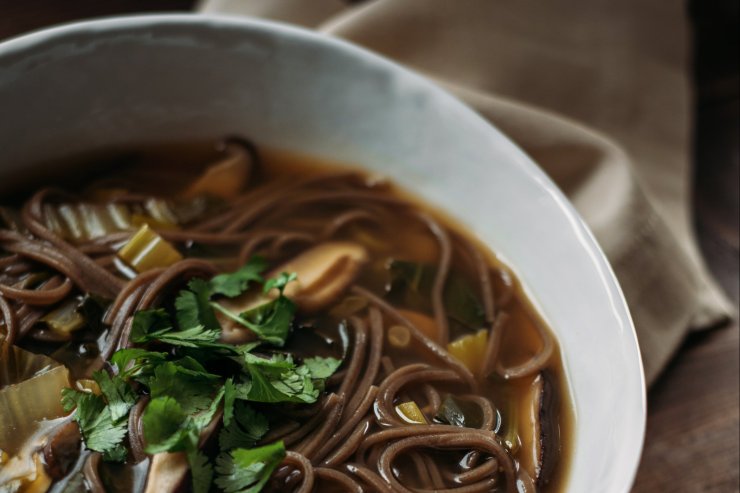 Veggie Soba Noodle Soup
Soba is a buckwheat noodle commonly used in Japanese cuisine. The slippery, smooth texture makes it the ideal slurping noodle; not to mention, the leftover soup tastes just as good cold as it does hot.
Author:
Prep Time:

20 minutes

Cook Time:

20 minutes

Total Time:

40 minutes

Yield:

Serves 5

Category:

Soups
Ingredients
1 tablespoon

sesame oil

3

garlic cloves, minced

4

green onions, chopped

3

heads bok choy with leaves, chopped

2

celery stalks, chopped

4 ounces

shiitake mushrooms, sliced

4 ounces

cremini mushrooms, sliced

5 cups

vegetable broth

2 cups

water

2 cups

fresh spinach, chopped

4

–

5

ounces uncooked soba noodles

3 tablespoons

soy sauce

1 tablespoon

rice vinegar

1/2 teaspoon

Sriracha sauce

1/2 teaspoon

kosher salt

1/4 teaspoon

freshly ground black pepper

3 tablespoons

chopped fresh cilantro, plus more for garnish

1 1/2 teaspoons

minced fresh ginger
Juice of

1/2

lime
Instructions
In a large pot, heat the sesame oil over medium-high heat. Add the garlic and green onions and cook for 3 minutes.
Add the bok choy, celery, shiitake and cremini mushrooms, broth, and 2 cups water. Bring to a boil, cover, and cook for 8 minutes.
Add the spinach, noodles, soy sauce, vinegar, Sriracha, salt, pepper, cilantro, and ginger.
Boil until the noodles are cooked, about 4 minutes. Add the lime juice.
Ladle into bowls, garnish with cilantro, and serve.
Keywords: veggie, soba, noodle soup, noodle, soup