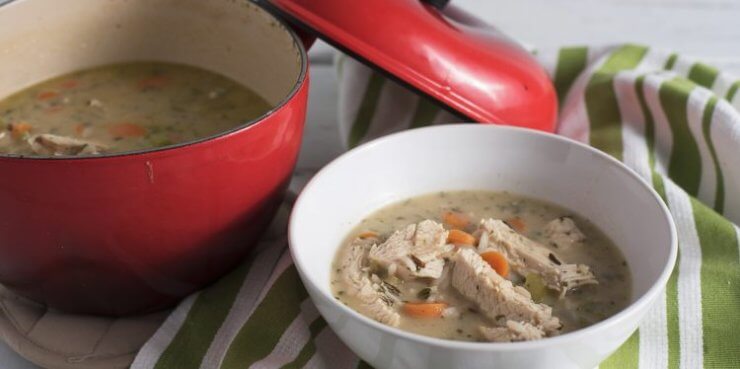 Chicken and rice soup sounds a lot like congee — also known as rice porridge — but hold your horses (or your chickens) because it's worth noting that there's a difference between the two, even though they might seem related. While both are perfect companions for the cold weather, the stark difference between congee and chicken and rice soup is the rice's texture.
In congee, the rice gets cooked first, leading to its softer, almost gelatinous texture. Other than that, any white rice would do for chicken congee (though jasmine is a really good choice). For this chicken and rice soup recipe, though, the rice is added as the final step. Here, you need to use long grain and wild rice with an accompanying seasoning packet. Since it's the last to be added, the rice maintains its texture and doesn't become overly soft like in congee or porridge.
Chicken congee is also a lot simpler than chicken and rice soup. Aside from the rice, you just need chicken, ginger, salt, chicken bouillon, and green onions for garnish. This recipe for chicken and rice soup, on the other hand, has more ingredients such as carrots, onions, garlic, pepper, milk, oregano, flour, celery, and chicken stock. It's a little more elaborate than congee, which gives this soup a wider variety of flavors. Fresh carrots add a subtle sweetness while the garlic and celery — along with pepper and oregano — give it that spectrum of spice. This, of course, is balanced out by the combination of milk and flour as it enriches the chicken stock with a creamy taste and texture.
What I love about making this chicken and rice soup is that you can avoid gluten entirely by replacing pasta with rice. It makes it a dish that can be shared with a wider range of friends and family, and after all, what's better than sharing chicken soup with those you love?
Print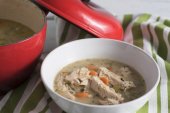 Chicken & Rice Soup
It might sound like a simple recipe, but the flavor of this chicken and rice soup is anything but that. It's got all the trappings of a subtly sweet, creamy, and mildly spicy soup that you can enjoy regardless of the season!
Author:
Prep Time:

5 minutes

Cook Time:

55 minutes

Total Time:

1 hour

Yield:

Serves 4

Category:

Soups
Ingredients
1 tablespoon

olive oil

1 cup

chopped baby carrots

1 cup

sliced celery

1

medium onion, finely diced

5

garlic cloves, minced

32 ounces

chicken stock

2 cups

water

2 cups

milk, divided

1/2 teaspoon

pepper

2

large chicken breasts, cooked and shredded

1/2 teaspoon

dried oregano

1/2 cup

all purpose flour

1

4.3 ounce box Rice a Roni Long Grain and Wild Rice (with seasoning packet)
Instructions
Pour olive oil in large pot. Add carrots, celery, and onion.
Simmer over medium heat until onions are translucent, approximately 10 minutes.
Add the garlic cloves, chicken stock, water, and 1 cup of milk to the mixture and stir until combined.
Add the pepper, dried oregano, and shredded chicken. Mix until combined.
Simmer over medium heat for 15 minutes.
Whisk together the remaining 1 cup of milk with the 1/2 cup flour until no lumps remain.
Pour this into the soup mixture and whisk.
Place the long grain and wild rice and the seasoning packet into the soup and mix until combined.
Simmer for 20 more minutes, then enjoy!