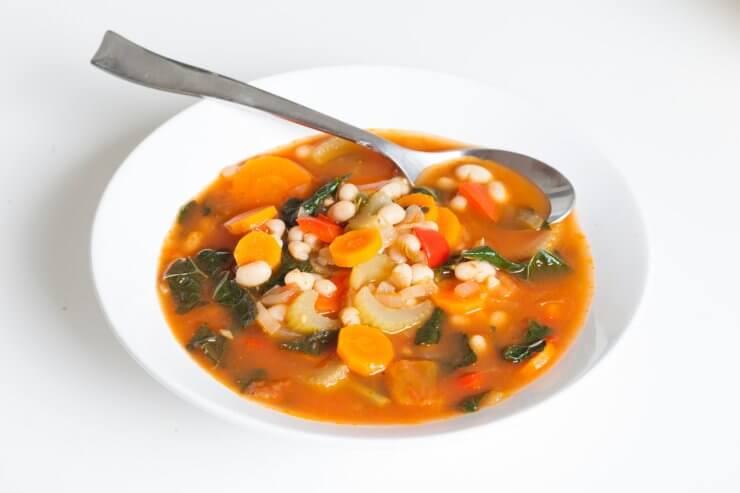 Soup is one of the most flexible, forgiving dishes you can make. Sure, almost every recipe provides you with exact amounts of ingredients to include. But show of hands—how many of us follow the recipe to the letter? I think it's far more fun to look at the recipe, consider what ingredients I have on hand, and use the recipe as a guideline. That's the beauty of soup and especially this Slow Cooker Kale Soup!
If I was baking, that would be one thing. Baking is chemistry. Making soup is art.
Kale adds a richness to soup—not to mention great nutrients! From a purely esthetic viewpoint, the deep green of kale is a lovely partner to white cannellini beans and red tomatoes. You can add more colors as you like to make a rainbow of rich flavors.
When you have lots of fresh kale on hand and you aren't sure what to do with it, add it to soup. You might want to make a double batch and freeze some for when you just don't feel like cooking. Or chop it up and freeze it in small batches so you can add it to future soups. Make the most of every leaf of kale that comes from your garden!
I try to keep at least 2 quarts of soup in the freezer, just in case I need something quick for an impromptu lunch, or one of my neighbors needs a little TLC. Remember: you can't go wrong with soup.
So, be sure to keep kale on your go-to list when you need to make a batch of soup. Let us know how your Slow Cooker Kale Soup comes out.
Print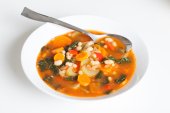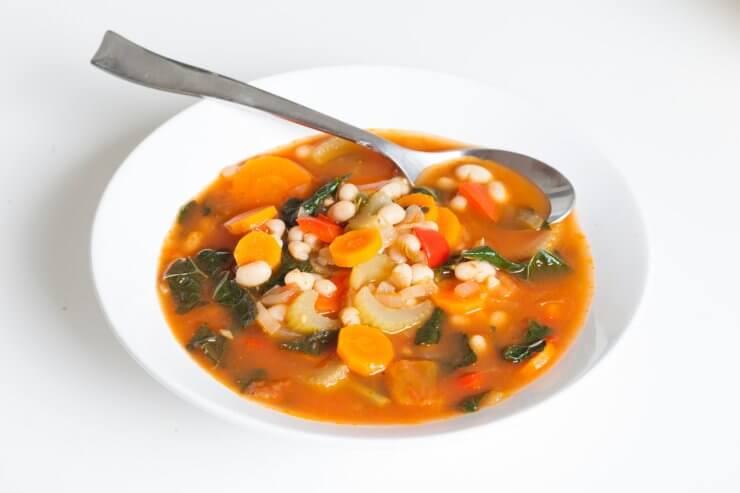 Slow Cooker Kale Soup
Soup is such a satisfying meal. And with a slow cooker, you can just set it and forget it, and come back to this hearty, flavorful Slow Cooker Kale Soup.
Author:
Prep Time:

20 minutes

Cook Time:

6 hours

Total Time:

6 hours 20 minutes

Yield:

Serves 4

Category:

Soups
Ingredients
1

large onion, chopped

4

cloves garlic, minced

1 tablespoon

olive oil

2 cups

broth (your choice; low-sodium is best)

1 1/2 cups

cooked cannellini beans, or

1

can, drained and rinsed

1 1/2 cups

diced fresh tomatoes, or

1

14.5-ounce can, with juice

1/2 teaspoon

basil

1/2 teaspoon

oregano

1/2 teaspoon

rosemary

3 cups

chopped kale (OK to include the stems/ribs)
Optional: diced carrots, celery, turnips, etc.
Instructions
Sauté the onion and garlic in olive oil in a pan over medium heat.
Stir in the tomatoes to deglaze the pan.
Pour the onion/garlic/tomato mixture into your slow cooker.
Add the cannellini beans, spices, and kale.
Pour broth over vegetables and stir.
Slow cook on low for about 6 hours; or on high for about 4 hours.
Serve with crusty garlic bread.
Notes
If you add carrots, celery, or another crunchy vegetable, you may need to add a little more liquid. Extend your slow cooking time by at least an hour.
Slow-cooked soup only gets better with time.
Want to get into the wonderful world of growing kale? Kale's a great crop to grow—especially for gardeners who live in regions with frost. Kale loves the cold—it even tastes better after a little frost! If you want to know more about growing kale, check out Kale: The Queen of Greens: The Complete Guide to Growing, Cooking, and Eating Kale.
Have you made Slow Cooker Kale Soup? Do you add any other ingredients? Please tell us how you make it.